'Churchill' Trailer: Brian Cox Struggles With War As Winston Churchill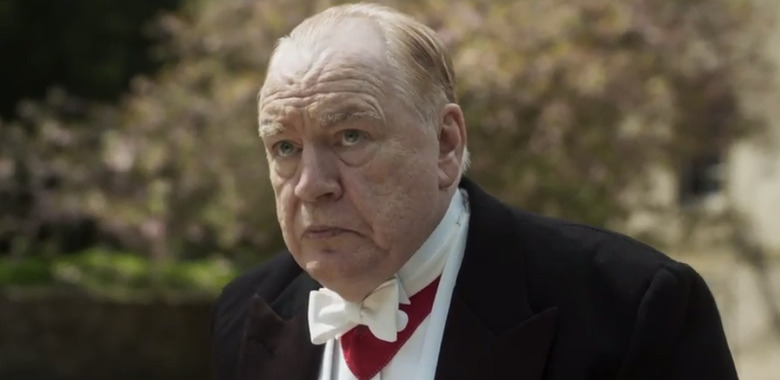 Hollywood loves history, but it can be a real challenge to bring a real life event to the big screen, especially when it involves people that some of the public lived through and experienced through the radio and television. Churchill will attempt to chronicle the struggle of British Prime Minister Winston Churchill (Brian Cox) as he deals with the impending start of D-Day during World War II in 1944. It looks like it could be a typical awards contender, but that might be difficult since the movie hits theaters this summer.
Watch the Churchill trailer below.
Even though Churchill is hitting theaters this summer, Brian Cox looks to be delivering the kind of performance that could still end up getting some love when awards season rolls around late in the year. At the same time, there's not anything particularly compelling about this movie besides seeing Brian Cox's compelling performance. I'll admit that the cinematography looks fantastic, but otherwise, this feels like plenty of other biopics we've seen of political figures before, especially from the United States and the United Kingdom.
Another hurdle that Churchill might have in getting attention, even though it's arriving first on the scene, is that there's a competing movie about Winston Churchill called The Darkest Hour that's set a few years before the events of this movie. That one stars Gary Oldman, and his transformation into the prime minister is far more stunning, albeit on a surface level. With a prime awards season release date of November 24, that one is definitely looking for a shot at some awards attention. But we haven't seen either movie yet, so who knows?
Churchill is directed by Jonathan Teplitzky (The Railway Man, Better Than Sex) with a script by Alex von Tunzelmann and it also stars John Slattery, Miranda Richardson, Ella Purnell, James Purefoy, Richard Durden, and Julian Wadham. If you'd like to see more, you can watch the UK trailer for the film right here.
Tensions mount for the beleaguered British Prime Minister Winston Churchill (Brian Cox) in the days leading up to infamous Allied D-Day landings in Normandy, France in June, 1944. Fearful of repeating his deadly mistakes from World War I in the Battle of Gallipoli, exhausted by years of war, plagued by depression and obsessed with his historical destiny, Churchill is reluctant to embark on the large-scale campaign, one that the entire war effort hinges upon. Clashing with his Allied political opponents U.S. General Dwight D. Eisenhower (John Slattery) and British Field Marshal Bernard Law Montgomery (Julian Wadham), the troubled Churchill receives support and devotion from his wife, the brilliant and unflappable Clementine Churchill (Miranda Richardson). With her strength and shrewdness, "Clemmie" halts Winston's physical, mental spiritual collapse and inspires him on to greatness.
Churchill in theaters starting on June 2 this summer.