'Guardians Of The Galaxy Vol. 2' Featurette: The Gang's All Here And Having A Good Time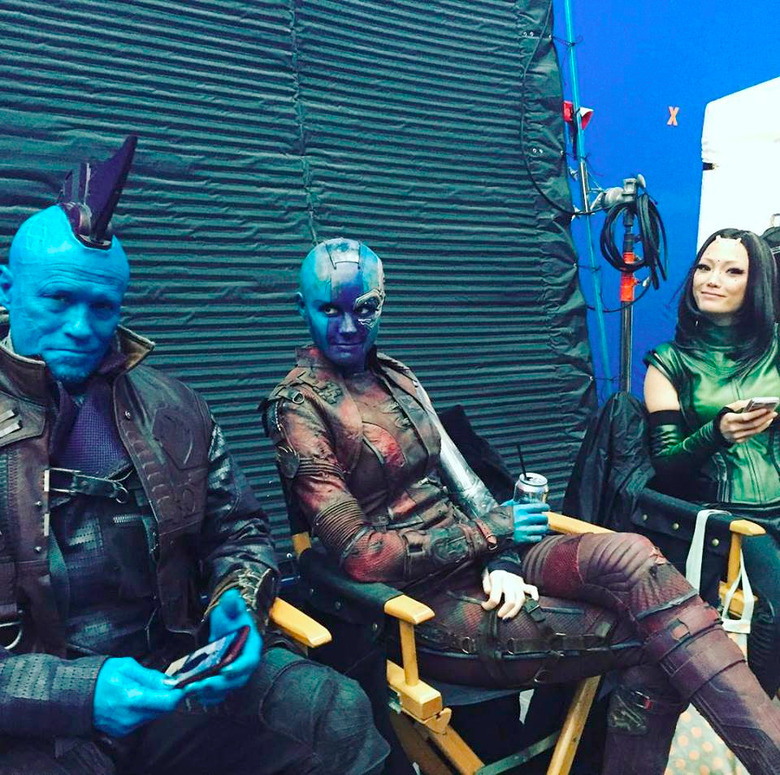 Guardians of the Galaxy Vol. 2 hits theaters in less than two weeks and our third most anticipated movie of the summer has been receiving mostly warm notices so far. James Gunn's sequel to his 2014 hit looks to double down on everything that made the first movie such a smash: strange but lovable characters, wild action, colorful science fiction, and heroes who spend as much time bickering as they do guarding the galaxy.
And while promotional featurettes don't necessarily reflect the arduous process of making a big budget feature film, this particular one does make the process of making Guardians of the Galaxy Vol. 2 look like a whole lot of fun.
Anyone looking for grand insights into the filmmaking process needs to look elsewhere. But anyone looking for snippets of new footage and cool behind-the-scenes shots from this massive production will find a great deal to enjoy in the video embed below. The usual suspects are all on hand to provide talking head interviews, but the real fun here involves watching everyone appear to be having a great time on set. Making movies is hard...but playing a galactic superheroes? That's got to bring a smile to your face.
How well do you know the Guardians of the Galaxy? Learn more about the characters when you watch this featurette. #GotGVol2 pic.twitter.com/4jRrEs9cN0

— Guardians of the Galaxy (@Guardians) April 24, 2017
This featurette is the latest chapter of Marvel Studio's current marketing campaign, which kicked off last week with the first screenings of the finished film. Since then, the movie news beat has been all Guardians of the Galaxy, all the time. We learned that that the film would have five post-credits scenes, which feels like Marvel dancing on the edge of self-parody. We watched a clip where Drax the Destroyer embarks on an ill-fated plan to battle a monster and another where Star-Lord and Gamora share a romantic moment. The full soundtrack list, titled "Awesome Mix Vol. 2," was revealed and it certainly seems like a worthy follow-up to the first film's bestselling collection of oldies. We even broke some news ourselves, discovering which character was originally going to be in the film before he was removed during the scripting phase (he will now play a role in the sequel).
Guardians of the Galaxy Vol. 2 is set to open on May 5, 2017. It will make every single dollar on planet earth.