VOTD: Hans Zimmer Unleashes 'The Dark Knight' Live At Coachella 2017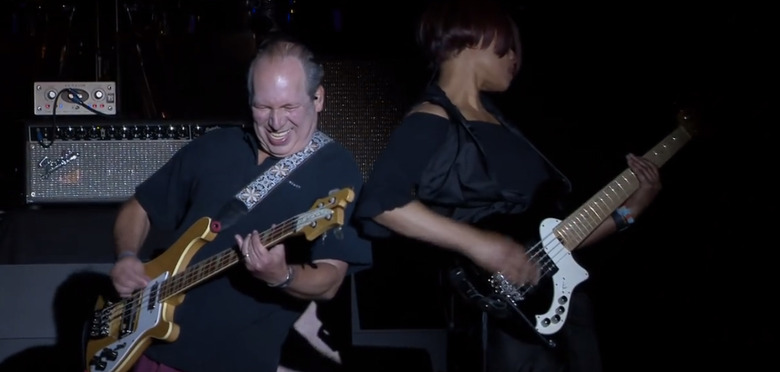 Though I'm personally more fond of the Batman theme that was composed by Danny Elfman for Tim Burton's adaptation of DC Comics' Caped Crusader, there's no denying Hans Zimmer wrote some incredible music for The Dark Knight trilogy. In fact, the music that Hans Zimmer has composed for all of his collaborations with Christopher Nolan have been rather influential on other film score composers, prompting plenty of imitation.
Fans attending Coachella this year were treated to a special performance by composer Hans Zimmer, complete with a full orchestra and some other choice instruments in an assembly of several medleys from his various soundtracks. We've already highlighted his showcase of Inception, and now you can watch and listen to The Dark Knight performance too.
Watch as Hans Zimmer performs The Dark Knight live at Coachella 2017 below.
Unlike most live performances of film scores, this isn't just an arrangement that plays tracks just as they appeared on the soundtrack. Instead, this is almost like a remix of themes from The Dark Knight with some added instrumentals that feel right at home in a rock concert. At times the added electric guitar and bass almost make The Dark Knight sounds like the score for Mad Max: Fury Road, a score that also deserves to have a live performance at a festival like Coachella.
If you're interested in the Hans Zimmer experience (and it looks like quite the trippy one), he has nearly two dozen tour dates in the United States at the end of the summer. Check out the list below to see if he's coming near you and get tickets right away, because I'm sure they're going fast:
07/13 – Dallas, TX @ Verizon Theater
07/14 – Houston, TX @ Smart Financial Center
07/16 – Nashville, TN @ Ascend Amphitheatre
07/18 – Atlanta, GA @ Verizon Amphitheatre
07/21 – Columbia, MD @ Merriweather Post Pavilion
07/22 – Philadelphia, PA @ Wells Fargo Center
07/23 – Mashantucket, CT @ Foxwoods Resort Casino
07/25 – New York City, NY @ Radio City Music Hall
07/26 – New York City, NY @ Radio City Music Hall
07/28 – Canandaigua, NY @ Constellation Brands PAC
07/29 – Boston, MA @ Boch Center
07/30 – Montreal, QB @ Bell Center
08/01 – Toronto, ON @ Air Canada Centre
08/03 – Cincinnati, OH @ US Bank Arena
08/04 – Chicago, IL @ Allstate Arena
08/06 – Denver, CO @ 1STBANK Center
08/09 – Berkeley, CA @ Greek Theater
08/11 – Los Angeles, CA @ Shrine Auditorium
08/12 – San Diego, CA @ Viejas Arena