Zachary Quinto On 'Star Trek 4': ''There's No Guarantee'' It Will Happen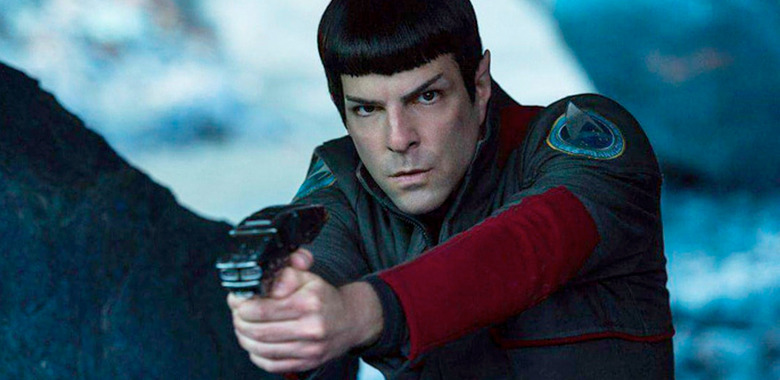 News of Star Trek 4 officially being in development first surfaced last summer. Producer J.J. Abrams confirmed work on the sequel and revealed it would somehow bring back Chris Hemsworth as George Kirk, the father of James T. Kirk who perished in exciting opening sequence of the first installment of the reboot that established a whole new timeline in the Star Trek universe. Since then all we've heard is vague hype about the sequel, and it sounds like the cast is unsure whether it will actually happen.
In a recent interview, Star Trek franchise star Zachary Quinto says that he's still waiting for the script to be completed, and despite being hopeful that he'll be able to reprise his role as Mr. Spock, the movie doesn't seem to have been greenlit yet. Find out more about Star Trek 4 development after the jump.
Zachary Quino recently appeared on The Today Show to discuss his lower profile drama Aardvark, and discussion eventually turned to Star Trek 4. Here's what the actor had to say:
"I know that they are working on a script for another one and we'll see how that all plays out, but the nice thing about that experience is that the time in between those big tentpole films allows us to go off and cultivate a lot of different creative experiences for ourselves. ... I'm hopeful that we'll do another one, but there's no guarantee."
To be fair, when it comes to development on these projects, actors usually don't know what's going with the movie unless they're also producers. The actors aren't really needed until there's a script finished for them to get in front of the camera and shoot. Quinto seems to be in the same boat that Chris Pine is when he said this about three weeks ago when he was asked about the state of Star Trek 4:
"I am literally one of the last people to find out. Costume designers find out before me. Prop people find out before me. I can't wait to make the film. I love everyone in the film. You know that. I love the world. I will be back as many times as they ask me. I love the tall man they call Thor. I'll do this film. If you can talk to [Star Trek producer] J.J. [Abrams] for me, please do. Let him tell me. I'd like to find out so I can plan my life."
More than likely, Paramount Pictures isn't in a rush to get the script done and they want to make sure they have something worth making before they get the rest of the pieces in place. The good news is that Chris Hemsworth said the pitch for the movie is "amazing" and J.J. Abrams says it might be his "favorite Star Trek story that we've had." So if that's true, Paramount will want to greenlight it.
Despite the positivity, there is some reasonable uncertainty as to whether or not Star Trek 4 will get made. Though Star Trek Beyond wasn't exactly a disappointment at the box office when it pulled in over $343 million last year, it's significantly less than the $467 million that Star Trek Into Darkness made in 2013, showing the studio that interest in the franchise may be waning.
As of now, it doesn't sound like Star Trek 4 is definitively in trouble, but it's merely still in development (Simon Pegg and Doug Jung were apparently working on the script most recently). When working on a film, actors don't often like to count their chickens before they're hatched, so Zachary Quinto is probably just playing it safe by keeping hype in check. With no release date set (as far as we know), Star Trek 4 doesn't have to hit any specific deadline to start shooting, but hopefully we'll get an update on the sequel soon.