'Rick And Morty' VR Trailer: Enter The World Of Virtual Rick-Ality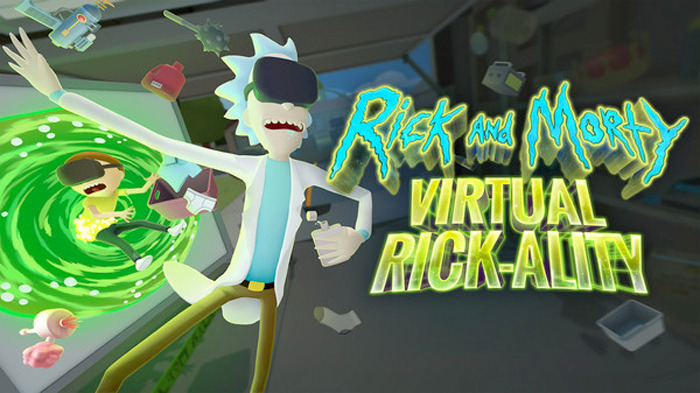 Even though the surprise third season premiere of Rick and Morty was a nice treat for fans who have been waiting for the animated series return, now we're still stuck waiting for new episodes to come back this summer. Thankfully, there's something that might hold us over for the time being.
Rick and Morty: Virtual Rick-ality is a new VR game available on the HTC Vive and Oculus + Touch that allows you to enter the wild world of Adult Swim's animated series. Check out the Rick and Morty VR trailer below to see what kind of adventures you can have.
The Rick and Morty VR game takes the premise of the popular VR game Job Simulator and combines it with the Adult Swim animated series created by Dan Harmon and Justin Roiland. Owlchemy Labs (who designed Job Simulator) worked with Adult Swim Games on the project, but they were given a lot of creative freedom with the game.
You're given the point-of-view of a clone of Morty helping Rick with various experiments by solving puzzles and completing tasks, all while following the directions of the perpetually drunk Rick. At first, tasks include doing laundry or repairing the spaceship, but IGN notes that "scenarios get more involved as you go, and developer Owlchemy does a good job of keeping the pacing up by cycling through several hallmark VR tasks like solving puzzles, environmental exploration, and the occasional shooting gallery."
Aside from the experience of pretending you're inside the world of Rick and Morty, perhaps the most appealing aspect of this game is the all-new dialogue recorded by the show's voice talent for the two to three hour total game experience, including Justin Roiland, Dan Harmon, Spencer Grammer, Chris Parnell and Sarah Chalke.
If you're wondering if Virtual Rick-ality is worth your time and the $30 price tag, here's what IGN says:
Virtual Rick-ality does a great job emulating the dark humor of the source material, even if it occasionally overindulges in its self-awareness. Smart use of well-established VR minigame mechanics guides you through the experience, and aside from some slight issues navigating the space on a two-sensor Oculus Rift setup, these familiar and fun activities mesh well with the amusing efforts of the writing team and cast. Rick & Morty's first foray into virtual reality is not only a solid VR experience, but the duo's strongest attempt at translating the spirit of the show into a game yet.
You can get Rick and Morty: Virtual Rick-ality now on Steam and Oculus Home.