'Fantastic Beasts 2' Casts 'Green Room' Star As Newt's Brother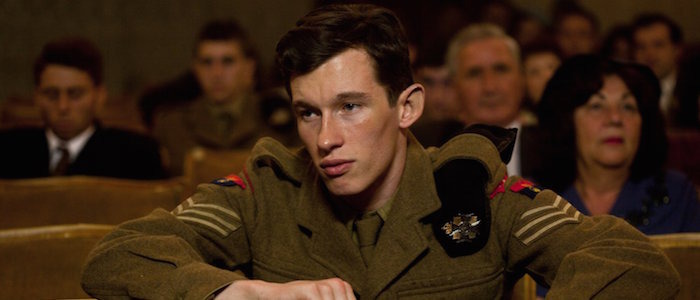 Reactions to Fantastic Beasts and Where to Find Them felt a little muted last year, but that didn't stop the first Harry Potter spin-off from making $814 million worldwide. The ambitious plans to make four sequels and further bridge the gap between the first movie the rest of the Potter series has continued apace, with J.K. Rowling penning the sequel for returning director David Yates, who has already cast Jude Law as a young Albus Dumbledore in the sequel.
Now, another English actor has joined the cast, furthering the franchise's mission to one day employ every single actor in the United Kingdom: Green Room star Callum Turner.
Variety reports that Turner is in negotiations to join the currently untitled film and the details of his character begin and end with him being the brother of Eddie Redmayne's Newt Scamander. Since Turner is eight years younger than Redmayne (and looks it), we can probably assume that that he's Newt's little brother. In terms of physicality, it's inspired casting – they both share prominent cheekbones and wavy hair.
The London-born Turner is still a relative newcomer on the scene, having broken out on English television shows like Leaving, The Town, and Ripper Street before earning a leading role in 2014's Queen & Country. He started landing Hollywood gigs in 2015, appearing in movies like Victor Frankenstein and Assassin's Creed, both of which nobody saw. However, he played a big role in Jeremy Saulnier's incredible Green Room, where he got to tell a room full of white supremacists exactly what he thought of them via a punk rock performance (the clip below contains NSFW language).
Since then, Turner has starred in Tamps, the 2016 War and Peace miniseries, and Marc Webb's upcoming The Only Living Boy in New York. And now, he gets to join the wizarding world.
Like the title, the plot of Fantastic Beasts 2 remains guarded, but we do know that it will take us closer to events described in the original Harry Potter novels, when the dark wizard Gellert Grindelwald (Johnny Depp) clashed with Albus Dumbledore, long before he was the headmaster at the Hogwarts School of Witchcraft and Wizardry. While we don't know any plot details, it's possible that Newt's brother will exist to do what the skilled magizoologist himself cannot: tell us more about this series' inscrutable, eccentric, and tight-lipped lead character.
The sequel to Fantastic Beasts and Where to Find Them opens on November 16, 2018.