'The Mummy' International Trailer: Tom Cruise's Treasure Hunt Goes Horribly Wrong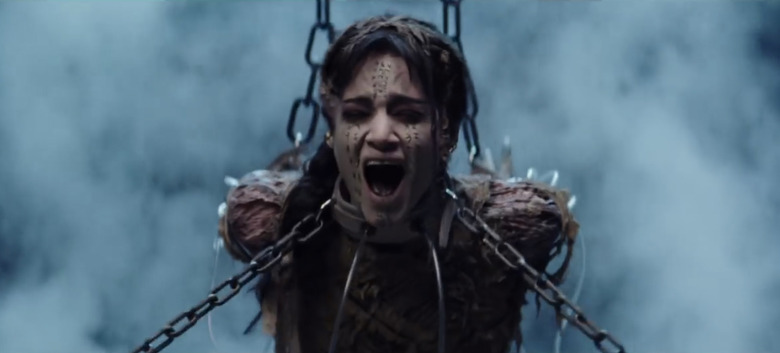 Earlier this month, the full trailer for The Mummy gave us a good look at the forthcoming reboot of the Universal Monsterverse that will bring back classic horror icons like Frankenstein's monster, the Wolfman, the Creature from the Black Lagoon, the Invisible Man and more. But The Mummy is the first one out of the gate with Tom Cruise leading the blockbuster action adventure with horror elements throughout, and a new international trailer has just surfaced that gives us a little more insight into our main character.
The trailer is mostly the same as the recently release theatrical trailer, but this one has an opening that gives us some more background about Tom Cruise's character. It turns out he's quite the reckless treasure hunter who doesn't heed the warnings or caution of Jake Johnson, who seems to be playing his companion. Honestly, just that extra detail makes Tom Cruise looks like a real jerk throughout the entire trailer.
Adding to that personality trait, Annabelle Wallis tries to give Tom Cruise's character some credit for giving her the only parachute left on the cargo plane that crashed to the surface in the teaser trailer for The Mummy. But instead of taking the credit, Cruise tells her that the only reason that happened is because he thought there was another one. I suppose that makes him slightly less of a dick since he was honest about it, but still, I would not want to go on an adventure with this iteration of Tom Cruise.
Otherwise, we get pretty much exactly the same action beats and moments where the Mummy in question (Sofia Boutella) is wreaking havoc on London. Again, since this is supposed to be a the start of a shared universe based on existing horror movies, I hope some genuine scares are inserted into these tentpoles too.
The Mummy is directed by Alex Kurtzman (producer of Transformers, Star Trek and Mission: Impossible franchises), who previously helmed 2012's small budget relationship drama People Like Us. He also wrote the script with Fast and Furious franchise writer/producer Chris Morgan and Sean Daniel (producer of the previous The Mummy trilogy). We'll find out if he has what it takes to direct a worthy blockbuster this summer.
Thought safely entombed in a tomb deep beneath the unforgiving desert, an ancient princess (Sofia Boutella of Kingsman: The Secret Service and Star Trek Beyond) whose destiny was unjustly taken from her is awakened in our current day, bringing with her malevolence grown over millennia and terrors that defy human comprehension.
From the sweeping sands of the Middle East through hidden labyrinths under modern-day London, The Mummy brings a surprising intensity and balance of wonder and thrills in an imaginative new take that ushers in a new world of gods and monsters.
The Mummy arrives this summer on June 9.