Exclusive: Kevin Feige On Why The 'Captain Marvel' Directors Were The Right People For The Job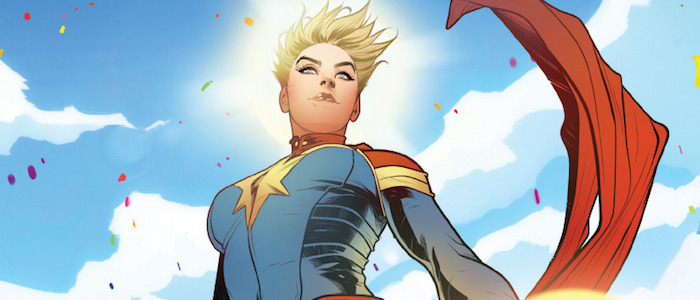 Yesterday, it was announced that the filmmaking team of Anna Boden and Ryan Fleck would direct Captain Marvel, Marvel Studios' first solo film to star a female superhero. Today, our own Peter Sciretta sat down with Marvel Studios president and Marvel Cinematic Universe producer Kevin Feige and learned why the directors of small dramas like Half Nelson and Mississippi Grind landed this job.
While Peter was there to talk about Guardians of the Galaxy Vol. 2, he (like so many actual Marvel movies themselves) had one eye on the future. Specifically, he asked about why Feige had decided Boden and Fleck were the right people for the job. Here's what he had to say:
They came in many, many times and impressed us in the room with what they had to say about Carol Danvers. [...] They live in New York and they would fly out at a moment's notice to come in and pitch on it, which always means a lot. Anna and Ryan had a strong sense of, not just the plotting and the machinations of the plot, but on Carol's journey, which is the most important thing about the movie. We can help out with all the accoutrements of action and sci-fi worlds, but we wanted someone who could really be a guiding hand to Carol and to Brie [Larson] and to that journey, which is what the whole movie is about: someone becoming the most powerful being in the universe. You look at their work and like most of the directors we've hired, [they're] not giant, effects-drive action, but rather very unique and very personal character stories and character journeys. And very diverse, in terms of the subject matter they've chosen to tell and they nail it every time. I think they see Carol as another rich, three-dimensional character to explore, who just happens to be able to fly and punch through moons and to lead intergalactic teams.
This aligns very much with other recent directors who have joined the MCU. James Gunn was known for his violent splatter comedies before Guardians of the Galaxy Vol. 2, Doctor Strange's Scott Derrickson was the director of chilling horror movies like Sinister, and Jon Watts landed Spider-Man: Homecoming after the right people saw his indie thriller Cop Car. As Feige indicates above, you can teach most filmmakers how to shoot visual effects – you can't each every filmmaker how to make audiences care about a character.
If you want to know more about Boden and Fleck's previous work, we wrote all about it right here. In the meantime, you should get comfortable. We have a long wait before Captain Marvel arrives in theaters on March 8, 2019.