'American Gods' Featurette: It's Time To Go A Little Mad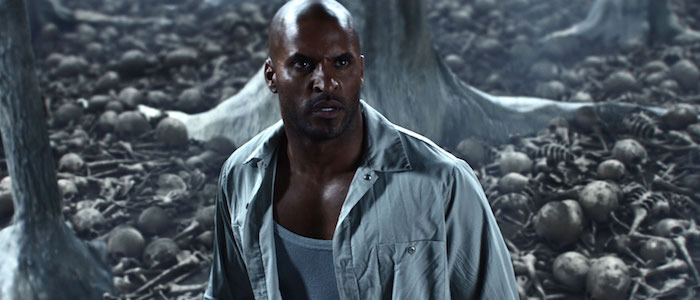 Starz is about ready to serve up a far stranger war story than we're accustomed to seeing. The old gods and the new gods will soon duke it out in Bryan Fuller (Hannibal) and Michael Green's (Heroes) adaptation of Neil Gaiman's fantasy novel, American Gods. Before Shadow Moon (Ricky Whittle) sets out on his journey with Mr. Wednesday (Ian McShane), you can get acquainted (or reacquainted) with his new friends and enemies in an American Gods featurette below.
Shadow gets released from jail a couple days early after the death of his wife, Laura (Emily Browning), who still manages to pay him visits from beyond the grave. Not long after her death, Mr. Wednesday, a confidence man who's in need of muscle, offers the widower a job. It turns out Shadow's new boss is actually a god, Odin himself. He acquires Shadow's help to prepare for his war against the new gods, each of them based on modern obsessions such as money, celebrity, technology, and media.
You can learn more about Mr. Wednesday & Co. in the new American Gods featurette:
Fuller and Green's series continues to look like some can't miss television. Even the opening titles we recently saw for the series teased a rich world with a confident tone and style. According to our own Jacob Hall, the series premiere lives up to its potential:
American Gods appears to do justice to Gaiman's work, expanding on his world while being faithful to what makes it work in the first place. Green and Fuller seem to have crafted something very special, perhaps even a series that can replace the dark fantasy hole in our hearts when Game of Thrones comes to an end. This could be something special. Let's hope.
American Gods co-stars Gillian Anderson, Cloris Leachman, Orlando Jones, Pablo Schreiber, Kristin Chenoweth, Crispin Glover, Peter Stormare, and Dane Cook as Shadow Moon's no good pal, Robbie.
Here's the synopsis for the Starz series.
"American Gods" posits a different kind of war brewing—one between Old Gods and New. The traditional Old Gods, with mythological roots from around the world, fear irrelevance as their believers die off or are seduced by the money, technology, and celebrity offered by the New Gods. Shadow Moon (Ricky Whittle) is an ex-con who, left adrift by the recent death of his wife, becomes bodyguard and traveling partner to conman Mr. Wednesday (Ian McShane). But in truth, Mr. Wednesday is a powerful old deity, on a cross-country mission to build an army and reclaim his lost glory.
American Gods debuts on April 30.