New 'Alien: Covenant' Images Reveal The Creepy 'Neomorph'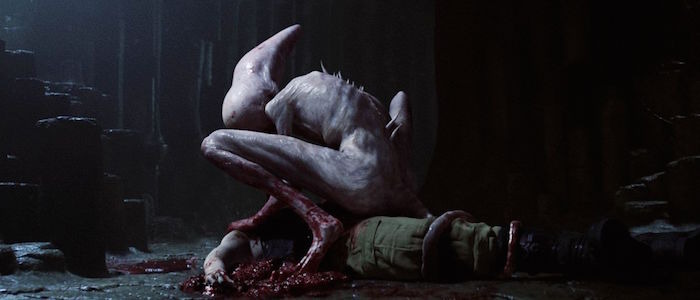 When I visited the set of Alien: Covenant last year, we toured the film's creature shop and one thing was very clear: this movie would feature a more traditional Xenomorph and a bunch of creepy, slimy, and hungry new friends. Now, a newly released image from the film reveals one of the new aliens who will menace director Ridley Scott's ensemble in the new movie: the pale, spindly "Neomorph."Empire debuted the image as part of their upcoming cover story on the film and as you can see, this guy is downright unpleasant looking. It's more organic than the original design, looking less like a machine and more like a feral creature, albeit one not from this planet and in desperate need of a tan. I actually saw this thing in action during the 15 minutes of the film that screened at SXSW last month and it made a strong (and gory) impression. It may not be as big as the regular Xenomorph, but it's not any less vicious.
The other two images are a bit more mysterious. One shows a figure overseeing a large group of pods as they are dropped on to a planet. The shape of the pods suggests technology created by the Engineers (the alien race introduced in Prometheus), but who is that figure? Could that be Michael Fassbender's evil android David? And speaking of David, he's also present in the third image, standing alongside Peter Weyland, once again played by Guy Pearce. We can safely assume that this scene is flashback because of, you know, the events of Prometheus.
And finally, there are these two new "crew message" videos, one from Danny McBride's Tennessee and one from Tess Haubrich's Rosenthal. Like the previous videos, these were seemingly recorded as the Covenant initially set out on its journey, long before everything went to hell and aliens starting eating people. Naturally, McBride's video is a hoot, with him riffing on all kinds of subjects before taking things to a more emotional conclusion.
Alien: Covenant will open on May 19, 2017.
Ridley Scott returns to the universe he created with Alien: Covenant, a new chapter in his groundbreaking Alien franchise. The crew of the colony ship Covenant, bound for a remote planet on the far side of the galaxy, discovers what they think is an uncharted paradise, but is actually a dark, dangerous world. When they uncover a threat beyond their imagination, they must attempt a harrowing escape.
Alien: Covenant stars Michael Fassbender, Katherine Waterston, Billy Crudup, Danny McBride, Demián Bichir, Carmen Ejogo, Amy Seimetz, Jussie Smollett, Callie Hernandez, Nathaniel Dean, Alexander England, Benjamin Rigby, and James Franco.