'Guardians Of The Galaxy Vol. 2' Clip: Star-Lord And Gamora Practice Pelvic Sorcery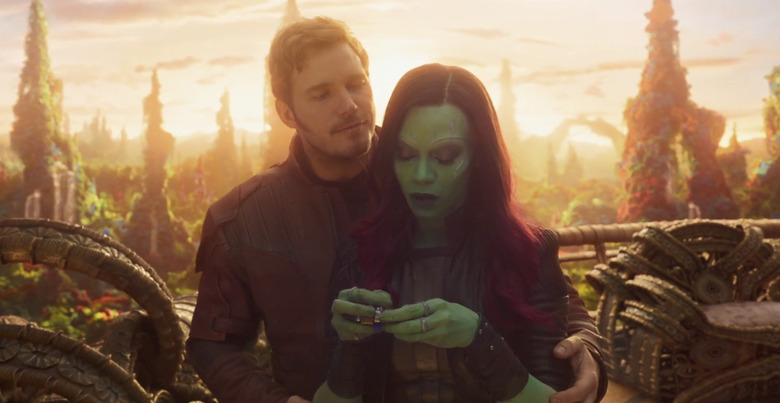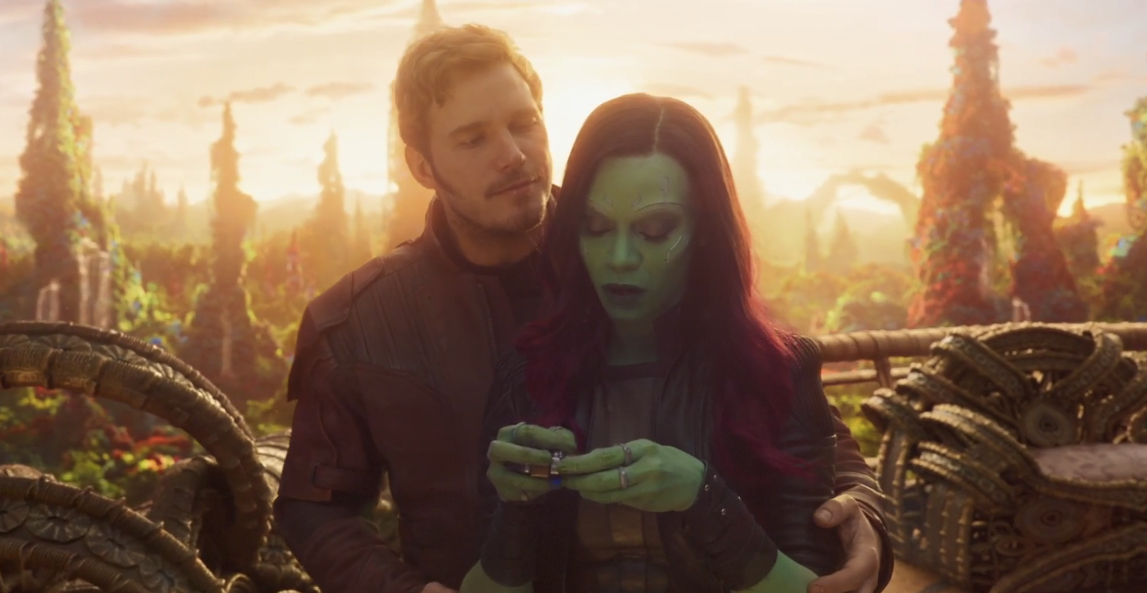 In case it wasn't clear in the first Guardians of the Galaxy, the teaser trailer for this summer's sequel affirmed that Star-Lord (Chris Pratt) has some romantic feelings for Gamora (Zoe Saldana). The new character Mantis (Pom Klementieff) revealed as much by way of her psychic empathy, allowing her to feel the emotions of others just by touching them. Now it looks like the romance continues to blossom ever-so-slightly as Star-Lord and Gamora share a quick dance to a tune by Sam Cooke.
Watch the new Guardians of the Galaxy 2 clip below.
I'm glad there's a clip from Guardians of the Galaxy Vol. 2 that shows one of the quieter moments from the movie. So far, Marvel Studios has stuck to promoting all the sci-fi action and comedy that comes from this group of unlikely heroes. But this clip shows the heart that lies at the center of the movie as well, as well as adding Sam Cooke's "Bring It On Home To Me" to the official soundtrack. Will this be the movie that allows Gamora to fall for Star-Lord? Maybe, but considering she threatens to kill him if he ever tells anyone about this, maybe not just yet.
The early buzz on Guardians of the Galaxy 2 kicked off last night after the first press screenings debuted in New York and Los Angeles. Most of the reactions seem to be favorable, with plenty of praise for Drax the Destroyer (Dave Bautista) and Baby Groot (Vin Diesel). The consensus seems to be that the sequel is able to improve upon the original without losing itself in spectacle.
There aren't any full reviews of Guardians of the Galaxy 2 yet, because those are under embargo until April 24. So make sure you come back then for more extensive thoughts on the Marvel sequel when those start hitting the web. In the meantime, make sure you check out the other clip that was just released.
Set to the backdrop of 'Awesome Mixtape #2,' Marvel's Guardians of the Galaxy Vol. 2 continues the team's adventures as they traverse the outer reaches of the cosmos. The Guardians must fight to keep their newfound family together as they unravel the mysteries of Peter Quill's true parentage. Old foes become new allies and fan-favorite characters from the classic comics will come to our heroes' aid as the Marvel cinematic universe continues to expand.
Guardians of the Galaxy Vol. 2 lands in theaters May 5.