Alec Baldwin Is The New Host Of TCM's 'The Essentials'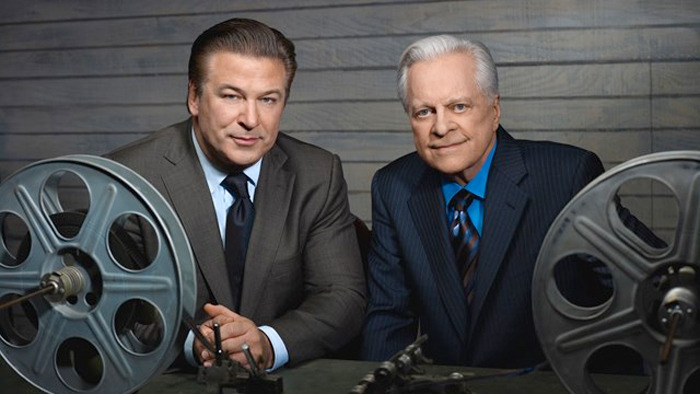 Last month, Turner Classic Movies host Robert Osborne sadly passed away after spending years dedicated to showcasing must-see classic films and spreading his passion for cinema. Though Osborne had reduced his role at TCM in recent years, the channel's program The Essentials was left without a host in the wake of his death. But TCM announced a worthy replacement today.
Alec Baldwin has been hired to take over The Essentials on TCM starting in May. After co-hosting the show with Robert Osborne for three season from 2009 through 2011, Baldwin is the perfect pick to take over, especially after the bond that he struck interviewing Osborne for TCM's Private Screenings for the channel's 20th anniversary.
Find out more about Alec Baldwin hosting The Essentials below.
TCM made the announcement today along with details on the new season of The Essentials, returning on May 6 at 8pm ET. The first three guest co-hosts joining Alec Baldwin will be former The Late Show host David Letterman, 30 Rock creator and star Tina Fey and director William Friedkin. Here's the schedule for all their episodes that will air over the summer:
- May 6 – The Bad and the Beautiful (1952)
- May 13 – East of Eden (1955)
- May 27 – No Time for Sergeants (1958)
- June 16 – The Big Sleep (1946)
- June 24 – Rear Window (1954)
- July 1 – The Lady Eve (1941)
- July 8 – The Bride of Frankenstein (1935)
- August 5 – Singin' in the Rain (1952)
- August 12 – The Quiet Man (1952)
- August 19 – The Manchurian Candidate (1962)
- September 2 – 2001: A Space Odyssey (1968)
- September 23 – The Treasure of the Sierra Madre (1948)
In addition to co-hosting The Essentials with Robert Osborne for a few years, Alec Baldwin also presented a month-long look at influential documentaries for TCM's Spotlight showcase. He was also part of their series Role Model, where he interviewed Gene Wilder. But the actor who has recently been appearing frequently on Saturday Night Live as Donald Trump knows that he has his work cut out for him:
"I have some big shoes to fill hosting The Essentials, and I plan on doing Bob proud with this new season of The Essentials."
When Osborne passed away last month, Baldwin paid his respects by telling Deadline, "In his own way, Robert Osborne's contribution to the movies was as significant as Walt Disney or Spielberg or Cary Grant. What they all have in common is that their work drove people to see movies, appreciate movies and celebrate movies as the great American art form that they are." Here's hoping that Baldwin can inspire just as much passion in cinephiles as Robert Osborne did.