'Guardians Of The Galaxy Vol. 2' TV Spots And A Special Cameo Revealed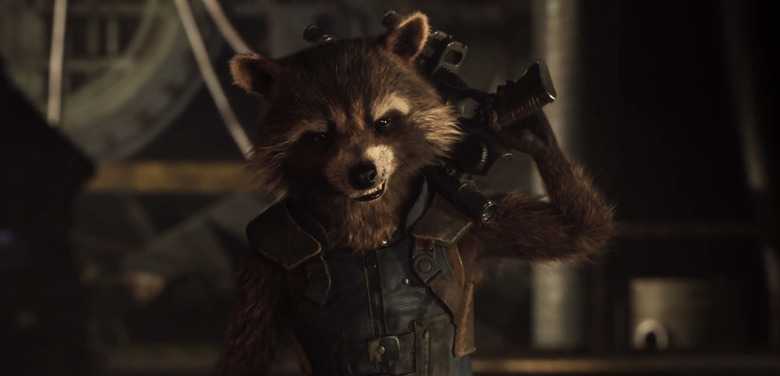 We're just 17 days away from the release of Guardians of the Galaxy Vol. 2, and the onslaught of marketing for the Marvel Studios sequel is in full swing. New TV spots are hitting the web all the time, and two more have just arrived. One of them features another roll call of all the Guardians of the Galaxy, including the new additions of Karen Gillan as Nebula and Michael Rooker as Yondu, though there's no spot for Pom Klementieff as Mantis.
In addition, Jimmy Kimmel Live (which will have the entire Guardians of the Galaxy cast on the show this evening) recently aired a segment revealing that Jimmy Kimmel's lovable sidekick Guillermo was given a small role in the Marvel sequel. Guillermo gets some invaluable advice from cast members like Chris Pratt and Kurt Russell before he shoots his big scene and you can watch all of this below.
Guillermo Meets Star-Lord and Ego, the Living Planet
Jimmy Kimmel's parking lot security guard turned TV personality went to the set of Guardians of the Galaxy Vol. 2 to shoot a small cameo. But before he makes his big screen debut, Guillermo gets some acting tips to help him, but it looks like we won't get to see how his performance turned out since he appears to barely appear in the final cut of the movie. What is interesting though is where this scene featuring Guillermo takes place.
Guillermo is playing a police office clearing people away from some kind of amorphous, electrified blob in the middle of a town. That means there is some kind of action sequence that takes place on Earth. Is this a threat that will finally bring Star-Lord back to Earth since he was taken away from his home planet as a kid? We don't know what these scenes on Earth deal with, but we do know that the background will feature the Simon Williams Film Festival, which features a movie that has Nathan Fillion playing Simon Williams, playing Tony Stark. We don't think it will play a prominent role in the movie, but it's a great easter egg nonetheless.
Otherwise, here's one of the new Guardians of the Galaxy Vol. 2 TV spots:
Plus, here's a Baby Groot themed TV spot that Vin Diesel shared on Facebook:

Guardians of the Galaxy Vol. 2 lands in theaters May 5.
Set to the backdrop of 'Awesome Mixtape #2,' Marvel's Guardians of the Galaxy Vol. 2 continues the team's adventures as they traverse the outer reaches of the cosmos. The Guardians must fight to keep their newfound family together as they unravel the mysteries of Peter Quill's true parentage. Old foes become new allies and fan-favorite characters from the classic comics will come to our heroes' aid as the Marvel cinematic universe continues to expand.