Dwayne Johnson Really Wanted To Play 'Jack Reacher'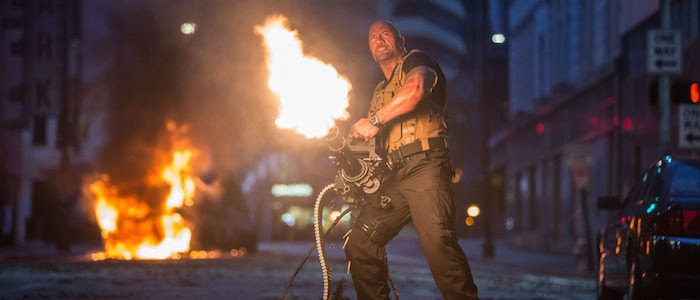 Here's a passage from A Wanted Man, where author Lee Child describes the character of Jack Reacher: "He was one of the largest men she had ever seen outside the NFL. He was extremely tall, and extremely broad, and long-armed, and long-legged. The lawn chair was regular size, but it looked tiny under him. It was bent and crushed out of shape. His knuckles were nearly touching the ground. His neck was thick and his hands were the size of dinner plates...A wild man."
But when it came time to bring the character to the big screen, the lean, short, and far more composed Tom Cruise was cast in the part, leading to much eye-rolling from longtime readers of Child's novels. In fact, many people wondered why they didn't just cast Dwayne Johnson. Well, it was on the table: Johnson says he went after the part.
Responding to a fan's question on Twitter (via ScreenCrush), The Rock revealed that he pursued the role a decade ago, but lost out once Cruise nabbed it:
Yup, luv the character. Bout 10yrs ago I went after the role, but Cruise got it. Was great motivation for me to always stay hungry. https://t.co/bwpZfEVIMm

— Dwayne Johnson (@TheRock) April 12, 2017
In retrospect, he seems like an obvious choice. Jack Reacher is described on paper as being 6' 5", weighing 250 pounds, and having a 50" chest. Johnson is a little shorter than that, but otherwise, he certainly has the physicality down. This only makes this quote from Child about the casting process a little head-scratching:
It was completely impossible to find a physical facsimile of Jack Reacher in Hollywood. There are none—not even remotely close. The people you think are 6-feet-five and 250 pounds are not. Most of them are at least seven or eight inches shorter than the fictional Reacher. It got to the point where people were saying, 'What about this guy who's nine inches shorter than Reacher? He's better than this other guy who's nine and a half inches shorter than Reacher.'
At the same time, it's also obvious why Johnson didn't get the part. While he's one of the most beloved movie stars on the planet right now, The Rock was building his reputation 10 years ago, still shaking his past as a WWE performer, and still honing his onscreen presence. Now we know that he would have been a great Jack Reacher, but it's hard to blame Paramount and Child for not thinking that a musclebound former wrestler could carry a film like this. Cruise was simply the bigger star at the time, an actor with a reliable track record.
Cruise also had something Johnson did not at the time: age. While Cruise looks incredible for a 54-year old man, he radiates the kind of experience you'd want from a seasoned professional like Reacher. The Dwayne Johnson of 2017 is probably old enough to capture that same feeling, but going with an older man for the part feels like a wise move. Jack Reacher needs to feel like a guy who has seen it all.
Interestingly, the casting of Cruise in this part reverses the Jack Reacher dynamic. On the page, Reacher is this hulking, terrifying brute who always surprises his enemies and allies when he exposes his quick wits, tactical mind, and startling intelligence. In the movies, everyone underestimates this incredibly smart, unassuming little guy before he destroys them with his fists.
In any case, the first Jack Reacher movie is nothing short of terrific and it features one of the greatest movie car chases of all time. The sequel...not so much. But if you want more Jack Reacher and want to imagine Dwayne Johnson in the part, there are many, many Lee Child novels starring the character. Most of them are a ton of fun.