Full 'Star Wars Battlefront II' Trailer Introduces A New Canon Story, Improved Gameplay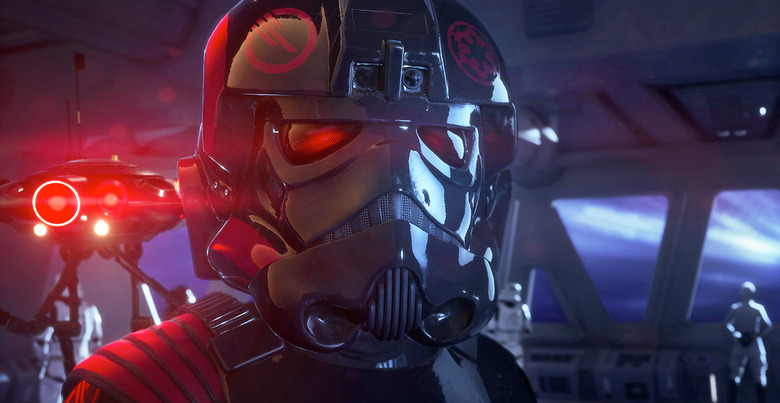 When Star Wars: The Force Awakens brought the sci-fi saga back in a big way, Star Wars invaded every type of media you could think of, from comics to TV shows to video games. The latter resulted in the revival of one of the most popular video game franchises to take place in a galaxy far, far away: Star Wars Battlefront.
Though Star Wars Battlefront was a big bestseller before The Force Awakens hit theaters, the game ended up disappointing even some hardcore Star Wars fans by not having a campaign mode (creating fast boredom) and having some clunky gameplay, both as a soldier on the ground and as a pilot in space. Thankfully, it sounds like all those problems will be resolved when Star Wars Battlefront II arrives later this year.
Watch the full Star Wars Battlefront 2 trailer and get details on the video game sequel below.
A teaser trailer for Star Wars Battlefront II leaked a few days before it was meant to debut at Star Wars Celebration, where a much longer, more revealing trailer (watch above) revealed plenty of new details on the game. The panel from the convention also provided us with even more information, especially on the anticipated single player campaign mode. So let's start with that part of the game.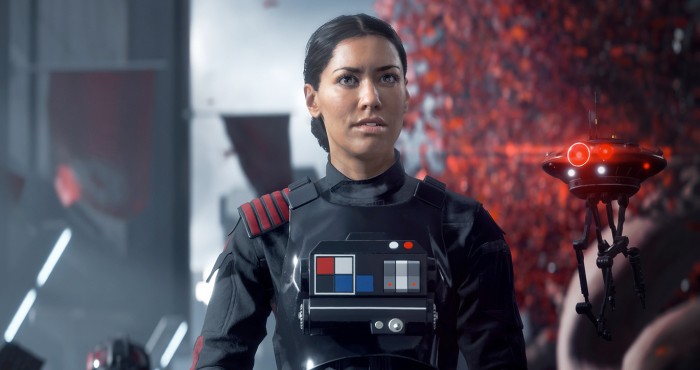 Star Wars Battlefront II Campaign Mode
Easily the most exciting aspect of Star Wars Battlefront II is the new single player campaign. Rather than having a story that follows someone on the Rebel Alliance, as many Star Wars video games have done before, we'll be following a female special forces Imperial soldier named Iden Versio (played by Janina Gavankar), the leader of an elite group known as Inferno Squad. If that sounds familiar, it's because they're also getting their own Star Wars book this summer.
Iden Versio has been raised on Imperial beliefs and propaganda for her entire life, growing up on a new planet created specifically for the game called Vardos. It's an Imperial haven that is the perfect breeding ground to brainwash new recruits into joining the Empire and fighting for the cause. The Inferno Squad can do anything and everything, but they find themselves at a loss when the second Death Star is destroyed as seen in Return of the Jedi.
The campaign will follow Iden (who has a flying droid sidekick) and her squad as they try to avenge the Emperor and maintain control of the galaxy during the 30 year period that exists between Return of the Jedi and The Force Awakens. Here's how the campaign is officially described on the Star Wars Battlefront II website:
Forge a new path as Iden Versio, commander of Inferno Squad—an Imperial special forces unit equally lethal on the ground and in space. Encounter many of Star Wars ' greatest characters in a story of revenge, betrayal, and redemption that spans 30 years.
Though Iden Versio will be the main character of the campaign, you'll still get a chance to play as Star Wars icons like Luke Skywalker, as well as one of the awesome new additions to the game, Kylo Ren.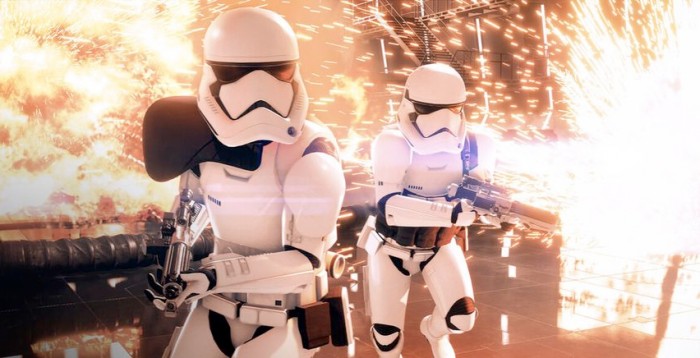 New and Improved Multiplayer Battles
Along with the new campaign mode, the coolest thing about Star Wars Battlefront II is that it spans all eras of Star Wars. Players will be able to take part in massive 40-player fights in locations all across the Star Wars galaxy. That means there will be characters, vehicles and locations from the prequels, the original trilogy and the ongoing sequel trilogy. Though there will be some pieces of the Clone Wars included, there was no word on whether any characters or vehicles from Star Wars Rebels would make it into Star Wars Battlefront II, at least not yet.
There will be new vehicles in space and on land (for example, you'll get to ride a tauntaun this time), though you'll have to unlock them for use by achieving various gameplay goals in a given round as opposed to just stumbling upon a power up in the level like the current game. DICE enlisted the developer Criterion, who worked on the Star Wars Battlefront Rogue One: X-Wing VR Mission to help create ships and vehicles that control well in combat, something that was a little difficult to master in the first Star Wars Battlefront.
As for the soldiers themselves, players will be able to upgrade and customize their troopers with new weapons, abilities and other customized details. There will also be classes introduced to the multiplayer mode this time, likely unlocking more weapons and abilities as you continue to play.
Furthermore, the major Star Wars heroes and villains who will be playable (and not just used a power-ups during battle anymore) can also be customized and upgraded. Luke Skywalker, Kylo Ren, Rey, Yoda and Darth Maul are just some of the Star Wars icons confirmed to be included in the game, and you'll be able to give them distinct abilities to make them even more powerful. And don't worry, because soldiers will have their own upgrades available that allow them to stand a chance facing the heroes, unlike the first game where they were extremely difficult to kill.
***
All of these details regarding Star Wars Battlefront II have the makings of a sequel that improves upon all of the shortcomings of the original game. It would appear that EA listened to everything fans said they wanted from a new Star Wars Battlefront game and added them to Battlefront II. We'll find out when the game hits PlayStation 4, Windows PC and Xbox One on November 17.
Thanks to io9 and Polygon for providing us with specifics on the game from the Star Wars Celebration panel that took place this past weekend.