Watch Fans Impressively Recreate 'Rogue One' Ending At Star Wars Celebration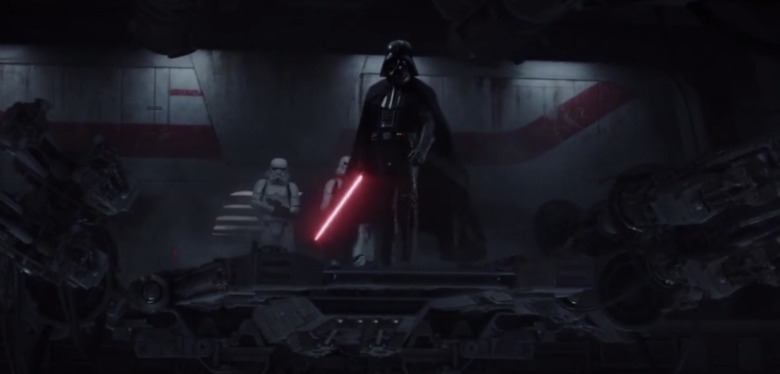 The third act of Rogue One: A Star Wars Story was one of the most thrilling endings to any Star Wars movie ever. From the space battle above Scarif to the ground battle around the Imperial base on the tropical surface, it was a thoroughly exciting conclusion. But easily the best part came when the plans to the Death Star were finally downloaded by the Rebel Alliance and quickly passed along though Rebel troopers as Darth Vader was in close pursuit.
At Star Wars Celebration 2017 in Orlando, some Star Wars fans got together to recreate that spectacular ending in the Orange Country Convention center, complete with Darth Vader on their trail as they pass the Death Star plans through the convention hall. Watch the Rogue One ending recreated after the jump.
Fans at @SW_Celebration do a most impressive recreation of THAT scene from #RogueOne... pic.twitter.com/HiZpsK9igg

— Star Wars UK (@StarWarsUK) April 15, 2017
The only thing that would make this better is if someone could take the score by Michael Giacchino during this scene and lay it over the video for added dramatic effect
Rogue One: A Star Wars Story is now available on Digital HD, Blu-ray and DVD.
From Lucasfilm comes the first of the Star Wars standalone films, "Rogue One: A Star Wars Story," an all-new epic adventure. In a time of conflict, a group of unlikely heroes band together on a mission to steal the plans to the Death Star, the Empire's ultimate weapon of destruction. This key event in the Star Wars timeline brings together ordinary people who choose to do extraordinary things, and in doing so, become part of something greater than themselves.
Rogue One: A Star Wars Story" is directed by Gareth Edwards and stars Felicity Jones, Diego Luna, Ben Mendelsohn, Donnie Yen, Mads Mikkelsen, Alan Tudyk, Riz Ahmed, with Jiang Wen and Forest Whitaker. Kathleen Kennedy, Allison Shearmur and Simon Emanuel are producing, with John Knoll and Jason McGatlin serving as executive producers.