The Best & Worst Sketches From Jimmy Fallon's 'Saturday Night Live'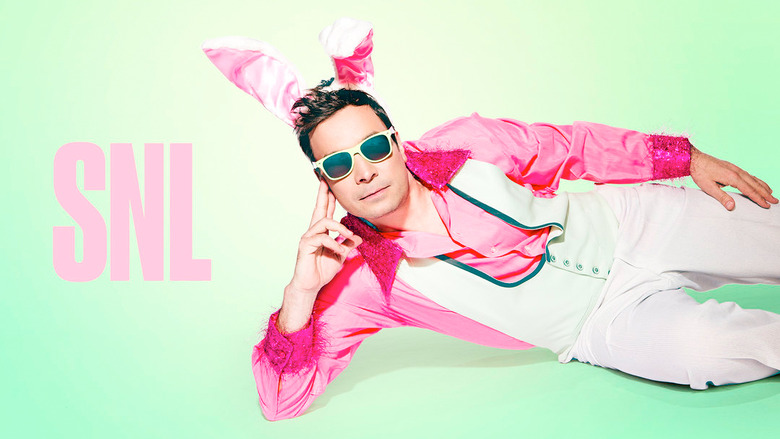 Last night, Saturday Night Live went live coast-to-coast for the first time in the show's 42-year history with host Jimmy Fallon. The late night sketch series seems anxious to capitalize on all the buzz their political satire has been getting lately with all the Donald Trump presidency fueling the writers room for a couple sketches each week, and they want everyone to experience the show at the same time rather than having half the country on a tape delay.
Though last night's episode did offer some amusing moments lampooning the headlines that came from the White House this week, SNL was strongest with their non-political sketches, and that's despite the fact that both Alec Baldwin and Melissa McCarthy returned as Donald Trump and Sean Spicer respectively. In fact, the best sketch mocked another headline-making even that had nothing to do with politics at all.
Check out the best and worst sketches from the Jimmy Fallon hosted Saturday Night Live last night.
The Best
Take Me Back – Normally I'd offer my commentary as to why this sketch was the best, but I can't do that without spoiling the double punchline twist that comes with this sketch. If you start watching and you end up wondering where the hell this is going (like I did when I watched), just wait, and let it unfold. It's worth it for the two huge laughs that come at the end, one of which features a surprising callback to another recent sketch from last week.
Before the Show – Anyone who has willingly participated in any middle school stage production knows how the expectations of students are nowhere near the final product of the performance that ends up on the stage. The dichotomy between the excitement these tween girls feel about their production of Legally Blonde: The Musical and the disaster that is the real show is both adorable and hilarious. Seeing how confident and happy they all are even after it fails spectacularly is also as funny as it is cute.
Basketball Scene – There have been plenty of instances where background extras are used to create humor by ruining a scene being shot for a movie, TV show or commercial. It's an easy gag. But sometimes, there's just no substitute for great physical comedy. In this case, seeing Jimmy Fallon and Mikey Day as trained actors who are trying to pretend to play basketball is just plain funny. I also love that line about studying "sports movement" at Julliard.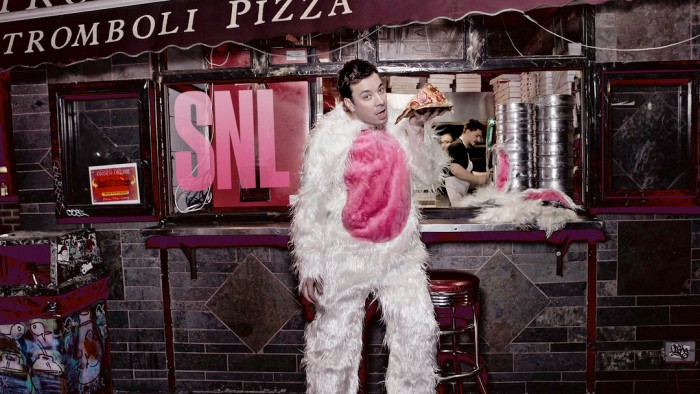 The Average
Celebrity Family Feud: Time Travel Edition – Showcases for celebrity impressions can be hit or miss, especially under the frame of Celebrity Family Feud. But this one featuring the added twist of having celebrities from 2017 and 1977 was a nice touch, especially with the gimmick of Jimmy Fallon playing John Travolta on both sides. His younger Travolta was infinitely better than his older Travolta, but it was rather impressive how he made the quick change for the last gag, not to mention ending with a Face/Off joke. I hope SNL releases video of him changing off camera for us to see how it happened. Otherwise, Harry Styles does a fine Mick Jagger impression, but I could have done without the wink and nod to his solo career.
Easter Message from Sean Spicer – Melissa McCarthy was fantastic as Sean Spicer, as usual, but there was something that felt weird about it. First of all, there were no cast members to ask questions as the press for Spicer to react to, which is a huge part of what made McCarthy's previous appearances so funny. That's because this sketch was shot live in Los Angeles, not New York. That means there also wasn't a live audience to feed McCarthy's performance, which really changes the rhythm and energy of a performance. It was still quite amusing, especially with that easter egg car reveal, but this just goes to show you how important the live dynamic can be with SNL.
Donald Trump and Jared Kushner – Although the appearance of Jimmy Fallon as Jared Kushner to the musical cue of EMF's 90s hit "Unbelievable" was a smirk-inducing, new addition to the parody of Donald Trump by Alec Baldwin, it wasn't enough to give us a sketch that was exactly noteworthy. There were moments that brought light laughter, but otherwise, this was one of the lesser attempts to poke fun at Trump. Again, the weight of real life events make the comedy side of the current political stage a little difficult.
New Shirt – I'm so torn on this sketch. On one hand, the image of seeing Jimmy Fallon, Beck Bennett and Pete Davidson slowly retreat into their shirt to the tune of DJ Snake and Lil Jon's "Turn Down for What" is really weird and funny. On the other hand, the sketch itself feels right on the cusp of being just plain weird without being funny enough to even things out. Maybe that's just me though.
The Worst
Civil War Soldiers – The premise for this sketch is a funny one. A few Civil War soldiers take it upon themselves to spice up an old folk song with some modern pop sensibilities. But the timing of Harry Styles entrance into the sketch and his part in the proceedings felt poorly timed and awkward. It didn't help that the fake bear Styles was wearing kept peeling off the left side of his face, making for quite the distracting gaffe. The song itself was funny, but the sketch just didn't work for me as well as it should have.
Sully & Denise – I'll be completely honest with you: I've never liked these characters that Jimmy Fallon and Rachel Dratch played during their time as cast members on Saturday Night Live. I get it, they're crass Bostonians with an immature sense of humor. But they've just always felt like a weak Boston version of Wayne's World that never made me laugh all that much (not unlike the Jarret's Room web series style sketch that Fallon used to do with Horatio Sanz). I like the touch of bringing Kate McKinnon into the fray as their daughter, but this sketch barely made me crack a smile.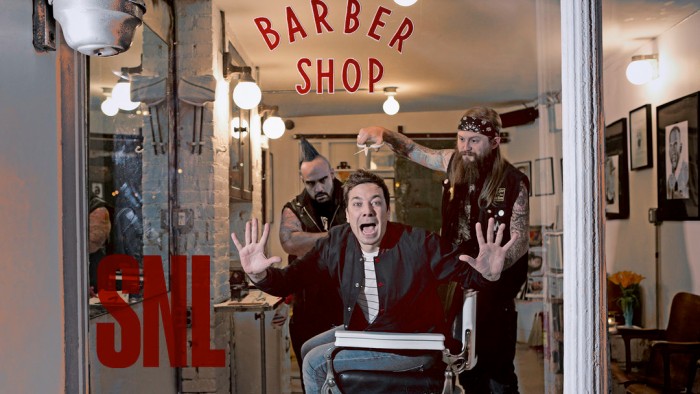 Weekend Update
This was a rather tame edition of headline jokes from Colin Jost and Michael Che, and sadly, it was missing any real interaction between the two anchors. I did enjoy the cheesy jokes about the 13-pound baby a woman had in Australia, but otherwise, the writing for this edition of Weekend Update didn't feel up to snuff.
Jacob the Bat Mitzvah Boy on Passover – When I say that the writing of Weekend Update this time wasn't really on par with the quality we've seen recently, it also applies to this segment. Jacob the Bat Mitzvah Boy can be funny, but we've seen him do Passover before, and there was nothing about this new edition that felt like it needed to be on the show.
Bruce Chandling on Spring – If this weren't a Weekend Update segment, it would be up top with the rest of the best sketches. This character is one that most SNL viewers won't get. He's a weird one, but I laugh so hard on the occasion that Kyle Mooney gets to bring him back. With each appearance, Bruce Chandling gets more sad and desperate as he clings to his 1980s stand-up comedy sensibilities and style.
The Host
We already know that Jimmy Fallon makes for a great host because he's the star of The Tonight Show. And when he comes back SNL, it's always a blast. Plus, it's always impressive to me when a host can kick off the show with a bang by doing some kind of musical number that isn't meant to be funny, but moreso in tune with the spirit of SNL as a sort of late night variety show. It's a fun set up for what should be a fun night for the cast and audience. Jimmy Fallon also did a lot of singing after the monologue in this episode, which is surprising for a host who's not known for being a music star.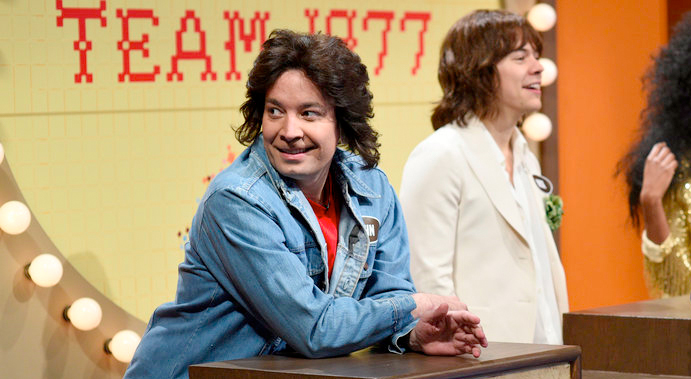 The MVP
Jimmy Fallon – It's mostly the John Travolta gag that had me deciding to give the title to Jimmy Fallon this week. But at the same time, whenever Fallon comes back to SNL as a host, he brings this high amount of enthusiasm with him that energizes the whole cast. You could feel that through the whole show, even if this episode wasn't one of the stronger ones of the season.
The Final Word
This episode wasn't nearly as good as last week's with Louis C.K., but it still had some solid sketches to top the night. I was hoping that there would be some more cameos from SNL veterans, but only Rachel Dratch made a return for one sketch. I guess SNL can only do so much of that when they already have Donald Trump and Melissa McCarthy making guest appearances, not to mention Harry Styles showing off his comedic chops.
We'll be back in a couple weeks after Chris Pine hosts SNL on May 6.