Watch /Film's Peter Sciretta Talk About The 'Star Wars: The Last Jedi' Trailer At Star Wars Celebration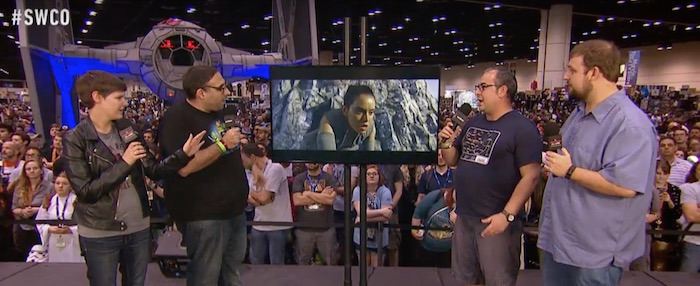 By now, you've probably watched the Star Wars: The Last Jedi trailer a few times and have all kinds of thoughts and opinions. We do, too – just look for our trailer breakdown very soon! But in the meantime, /Film's editor-in-chief Peter Sciretta was invited on the official Star Wars Celebration stage to talk about the trailer and discuss its handful of reveals and many mysteries. And yes, you can watch it below.
For the discussion, Peter was joined by Eric Vespe of Ain't It Cool, Germain Lussier of io9, and Michelle Buchman from Nerdist. Their discussion got off to a slightly chaotic (and very amusing) start, with Finn himself, John Boyega, crashing the stage and taking over as they were analyzing the very first shot. Of course, getting interrupted by a lead actor from the Star Wars movies while at a Star Wars convention has got to be on a geek's bucket list, right?
Naturally, Peter was able to capture the moment. We've included another image as well, so Peter will have definitive proof that he shared the Star Wars Celebration stage with John Boyega:
But now, let's turn our attention to the main event, where this quartet of geeky film bloggers watches the trailer together, pausing every so often to speculate and discuss and analyze everything that's going on. Using the video embed below, scroll about 39 minutes from the start of the live stream to watch the whole discussion!
If you want more from today's Star Wars: The Last Jedi shenanigans, you can read our post about everything we learned from the panel and check out Rian Johnson's photos from the set. The film itself will hit theaters on December 15, 2016.