See Rian Johnson's Stunning 'Star Wars: The Last Jedi' Photos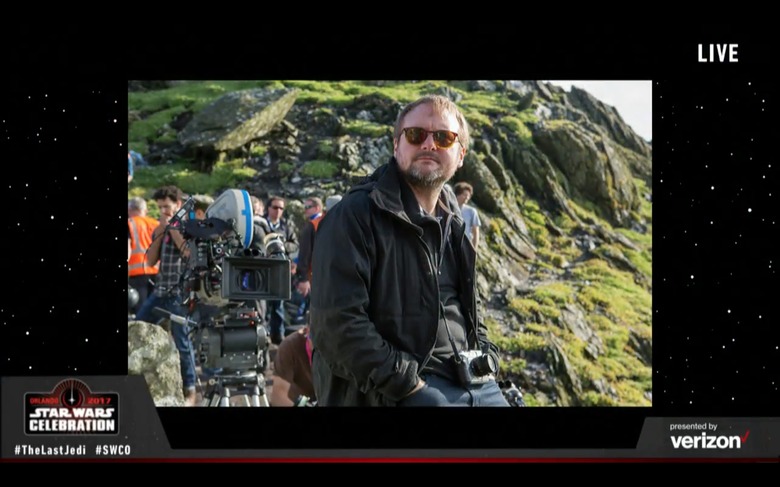 During the Star Wars Celebration panel for Star Wars: The Last Jedi, writer/director Rian Johnson revealed that he kept a camera on his person at all times throughout the shoot, snapping photos whenever he saw a striking image. And since this was a Star Wars set, there were a lot of striking images, all of them captured in beautiful black and white.
A few of those photos were shared during the panel and you can check them out right now.
These images were collected from the Star Wars Celebration live stream and have been cropped from the video. Because of this, the quality is a little wanting. However, they're still very cool and should Lucasfilm decide to release official, high quality versions, we will update this post accordingly.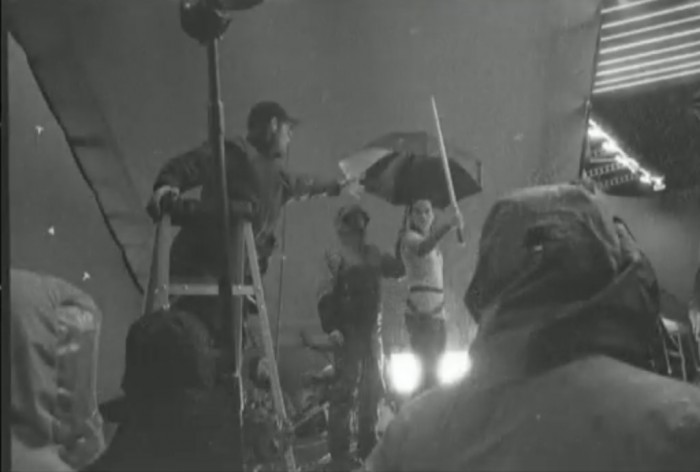 First up is this shot of Daisy Ridley on set as Rey, holding her lightsaber in the air as an assistant director keeps her dry with an umbrella. It's not clear what's going on here, but we now know there will be at least one fight or training sequence in the rain.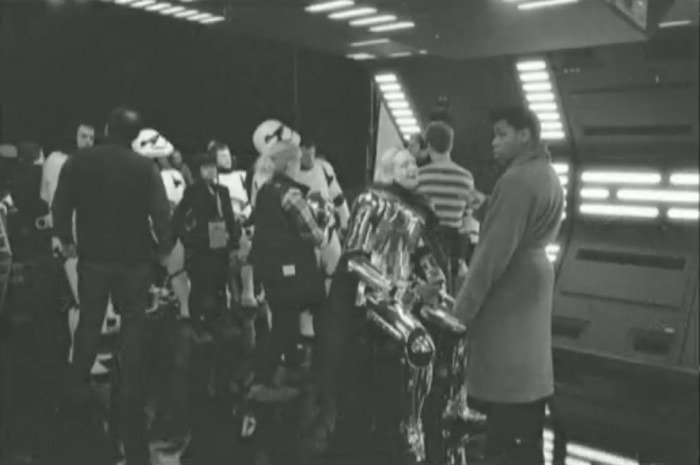 This charming shot finds John Boyega and Gwendoline Christie hanging out between takes. Note that Finn has found himself a new coat (a long tench coat that could be covering up something else). As for Christie...well, let's just hope Captain Phasma has more to do this time around.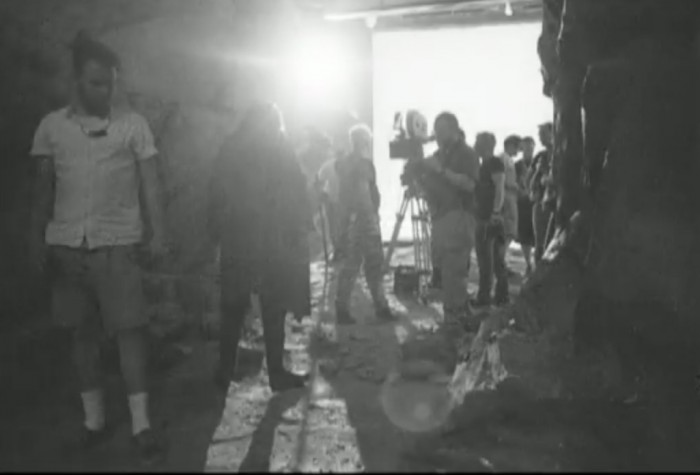 That light blasting into the lens does a fine job of obscuring any details, but this certainly looks like a cave and that dark figure standing close to us certainly appears to be Mark Hamill's Luke Skywalker.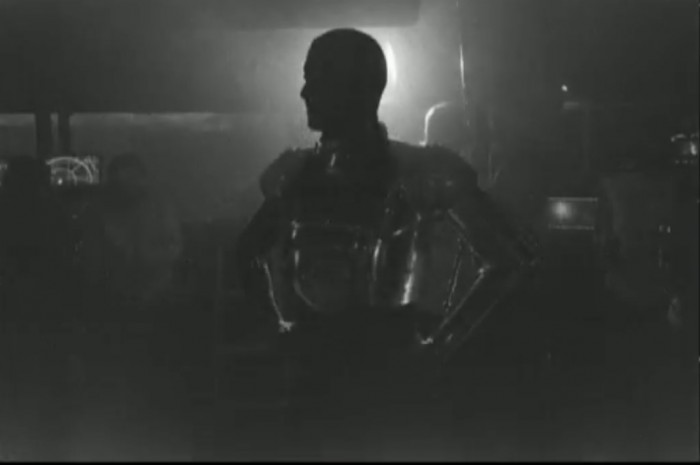 We've seen variations on this shot before, but it never gets old. That's Anthony Daniels between takes as C-3PO, human cyborg relations. That suit is surely uncomfortable, but at least he doesn't have to put up with the mask when the camera isn't rolling.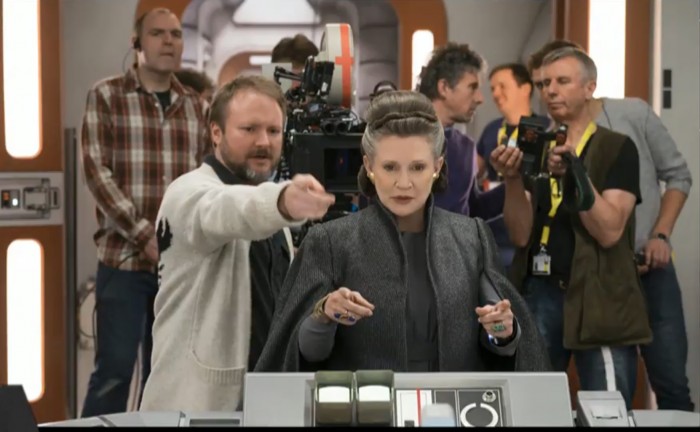 In addition to the shots Johnson himself took, a few other behind-the-scenes images were revealed. Here's Johnson directing the late, great Carrie Fisher, whose General Leia has a new wardrobe and a new hairdo. Based on their surroundings, they seem to be on a Resistance ship of some kind.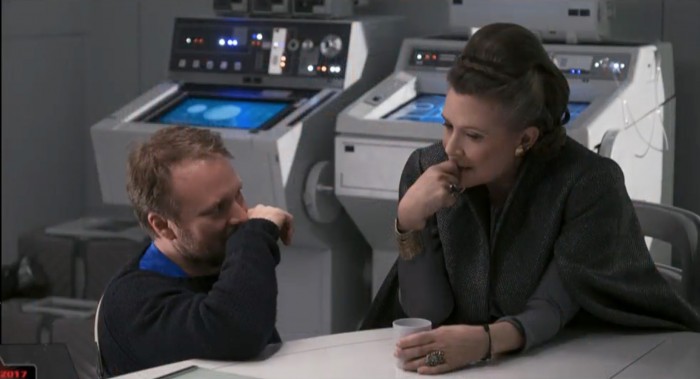 Here's another shot of Johnson directing Fisher. Those computer terminals in the background certainly suggest that they're on the same ship seen in the photo above.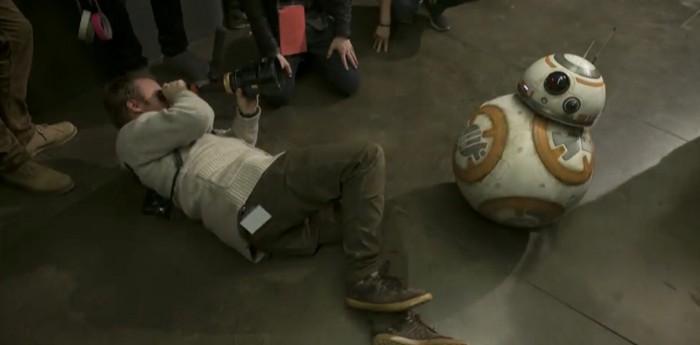 Here's the big question. Who's harder to direct – the human actors or BB-8? Did his sudden rise to stardom go to his head?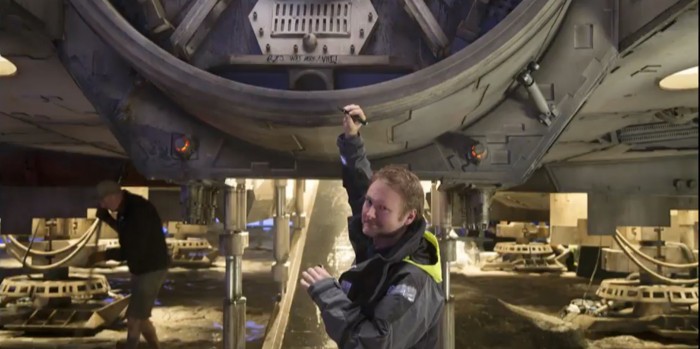 During the panel, Johnson revealed that he signed the Millennium Falcon, thus making his name a permanent part of Star Wars canon. Here is that act of nerdy vandalism in action!
While we're here, a few other photos were revealed during the panel. Here's Rey, walking along the grassy cliffs of Ach-To, the wind billowing in her cloak.

Here's another beautiful shot: Rey standing beneath the Millennium Falcon during a storm, holding her hand out into the rain. Is this the same storm we glimpsed in the photo above? You know, the one with the umbrella?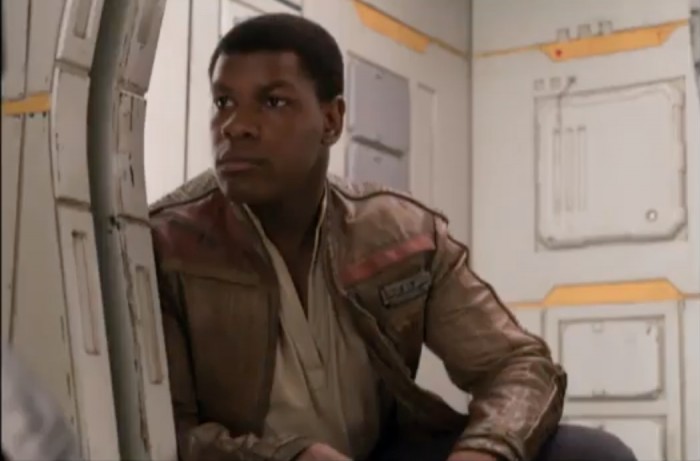 It's not entirely clear what John Boyega's Finn will be up to in The Last Jedi, but he seems to be recovering quite nicely from the injuries he sustained at the hands of Kylo Ren.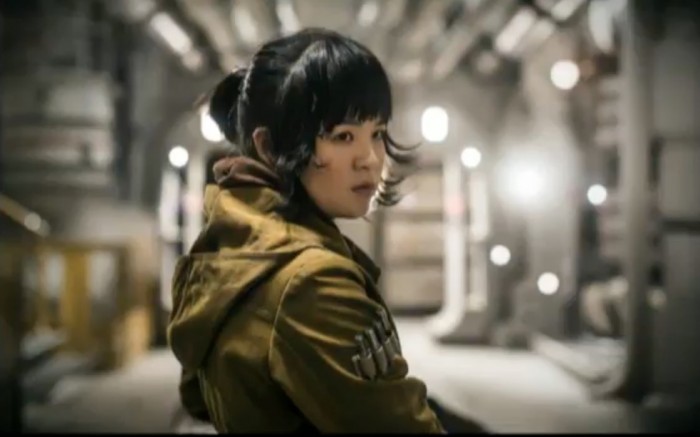 Here's our first official look at Rose, a new character played by Kelly Marie Tran. She's a Resistance mechanic who, naturally, finds herself thrust into the action. It wouldn't be Star Wars if a young hero wasn't forced to rise to the occasion!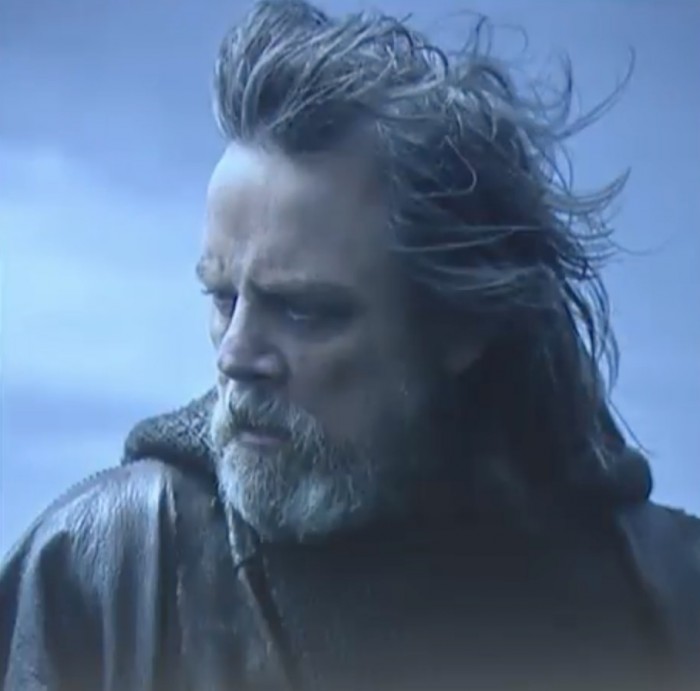 And finally, let's close this out with this new look at Luke Skywalker, who seems to have swapped out his cloak from the end of The Force Awakens for something a bit darker.
***
Star Wars: The Last Jedi hits theaters on December 15, 2017.