Did Vin Diesel Axe A 'Fate Of The Furious' Credits Scene With Dwayne Johnson And Jason Statham?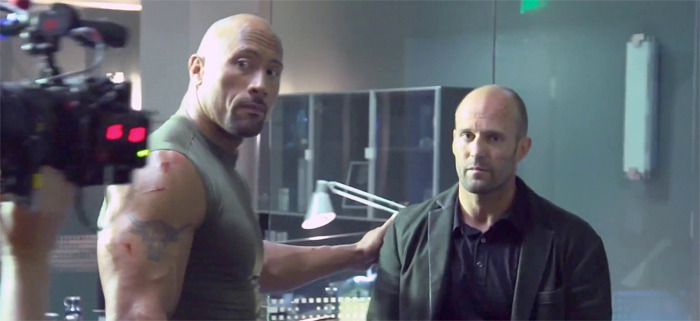 If you head out to see The Fate of the Furious this weekend, there won't be a credits scene teasing the next installment of the high-speed franchise. However, there were plans in place for for a credits scene that would have featured Luke Hobbs (Dwayne Johnson) and Deckard Shaw (Jason Statham) as a way of hinting that a spin-off might be coming featuring the adversaries forced to be allies. So what happened to it?
Reportedly, Vin Diesel had the credits scene pulled after it was shot without his knowledge. But there's another side of the story that indicates there wasn't really a confrontation reason behind The Fate of the Furious credits scene being axed. Find out more below, but beware of some minor spoilers for the sequel.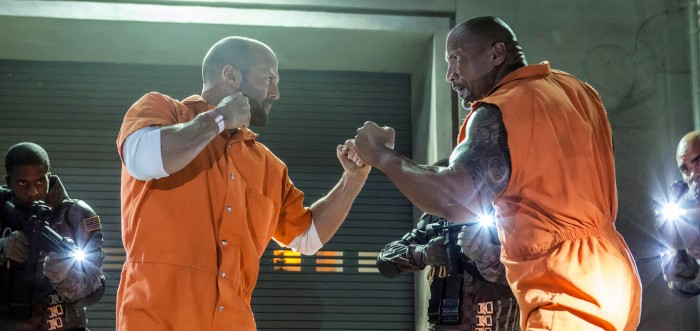 Where Did This Credits Scene Come From?
The Wrap has word from "insiders" that a credits scene would have had Hobbs and Shaw appearing, though details on what they were doing in the scene were not provided. In the film, Hobbs and Shaw are initially at each others' throats when they are locked up in the same prison. When a prison riot breaks out, Hobbs pursues Shaw to give him the Cherokee drum beating that he's promised, but the chase ends up leading them outside where Mr. Nobody (Kurt Russell) is waiting, having orchestrated the breakout.
When Mr. Nobody (along with his young protege Little Nobody, played by Scott Eastwood) rounds up Dom's team to help track him down after he's gone off the grid with the dangerous hacker known as Cipher (Charlize Theron), he surprises the crew by bringing in Deckard Shaw to help them, who we learn also has an axe to grind with Cipher because she coerced his brother Owen Shaw (Luke Evans from Fast and Furious 6) to do her bidding.
Hobbs and Shaw are still taking shots at each other while being forced to work together, which brings a good amount of humor in the movie. Eventually, Hobbs and Shaw become more friendly with each other, and their rapport becomes more playful than vindictive. One of the insiders behind this story says there were "early screenings where Johnson and Statham popped so much on-screen together that they were looking at doing a spinoff." And that's what the credits scene was meant to tease. So what happened to it?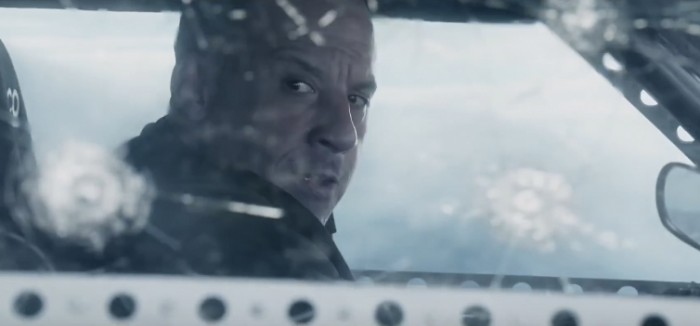 The Rage of Vin Diesel
The insiders behind this story indicate that producer Neal Moritz had the credits scene shot, but he didn't tell producer and star Vin Diesel, which was apparently a big mistake. Executive producer Samantha Vincent found out about the scene, and she just so happens to be Vin Diesel's sister. So she told the actor, and he "became enraged."
Following this revelation, Diesel called NBC Universal (the studio behind the film) and unleashed his fury on them. After this, the studio supposedly recalled all the theatrical prints and had the scene taken out of the credits. That implies this issue was something that came up very recently.
However, there's a chance that Vin Diesel wasn't actually mad about this situation at all. In fact, another insider explains that the scene in question wasn't even meant to be included with the theatrical release of the film. The scene was filmed ad bonus content for the home video release, but after studio executives and producers reviewed the sequence and "loved it", they ultimately decided against including it in theaters because "the sequence would make for a better opportunity somewhere else."
That sounds like a damage control response to the other side of the story. And considering the rumors of a feud between Dwayne Johnson and Vin Diesel, I wouldn't be surprised to hear if the latter was behind this credits scene getting thrown out. Lending further weight to this story, we know that Vin Diesel is a very hands-on producer, and all major decisions go through him. So if a spin-off involving Hobbs and Shaw wasn't discussed with him and a sequence was shot without his knowledge, his anger wouldn't be surprising.
Diesel has downplayed his supposed feud with Johnson in recent interviews, but it sounds like there was definitely some disagreement between the stars during the production, even if they've buried the hatchet since then. I just hope that this scenario doesn't ruin our chances of seeing a spin-off with Hobbs and Shaw, because they're one of the best parts of this sequel.