Bill Condon Eyes 'Bride Of Frankenstein' Remake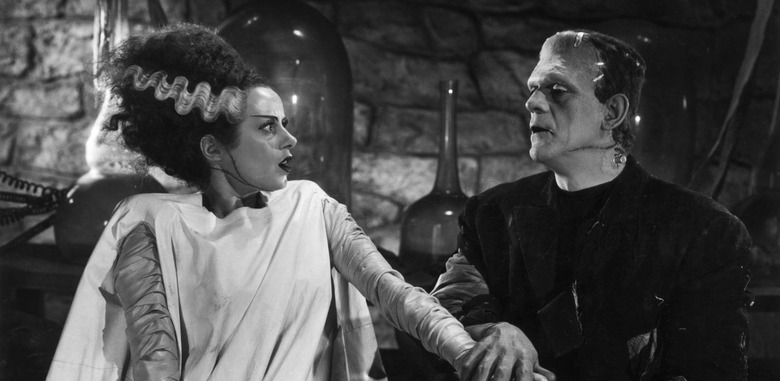 Bill Condon, whose Beauty and the Beast remake has become a box office monster with a $1 billion-plus haul worldwide, is reportedly looking to direct the remake of Bride of Frankenstein as part of the new Universal Monsters movie universe.
Condon is in early talks with Universal to direct the remake of the 1935 monster movie classic, according to Deadline. Condon is apparently quite excited about the prospect, having said in previous interviews that Bride of Frankenstein is one of his favorite classic monster movies of all time.
Condon has made a habit of adding little nods to the Universal horror film in several of his movies, including 2017's Beauty and the Beast, in which he admitted that "certainly the mob song with everyone with their torches, it's straight out of Frankenstein, you know." He spoke of the similarities of the Beast and Frankenstein's monster:
But I think in general it's the treatment of the monster, right? The sort of poetic, misunderstood monster that really was James Whale's invention, you know. That's in that film.
Other homages that Condon has made in his films include a scene in Twilight: Breaking Dawn Part 1, in which one character revives another by turning her into a monster to save her life. And then there's his critically acclaimed 1998 film Gods and Monsters, which dramatized the final days of James Whale, the director of the original Frankenstein and Bride of Frankenstein. The title of Gods and Monsters, which starred Ian McKellan as Whale and Brendan Fraser (who in a nice tie-in to the whole Universal Monsters franchise was the star of 1999's The Mummy), took its title from a line in Whale's Bride of Frankenstein: "To a new age of gods and monsters!"
Universal is certainly hoping to usher in the new age of gods and monsters with its cinematic universe of classic movie monster reboots, which so far include the upcoming Tom Cruise-starring The Mummy, and untitled movies revolving around the Invisible Man, Wolf Man, Van Helsing, and Creature from the Black Lagoon.
The original Bride of Frankenstein, which starred Elsa Lanchester and Boris Karloff, follows Dr. Frankenstein as he's tempted by another mad scientist to create a mate for his monster from the 1931 original.
The Bride of Frankenstein remake is being produced by Alex Kurtzman and Chris Morgan from a script by David Koepp (writer of the two Jurassic Park films), who told Collider he is giving a feminist bent to the new story:
"It's one of my favorite scripts I've written in years because if you reimagine the Frankenstein story, it gets into so many issues of men trying to feel dominant over women. To create someone who then says, 'You don't own me,' it becomes a tale of liberation. It was great. It was really fun, and I hope it gets going soon because I think it'd make for a great movie."
Condon has been praised for giving a feminist twist to Beauty and the Beast as well (though I don't think he deserves so much praise for such small tweaks to an already strong female character), so he and Koepp could have similar visions for Bride of Frankenstein.
The Universal Monsters universe gets launched with The Mummy, starring Cruise and Russell Crowe, which opens on June 9, 2017.