Edgar Wright's 'Grasshopper Jungle' Leaps Back Into Play And Might Be His Next Film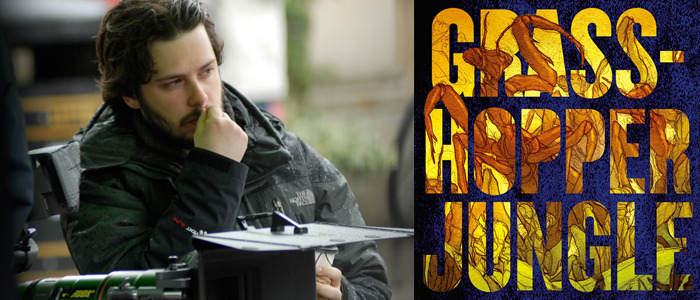 After Shaun of the Dead writer/director Edgar Wright left Ant-Man a few years ago, he was shopping a few projects around town in an attempt to set up his next movie. As you know, Baby Driver ended up being first in line, but one of the other films he was mulling over in that time was Grasshopper Jungle, an adaptation of Andrew Smith's young adult novel in which a teenager and his friends accidentally unleash a swarm of six-foot-tall praying mantises on his town.
Now that Baby Driver is racing into theaters sooner than we thought, Wright's again on the hunt for his newest project – and it looks like a familiar project has reared its head once again. Read on for the latest about Edgar Wright's Grasshopper Jungle.
The Hollywood Reporter brings word that New Regency is in final negotiations to pick up the project. Back in 2014, it was Sony who was interested, but considering that New Regency is located on the 20th Century Fox lot and has a distribution deal with Fox, it sounds as if this will be Wright's first dealing with that studio. (He made his first four features with Universal, and Baby Driver at Sony.)
Here's the full description of Smith's book:
Simmering within Ealing, Iowa, is a deadly genetically engineered plague capable of unleashing unstoppable soldiers—six-foot-tall praying mantises with insatiable appetites for food and sex. No one knows it, of course, until Austin and his best friend Robby accidentally release it on the world. An ever-growing plague of giant, flesh-hungry insects is bad enough, but Austin is also up to his eyeballs in sexual confusion—is he in love with Robby or his girlfriend, Shann? Both of them make him horny, but most things do. In an admittedly futile attempt to capture the truth of his history, painfully honest Austin narrates the events of the apocalypse intermingled with a detailed account of the "connections that spiderweb through time and place," leading from his great-great-great-grandfather Andrzej in Poland to Shann's lucky discovery of an apocalypse-proof bunker in her new backyard. Smith is up to his old tricks, delivering a gruesome sci-fi treat, a likable punk of a narrator, and a sucker punch ending that satisfyingly resolves everything and nothing in the same breath.
Apocalyptic action with an obvious metaphorical undercurrent? Sounds like a pitch perfect match for Wright's sensibilities. This won't be the director's first adaptation of a another property, either: his take on Bryan Lee O'Malley's Scott Pilgrim vs. The World is a terrific movie that retains the essence of the comics while being filtered through his unique style of filmmaking. I expect we'll see something similar with Grasshopper Jungle.
Weirdly, this book came to his attention through a Facebook comment. Here's hoping we all "like" what he does with the movie. (I'm so sorry.)