'Kingsman: The Golden Circle' First Look Reveals Channing Tatum, Halle Berry, And Jeff Bridges As American Spies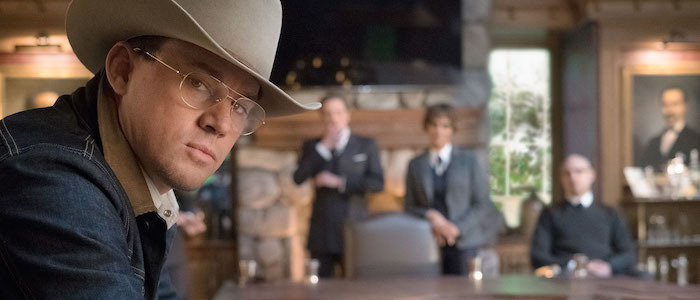 Kingsman: The Secret Service wasn't just a surprise box office smash – it was one of the most pleasantly surprising wide releases of 2015. Matthew Vaughn's gory spy riff, which pushed the language of James Bond movies into giddy, R-rated heights, was a ton of audacious, gnarly fun. However, this also means that the sequel won't benefit from the element of surprise. Expectations have been raised!
But it seems to have come prepared, with new cast members in Channing Tatum, Halle Berry, and Jeff Bridges, each of whom has been revealed in the Kingsman: The Golden Circle first look.
The images debuted over at Entertainment Weekly and they show off a trio of new characters: members of "The Golden Circle," the American equivalent of the top-secret English spy agency introduced in the first movie. Much like how the original film cheekily played with 007-esque fashion tropes, these newcomers appear to lean heavily into American iconography. Tatum looks like he just walked off a Texas ranch and Bridges looks like he'd be at home running a a family-owned oil company. The iconography also extends to the group's ridiculous armaments – the EW article mentions "an electric cowboy-style lasso that slices through bad guys."
The article is full of other little details beyond the Golden Circle's weaponry. It also reveals that Berry is playing the group's resident technology and weapons expert and that she develops a flirtation with Mark Strong's Merlin, who fulfills similar duties across the pond. Says Strong:
I quite like playing the tech nerd who can handle himself in a conflict situation. But what I really like about this second film is that Merlin meets Halle Berry's character, who plays his equivalent role in the Statesmen. And she had her clipboard and her glasses, just like Merlin. And what happens when two tech nerds come together? Might there be some geeky love?
Star Taron Egerton, reprising his role as young agent "Eggsy" Unwin, promises that the sequel is the Avengers to the first movie's Captain America, while Vaughn says that the film won't be a retread, noting "Sequelitis is a plague I have no interest in contracting."
The cast also includes Game of Thrones star Pedro Pascal as another member of the Golden Circle, Julianne Moore as a "Martha Stewart-ish" super villain named Poppy, and Elton John as...himself?
While we've yet to see a trailer for Kingsman: The Golden Circle, but our own Peter Sciretta enjoyed the footage screened at CinemaCon. With the film due out in theaters on September 29, 2017, we should be seeing something very soon.