Dolph Lundgren Cast In 'Aquaman' As King Nereus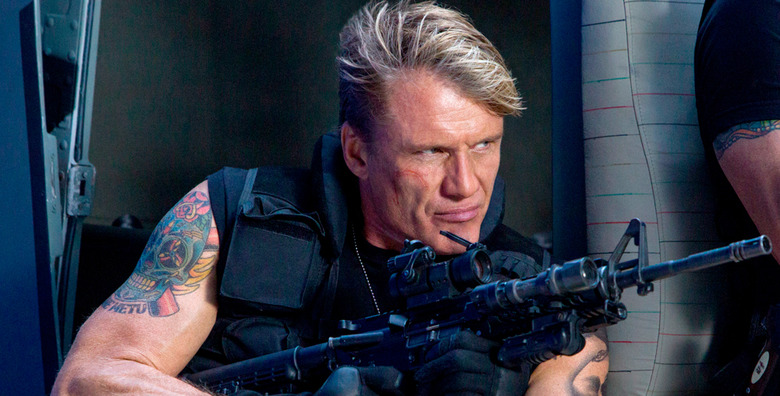 Dolph Lundgren just can't keep away from the DC Comics properties, trading up from ruling a criminal empire on Arrow to ruling the high seas in the James Wan-helmed Aquaman. The Expendables star has been cast as the dastardly King Nereus opposite Jason Momoa's Arthur Curry in Warner Bros.' upcoming DC superhero movie.
According to The Hollywood Reporter, Lundgren will be joining the Aquaman cast and returning to big-screen action movies for the first time since The Expendables 3. Here is Lundgren's character description per The Hollywood Reporter:
Lundgren will play King Nereus of the aquatic kingdom of Xebel, who claims Mera as his own and wants to kill Aquaman.
Nereus is the leader of the Xebels, an exiled group of Atlanteans that Queen Mera, Aquaman's wife played by Amber Heard, was once part of. The character is a fairly new addition to the Aquaman canon, debuting in 2013's Aquaman #19 during the "Death of a King" arc. It's unclear what part Nereus will play in the film, or if he will be Aquaman's main antagonist, but it looks like Aquaman will be set upon from all sides in his solo film, with the Ocean Master (Patrick Wilson) and Black Manta (Yahya Abdul-Mateen II) already set to antagonize the King of the Seven Seas.
This isn't the first time Lundgren has played a DC universe villain, recurring as Russian crime lord Konstantin Kovar on The CW's Arrow. Nor is he a stranger to hamming it up as a baddie in sci-fi spectacles — the Swedish actor has built a 30-plus career playing swaggering villains and establishing himself as an '80s action icon — which may be why Wan, a proud fan of '80s action films dripping with machismo, cast him in Aquaman.
It's to be seen, however, whether his turn as the regal King Nereus will beat anything that he did in Masters of the Universe.
The star-studded cast of Aquaman is rounded out by Nicole Kidman as Aquaman's mother, Willem Dafoe as his friend Vulko, and Temuera Morrison as his dad.
Aquaman is set to start production this May with a theatrical release of December 21, 2018. Momoa's Aquaman, who is making waves as a Polynesian version of the typically blonde, white character, will make his big screen debut in Justice League on November 17.