'The Predator' Star Sterling K. Brown Promises 'A Wicked Sense Of Humor' In Shane Black's Sequel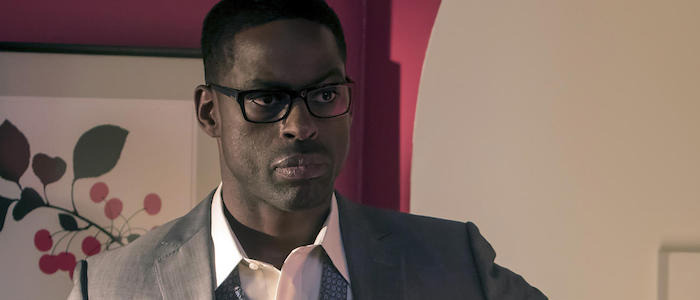 Sterling K. Brown is a busy man. When he's not winning Emmys for his incredible work on American Crime Story: The People v. O.J. Simpson or making it clear that he wouldn't say no to playing Green Lantern in the DC Extended Universe, he's starring on the critically acclaimed series This is Us and  simultaneously filming Ryan Coogler's Black Panther and Shane Black's The Predator. I'm surprised he found time to stand still for a few minutes, let alone share a few fun details about what Black is doing with the latest entry in the Predator series.
Entertainment Weekly caught up with Brown, who wouldn't say anything about Black Panther ("When it comes to Marvel Universe, I've learned to just leave well enough alone and keep my mouth shut"), but did speak about The Predator, a film that has otherwise been shrouded in secrecy. We now know one thing for sure – major science fiction franchise or not, it sounds like this film will be a Shane Black movie through and through:
Shane has his whole take on it and it's very different than the original Predator. It's got a really wicked sense of humor to it, which I love about it. And it's got a real camaraderie amongst the main characters that I think folks will be attracted to. That's pretty much all I can say.
Black, who wrote movies like Lethal Weapon and The Long Kiss Goodnight before getting behind the camera for Kiss Kiss Bang Bang, Iron Man 3, and The Nice Guys, has always had a strong sense of humor and has always had a thing for writing witty male banter. The Predator may feature an alien hunter picking off a cast of characters one-by-one (or so we can safely assume), but if Brown's comments are any indication, his fingerprints will be clear as day.
Brown is one member of an impressive ensemble, which also includes Boyd Holbrook, Olivia Munn, Thomas Jane, Keegan-Michael Key, Trevante Rhodes, Jacob Tremblay, Alfie Allen, and Edward James Olmos. However, Brown humorously notes that he's already getting compared to another actor from the original 1987 Predator:
I'm a huge fan of Predator. And, of course, everybody loves Jesse the Body [Ventura] and Arnold [Schwarzenegger] and Carl Weathers and Bill Duke. My friends at Stanford used to tease me — being the dark-skinned African-American man that I am — they'd say, "Yo, man, you're going to start getting all [those] Bill Duke roles when you get older." And I was like, "I don't look anything like Bill Duke, you guys can kiss my ass." So then I booked this movie and I told them and they're like, "Dude, do you even realize that you're now Bill Duke???" And I had to go tell them to kiss my ass all over again.
The Predator is filming in Vancouver right now and will hit theaters on February 9, 2018.