Cool Stuff: Matt Ferguson's 'Total Recall' Poster, New 'Star Wars' LEGOs, And 'Hellboy' Whiskey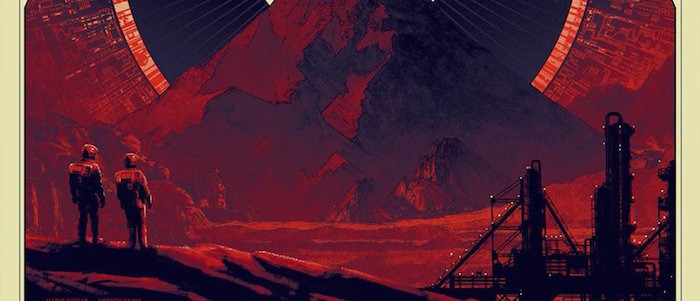 We may receive a commission on purchases made from links.
In this edition of Cool Stuff, Matt Ferguson reveals his new Total Recall poster, LEGO plans a very limited set for Star Wars Celebration, Hellboy gets his own whiskey, and much, much more.
Artist Matt Ferguson has revealed his stunning new poster for Total Recall on Twitter. As you can see, this one makes use of glow-in-the-dark ink, revealing new imagery once you turn the lights off. The posters measure 24 x 36, with the standard selling for $50 and the variant for $60. They will go on sale tomorrow at 1:00 P.M. EST, so keep your eye on Grey Matter Art if you're interested.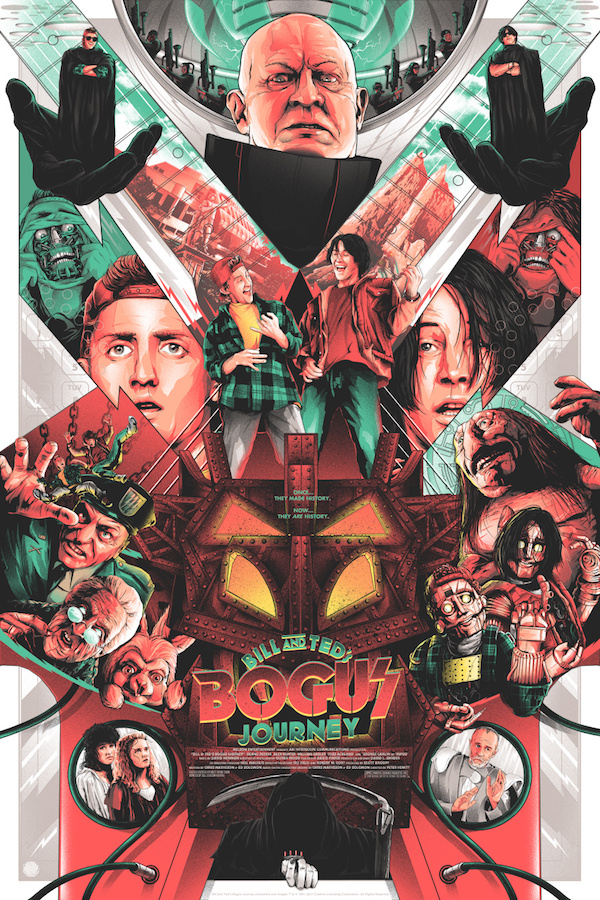 And now, a very different poster for a very different movie. Here's Matt Ryan Tobin's poster for Bill and Ted's Bogus Journey, which is as colorful and detailed as you'd hope. While the variant is currently sold out, copies of the standard version are still available for $50 right here.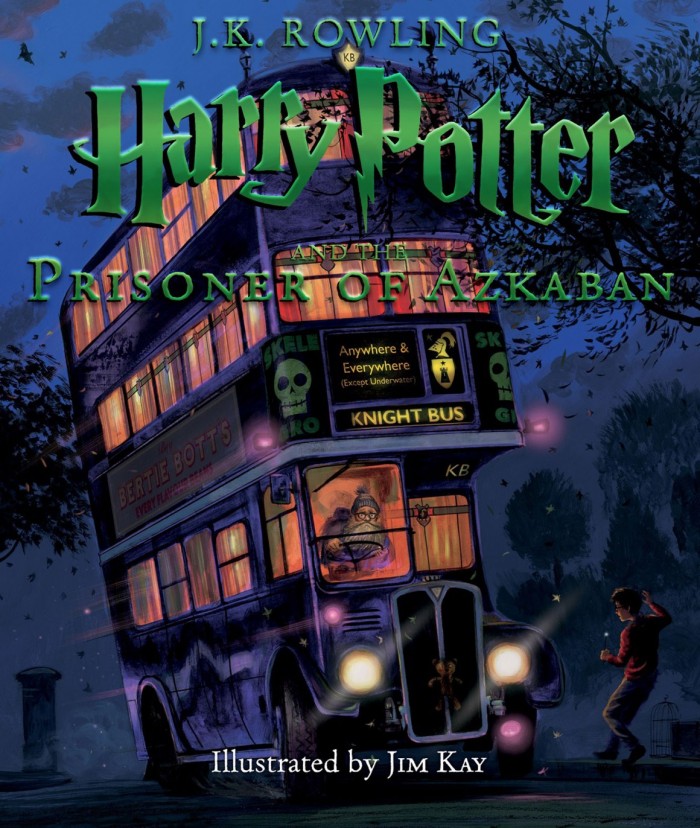 The illustrated editions of Harry Potter and the Sorcerer's Stone and Harry Potter and the Chamber of Secrets were both wonderful, offering fans another excuse to read through J.K. Rowling's brilliant fantasy series. This year brings the illustrated edition of the third book, Harry Potter and the Prisoner of Azkaban, and the cover art has been revealed. As you can see, it depicts the Knight Bus. As you can also see, it's the differences between the film adaptations and Jim Kay's art that makes these new editions so much fun.
LEGO put together this really fun little Star Wars set to commemorate the 40th anniversary of Star Wars and it will be available exclusively at Star Wars Celebration. Unfortunately, they are very limited in number and you had to participate in a lottery to guarantee the chance to buy one at this year's convention. However, we're leaving this here because some will surely become available through third party sellers. Keep your eyes open.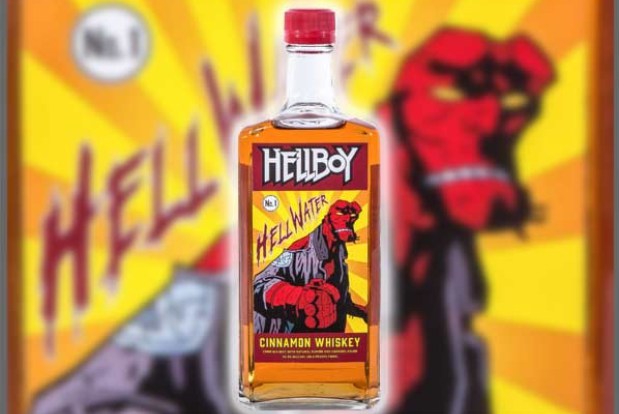 Hellboy 3 is officially dead, but fans of the character now have a way to drown their sorrows: officially licensed Hellboy Hell Water cinnamon whiskey. Here's how it's described:
Hellboy Hell Water is small batch naturally flavored cinnamon whiskey. It is micro-distilled, hand bottled and styled in the old traditional process of making Southern Corn Whiskey. Old fashioned corn whiskey uses only the finest corn, natural ingredients, spring water, glassware and craftsmanship.
And yes, it's 66.6 proof. If you're curious and want to taste a little bit of sweet, delicious brimstone, you'll be able to buy some starting on April 14 for $19.99 per bottle.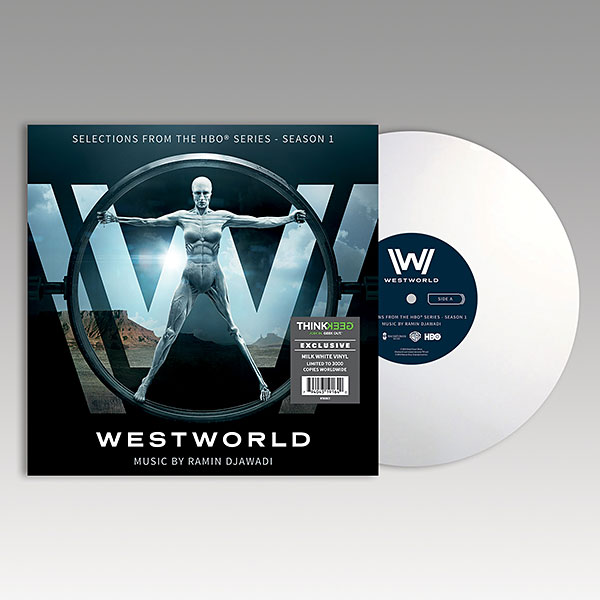 For the Westworld fan who needs something to obsess over while the second season takes its sweet time coming together, there's this "milk white" LP soundtrack of music from the show's first ten episodes. In addition to the main theme, this album also features the modern pop and rock songs composer Ramin Djawadi re-arranged as old-timey piano tunes. This edition will cost you $25 and it's a ThinkGeek exclusive. They describe it as follows:
Here's an interesting Westworld thought that we discussed at the ThinkGeek World Domination HQ holiday lunch (we set aside a Westworld spoilers table): the player piano was one of the first robots welcomed into the home. It lived in the parlor and entertained your guests. Nolan has talked about how the player piano was an automaton designed to evoke an emotion but not how normalized it was at a time when automation like electronic washing machines were just coming onto the market.
Ironically, part of the decline of the player piano was because of improvement in the quality of phonograph recordings. And here we have a modern recording of some of the more memorable music transcribed for the player piano from HBO's Westworld. Composed or arranged by Ramin Djawadi, the songs on this LP will help tide you over while the park is shut down until 2018. It includes favorite versions of songs from Soundgarden, The Cure, Radiohead, Amy Winehouse, and Nine Inch Nails, among others. We had the option of getting it in black, white, Dolores blue, or blood red. We went with the one we felt was most iconic. This white version, evocative of the opening credits, is our ThinkGeek exclusive.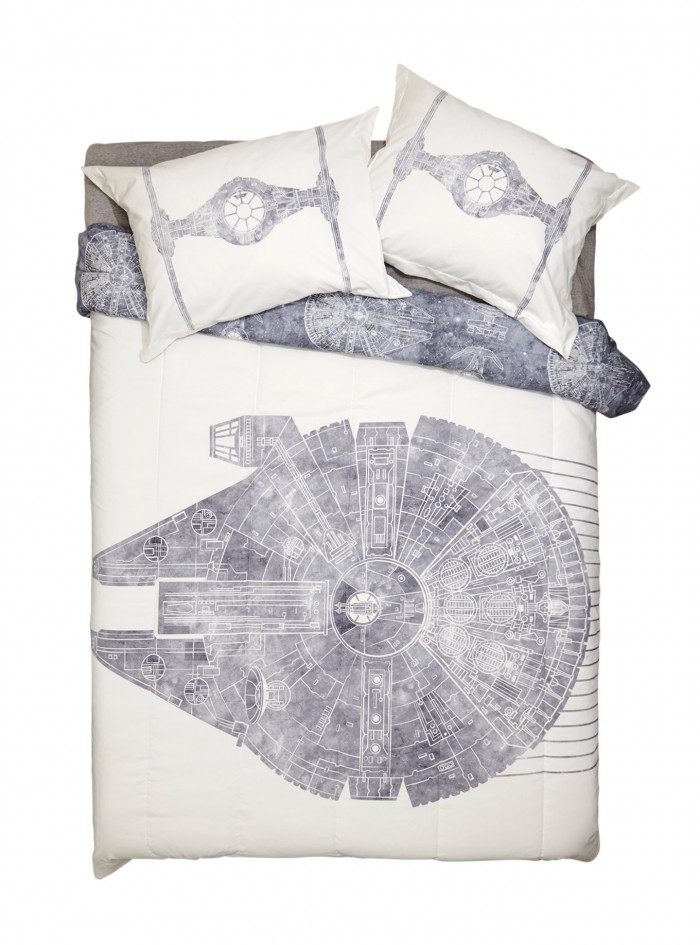 For the Star Wars fan who wants to remain warm and cozy at night, there's this bed comforter, which features a detailed look at the Millennium Falcon:
Forget hyperdrive, you'll be hitting hypersleep under this cozy full/queen comforter from Star Wars. The white and grey comforter features a large image of the Millennium Falcon on one side and an allover print of different ships and fighters on the other. Add in two standard pillow shams with images of TIE fighters and you're ready for your battle with sleep.
It's currently out of stock, but you should watch this space if you want one.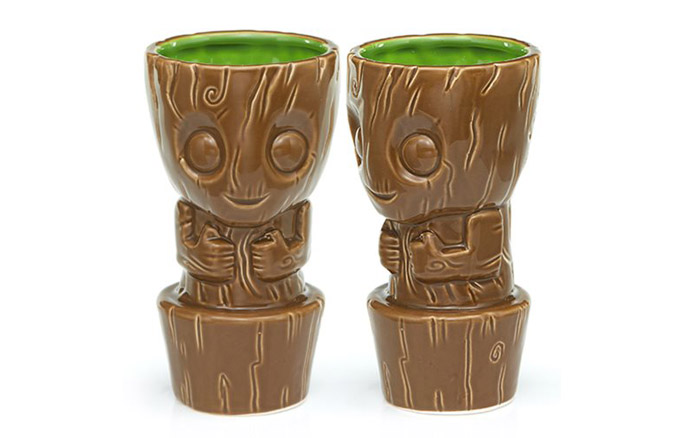 Geeky tiki mugs are all the rage these days and it looks like the Guardians of the Galaxy are getting in on the action. This 10 oz. Baby Groot tiki mug can be pre-ordered now at Entertainment Earth for $19.99. It's scheduled to ship in July.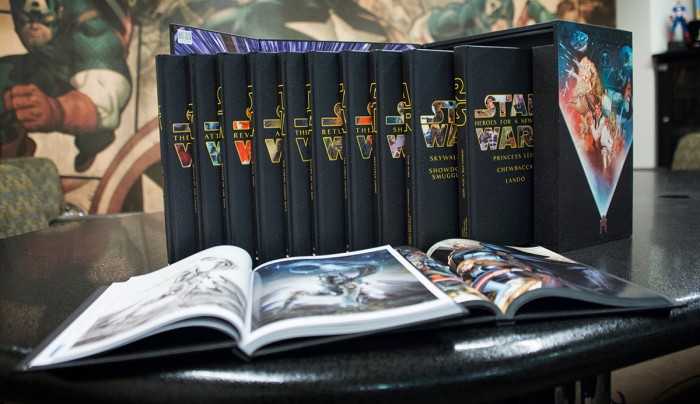 If you've been meaning to catch up with Marvel's Star Wars comics, this new box set has got you covered. This collection of 12 hardcover collections (over 2,200 pages!) encompasses decades of Star Wars history, from adaptations of the movies to the more recent comic book runs. Here's some more info:
Celebrate Marvel Comics' STAR WARS with a box set that you'll need the strength of the Force to lift! Enjoy adaptations of every film in the series so far, plus a special prelude to Star Wars: The Force Awakens. Follow Luke Skywalker and the Rebels into all new adventures with the first collection of Marvel's best-selling new STAR WARS series, and turn to the dark side with Darth Vader's own debut volume! Then savor a stunning gallery of STAR WARS covers by Marvel's greatest artists. It's the ultimate celebration of cinema's greatest space epic in comic book form!
The whole set is available for pre-order on Amazon right now and will be available on April 18. Here's the complete list of what will be included.
STAR WARS: THE PHANTOM MENACE PREMIERE HC
STAR WARS: ATTACK OF THE CLONES PREMIERE HC
STAR WARS: REVENGE OF THE SITH PREMIERE HC
STAR WARS: A NEW HOPE PREMIERE HC
STAR WARS: THE EMPIRE STRIKES BACK PREMIERE HC
STAR WARS: RETURN OF THE JEDI PREMIERE HC
STAR WARS: JOURNEY TO THE FORCE AWAKENS – SHATTERED EMPIRE PREMIERE HC
STAR WARS: THE FORCE AWAKENS ADAPTATION PREMIERE HC
STAR WARS VOL. 1 PREMIERE HC
STAR WARS: DARTH VADER VOL. 1 PREMIERE HC
STAR WARS: HEROES FOR A NEW HOPE PREMIERE HC
STAR WARS: THE MARVEL COVERS VOL. 1 PREMIERE HC
STAR WARS BOX SET POSTER