'I Love Dick' Trailer: Kathryn Hahn Lusts After Cowboy Professor Kevin Bacon In Amazon's New Series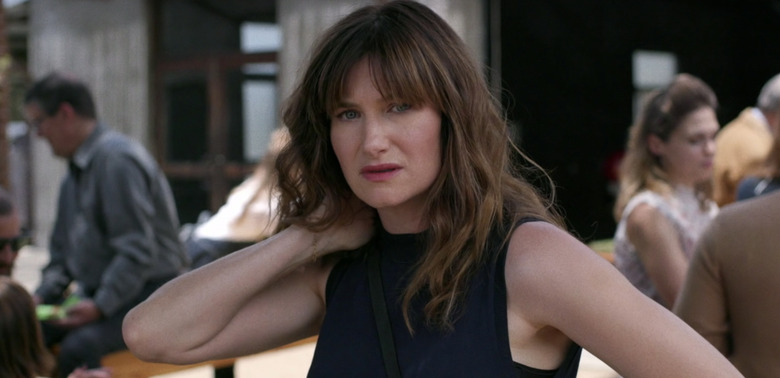 We may receive a commission on purchases made from links.
Kevin Bacon has been the object of desire for many a woman over the years, and now he'll be lusted after by Kathryn Hahn in a new series called I Love Dick, based on Chris Kraus 1997 novel of the same name.
Amazon is bringing I Love Dick to their Prime subscribers as a new series after the pilot debuted online last year. The series hails from Transparent mastermind Jill Soloway, and it looks like it will be quite the steamy story that explores sexuality as it corresponds to a struggling marriage and the principles of monogamy.
Watch the I Love Dick trailer below, but beware that it's NSFW due to language and nudity.
Though the trailer is narrated by Kathryn Hahn as our main character, Chris, and she's clearly turned on by the mystery of Bacon's Dick (this title offers all kinds of amusing wordplay). Her husband (Griffin Dunne) also gets involved in her attempts to seduce this enigmatic professor with western style. What follows is a sexual awakening for the couple, followed by a transformation for Chris.
Here's what The Guardian had to say about the pilot when it debuted awhile back:
"I Love Dick is a funny, if merciless, dissection of a relationship, and it has a lot of fun skewering, though not without affection, the pretentiousness that pervades anywhere calling itself an artistic community."
I've always been a fan of Kathryn Hahn, so it's satisfying to see her getting a lead role like this in a series that promises to push boundaries by exploring a relationship that isn't the same as every other series about a married couple out there. It's clear this is going to be a sexy series, but not just for the sake of being sexy.
 I Love Dick is executive produced by Soloway (Transparent), Andrea Sperling (Transparent), and Sarah Gubbins (Ten Aker Wood). The pilot was directed by Soloway and written by Gubbins, and the rest of the series hits amazon on May 12.
Adapted from the cult classic, I Love Dick is set in a colorful intellectual community in Marfa, Texas. Chris (Kathryn Hahn, Transparent) and Sylvere (Griffin Dunne, Dallas Buyers Club) arrive in Marfa when Sylvere is offered a fellowship to finish a book he's been writing on the Holocaust. When they meet Dick (Kevin Bacon, The Following), he taunts their imaginations and upends their preconceptions about love and monogamy. An exploration of the female gaze and how we tell stories about love and desire, I Love Dick charts the evolution of a marriage, the awakening of an artist and the deification of a writer named Dick.