Could 'Man Of Steel 2' Give Dwayne Johnson A DCEU Entrance As Black Adam?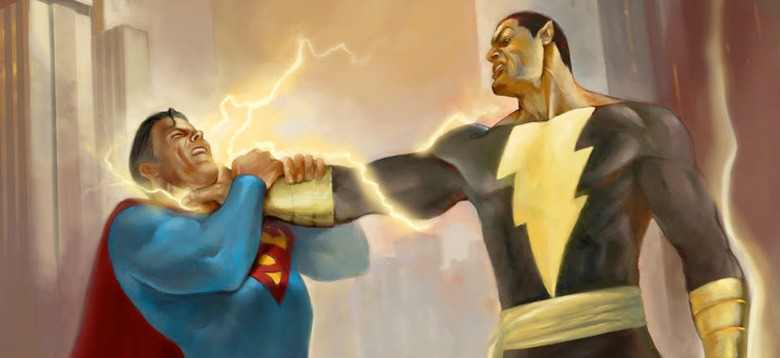 There are plenty of movies in development that will keep the DC Extended Universe growing in the years to come. Aquaman is about to start shooting and Warner Bros. would like to get another one of their other movies off the ground this year as well. However, there are two movies based on DC Comics that don't seem to be making any obvious progress: Black Adam and Shazam. However, a new rumor indicates that one of them might get a backdoor introduction into the DCEU...and that rumor just might be backed up by Dwayne Johnson himself.
We know Man of Steel 2 is currently in the works with Matthew Vaughn in talks to direct. In addition to giving Superman (Henry Cavill) his own standalone adventure again, this rumor indicates that it might introduce Johnson's Black Adam into the DCEU as a villain for Superman to battle.
First of all, it should be noted that this rumor comes from an untested source that normally wouldn't hold any weight with us, but there are two details outside of where this rumor came from that make us think it could actually be true. So just bear with us for a second.
The rumor comes from a Reddit user (via ScreenRant) who claims to have some inside information from the DC Entertainment creative team. Like I said, just stick with us for a minute. The rumor indicates that Black Adam will be the villain in Man of Steel 2 after Warner Bros. initially wanted Dwayne Johnson to cameo in one of the DCEU movies. Furthermore, the proposed Shazam movie is "practically off the table" for the time being.
Since the source of this rumor is unsubstantiated, this would be something we'd normally ignore. But recently, Dwayne Johnson provided an update on the developing Black Adam and Shazam movies that indicates this rumor might have some weight to it.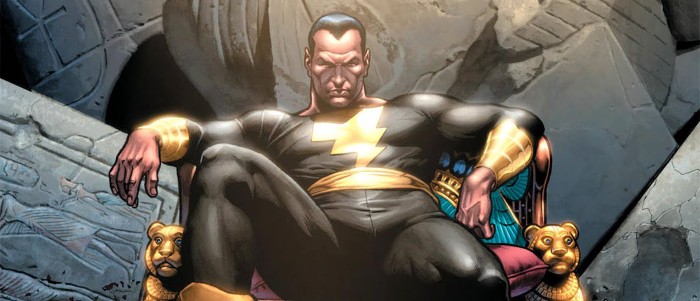 A Surprise Involving Black Adam
At the Fate of the Furious premiere, MTV caught up with Dwayne Johnson and asked him about the state of the Black Adam and Shazam movies. Here's what Johnson had to say about those developing DC films:
"We've had great discussions with Geoff Johns over at DC. This is a really fun, cool time for DC right now because they're really in the process of truly world building, and building out. We're seeing that with Wonder Woman and Aquaman. We have a few surprises down the line. What we decided to do is create a scenario where Black Adam is having his standalone movie and Captain Marvel, Shazam, will have his stand alone movie. That way we're building our world up and then we can come together at some point."
Now, that might seem to contradict the rumor from Reddit since it said that Shazam is "off the table" for the time being. But at the same time, a Shazam movie could easily be a few years away. We did just hear this past February that Lights Out director David F. Sandberg was in talks to direct, but that doesn't mean it's something we'll see come together anytime soon. I suppose this all depends on your definition of "off the table."
But the more interesting remark from Johnson hints that there will be an appearance by Black Adam in a future DCEU movie before his own solo film. In the same interview with MTV, Johnson says:
"We have a surprise for Black Adam coming up. I can't tell you what it is but...it's gonna be fucking awesome."
Could that surprise be Black Adam appearing in Man of Steel 2 as the villain? It's certainly a possibility. The two characters have a history of fighting in DC Comics, and let's not forget that this past Christmas, Dwayne Johnson and Henry Cavill got together and publicized their hangout with the hashtag #DCWorldsWillCollide.
While Shazam and Black Adam will surely meet each other (and Superman) at some point in the DCEU, Dwayne Johnson has already said that it wouldn't happen in the first Shazam movie. But he didn't say anything about the chances of that happening in a Man of Steel sequel.
For now, just take this all with a heaping of salt, but at the very least, it's good to hear that there is some kind of surprise coming up for Black Adam fans. As for what that will be, and when it will happen, we'll just have to wait and see. Dwayne Johnson still has to shoot Rampage and Skyscraper this year, and Disney's Jungle Cruise seems to be picking up steam as well. Plus, he still has to promote Baywatch and Jumanji: Welcome to the Jungle this year too. Will he even have time to appear as Black Adam in a DCEU movie? Of course he will. Time slows down for The Rock.