Watch: Let Junkie XL Teach You How To Compose Music For Movies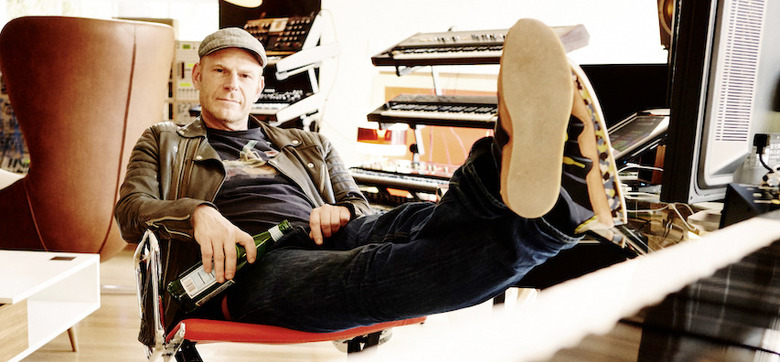 Though cinema is a visual medium, movies wouldn't be anywhere near as powerful without the music that pulses from their soundtracks. Often times it's the composer of a film's score that makes a scene truly memorable. But how do composers create music that enhances movies so the thousands of notes we hear combine to give the film emotion, excitement, suspense and power?
Junkie XL (aka Tom Holkenborg), who has composed the scores for film's such as Mad Max: Fury Road, Deadpool and Batman v Superman: Dawn of Justice, has created a web series called Studio Time where he explains how he works in the studio to compose music for major motion pictures. For any aspiring composers out there, it's a master class in music and how to write it for cinema.
Check out the Junkie XL Studio Time videos after the jump.
This is actually the second season of Studio Time after Junkie XL had a 10-episode first season last year. Though Junkie XL may not be as revered as composers like John Williams or Hans Zimmer, it's still great to have a successful composer providing insight into his process and helping guide any amateur composers who might be out there.
The second season has debuted one episode so far, and as you can see, it's about composing for the strings section. There will be 20 episodes in total, double the first season, so viewers can expect to learn a lot more this time. Thanks to Collider for bringing this to our attention.
In each of Studio Time's 20 episodes, viewers are transported into Tom's personal world of music exploration. He takes you into the heart of his creation chamber to offer an intimate, unrivaled combination of technical expertise, practical how to's, real world career advice and laughs via one of Hollywood's top composers and a Platinum selling recording artist.
Tom's studio is an audio science lab, packed full of rare instruments, mountains of gear and Tom's famed Modular Wall. Studio Time gives the audience a chance to explore this musical petri dish, and get up close and personal with a forward thinking artist who blends extensive classical knowledge with technical studio mastery. Studio Time is Tom getting down and dirty with all his gear and revealing his highly unusual approach to composition and demonstrating how he earned the moniker of being a 'full contact composer'.
Tom created these video tutorials to show people how he works, and most importantly, to help others learn and realize their goals. Education is a labor of love for Tom and one of his life's passions. He created a Bachelor Program at the renowned ArtEZ Conservatorium, in his home town of Enschede, for music composition, from which more than 200 students have graduated. Studio Time allows Tom to continue his commitment to education and mentorship in the digital age. Viewers can watch all the content for free, and Tom created it without any external funding.