'Thor: Ragnarok' Trailer: The Mighty Avenger Is Back For Round Three [Updated]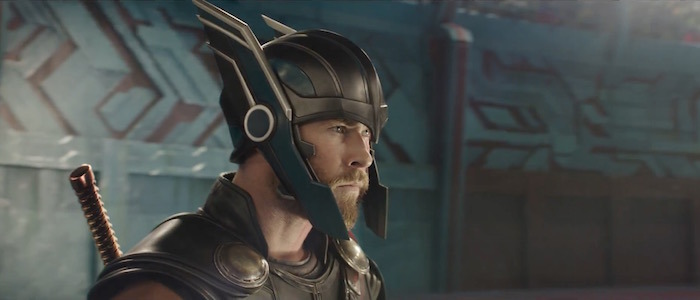 Updated: The new poster for Thor: Ragnarok has arrived and we have added it to the bottom of this post.
Ever since it was announced that What We Do in the Shadows and Hunt For the Wilderpeople director Taika Waititi was going to helm the third movie in Marvel Studios' Thor series, we've been wondering what the heck this movie would look like. After all, there's no way it would look and feel like the previous two movies, both of which have proven divisive among Marvel Cinematic Universe devotees and normal folks alike.
Now, the first Thor: Ragnarok trailer has arrived and we can start picking it apart and seeing what makes this movie tick.
Let's give this thing a watch, shall we?
Okay, there's a lot to take in there (methinks a full-fledged trailer breakdown may be lurking in the near future), but my initial reaction is simple enough: I like what I see. A lot.
From the first moments, where Thor's voice over narration shatters the fourth wall and talks directly to us to the final moments where the Odinson encounters his old work buddy in an alien gladiatorial arena, everything about this trailer is offbeat and colorful and weird and funny. The first Thor movies were at their best when they let Chris Hemsworth exercise his comedy muscles, allowing Thor's brashness to be played for laughs even as he proved himself a capable warrior on the battlefield. This may be where Waititi's hiring becomes a stroke of genius – he's one of the funniest filmmakers working today and seemingly knows how to unlock that magic from his leading man.
There's big stuff in this trailer: the apparent destruction of Asgard, Mjolnir being shattered into pieces, Cate Blanchett's Hela looking like she stepped out of a comic book panel, Jeff Goldblum doing his Jeff Goldblum thing... Thor: Ragnarok looks like a movie built out of nerdy and bizarre pleasures. And above all else, it looks like fun. I certainly hope the final movie makes me grin as much as this trailer does.
Thor: Ragnarok opens on November 3, 2017.