'Kong: Skull Island' Prequel Comic Trailer Teases The Mythic Origins Of The Ape King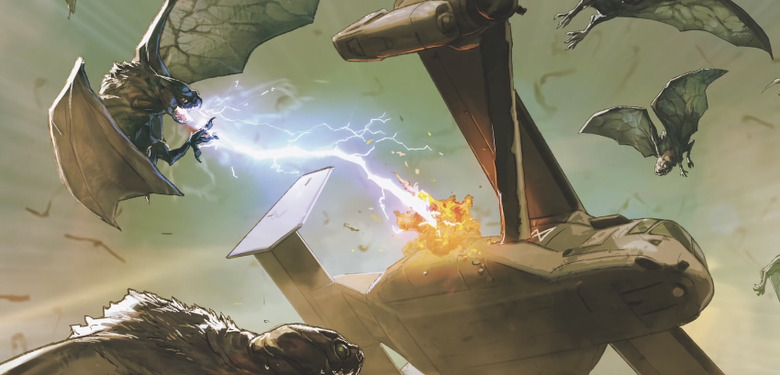 This week brings the release of Skull Island: The Birth of Kong, a prequel comic that keys us into some of the events that happened before last month's Kong: Skull Island. Since the new movie focusing on the giant ape just throws us into the mythic world of the island filled with monsters with little to no backstory, of course there's a prequel story to be told that lets us know how Kong became king.
We live in a world where comic books have their trailers now, and the Kong Skull Island comic book trailer reveals some of the artwork that we'll find in the pages of the comic that expands the mythology of what is being called Warner Bros.' MonsterVerse. Watch the trailer below to see what's in store.
If you loved seeing Kong wrestle with gnarly monsters on Skull Island, it looks like this comic will have even more monstrous action. There are even some monsters in the comic that were seen only briefly in Kong: Skull Island, like the creature known as a Psychovulture seen in the top image. What's cool is that they're using a kind of electric power they have, something that wasn't seen in the movie. It makes sense considering that the other kaiju monsters we'll meet in the rest of the Monster Verse have similar abilities.
Furthermore, there's also an awesome shot of what appears to be Kong's family fighting a slew of Skullcrawlers, the monsters from Kong: Skull Island. Since we see that mass graveyard with the skeletons of Kong's fellow apes, that fight probably won't end well. If we want some hints for what's to come in future MonsterVerse installments, we might get them in this comic as well.
Here's the cover art and the synopsis for the comic which has its first issue debut on April 12: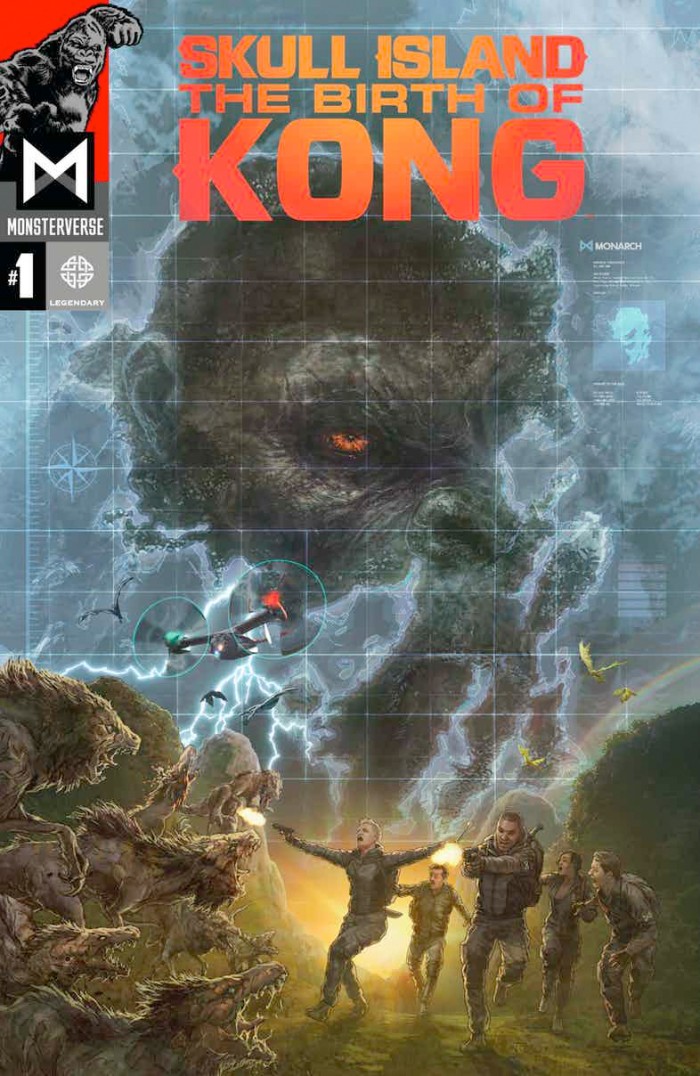 After 2014's Godzilla and this year's Kong: Skull Island, Legendary and Warner Bros.' MonsterVerse continues in the comic book world with Skull Island: The Birth of Kong, a new monthly series that delves deeper into the mysteries of Skull Island and the mythic origins of Kong.
Both a sequel and a prequel to the film, the story tells of a secret team of Monarch operatives returning to Skull Island to discover the truth behind Kong and the island he was born to protect. In doing so, they unlock an ancient history of monster conflict, witness the primal war between Kong and an otherworldly ecosystem of deadly new creatures, and finally reveal how this lonely god became the last of his kind. Featuring new monsters and previously unseen Skull Island locations, the book gives fans a chance to see how Kong has evolved since the events of the film.