'All Eyez On Me' Trailer: Tupac Shakur Walks The Line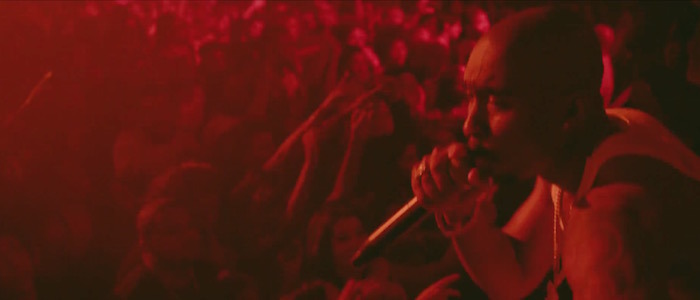 Hollywood perfected the biopic template with dozens of movies based on the lives of famous country, pop, and rock musicians. Now, that template has reached hip-hop and it continues to work like a charm. Following in the footsteps of 2009's Notorious and 2015's Straight Outta Compton, All Eyez on Me looks to bring the life of rapper Tupac Shakur to the big screen. Despite the shift in genre, this movie looks very much like a cousin of movies like Ray and Walk the Line, for better and for worse.
So let's take a look at the new trailer, shall we?
Like most biopics, All Eyez on Me looks to chronicle all of Shakur's career, taking us from his early days to his (in this case, early and violent) death. While I won't pretend to be an expert in all things Tupac, this trailer does highlight elements that will be familiar to the layman. There's the controversy surround his lyrics, his political activism, and his relationship with some of the more infamous names in the industry. Along the way, the trailer hits every single beat you'd expect. Even with a more modern subject, this looks like a pretty straightforward biographical movie. And that's fine! If done with flair, this is a recipe that continues to work for a reason.
All Eyez on Me is directed by music video veteran Benny Boom and stars Demetrius Shipp, Jr. as Tupac Shakur, Danai Gurira as Afeni Shakur, and Lauren Cohan as Leila Steinberg. Other figures from the industry are represented in the film as well, with Jamal Woolard as The Notorious B.I.G., Dominic L. Santana as Suge Knight, Stefon Washington as Puff Daddy, and Jarrett Ellis as Snoop Dogg. The film is set to open on June 16, 2017, which would have been Tupac Shakur's 46th birthday.
ALL EYEZ ON ME tells the true and untold story of prolific rapper, actor, poet and activist Tupac Shakur. The film follows Shakur from his early days in New York City to his evolution into being one of the world's most recognized and influential voices before his untimely death at the age of 25. Against all odds, Shakur's raw talent, powerful lyrics and revolutionary mind-set propelled him into becoming a cultural icon whose legacy continues to grow long after his passing.