VOTD: Why Michael Bay Needs To Blow Sh!t Up With IMAX 3D Cameras Vs. Post-Conversion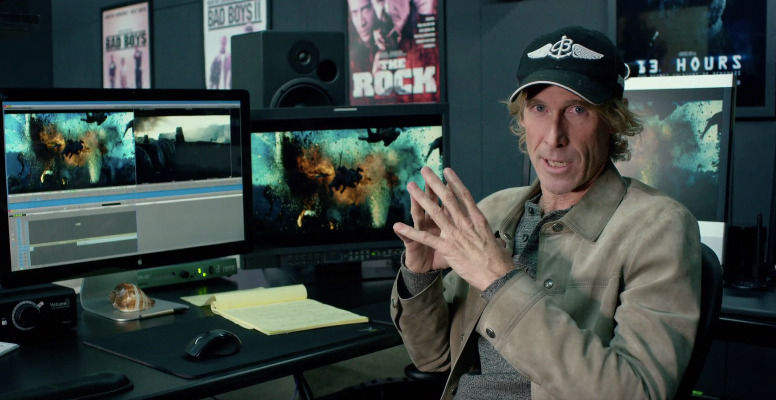 Last week brought CinemaCon to Las Vegas where studios unfurled some of their most exciting projects to movie theater exhibitors, so they know what to expect from the blockbuster offerings coming to theaters over the next couple years. Tons of new trailers were screened that haven't been released yet, and there were even showings of both Pirates of the Caribbean: Dead Men Tell No Tales and The Fate of the Furious. But Michael Bay and IMAX brought their own kind of hype to CinemaCon.
This summer, Transformers: The Last Knight hits theaters, and it's the only blockbuster that was shot natively in IMAX 3D. A new featurette has Michael Bay explaining just why he chose to shoot in this format while also hyping up the movie with shots of what the director does best: blow shit up. Plus, there's some new footage from the film that we haven't seen yet.
Watch the Transformers The Last Knight featurette after the jump.
As Michael Bay explains, a 3D conversion process for a movie like Transformers: The Last Knight can be a nightmare. When you blow up stuff as much as this guy does, you have debris all over the place, and converting all those little pieces into a 3D image would be a tedious process. Shooting natively in IMAX 3D not only gets rid of that time-consuming and costly post-production mess, but it also puts Bay's trademark bombastic imagery on the largest format possible.
Having been on the set of Transformers: The Last Knight last year, I can tell you there's no experience quite like it. Bay's team moves faster than you've ever seen a Hollywood crew move before. They're like the NASCAR pit crew of filmmaking. The use of an IMAX 3D camera will not go to waste when you see the kind of action sequences that Bay has cooked up for this Transformers movie. Even if the story turns out to be a mess (which is likely), at least we know the action will look astounding on an IMAX screen.
If you want to see more from Transformers: The Last Knight, watch the most recent trailer right here.
Transformers: The Last Knight shatters the core myths of the Transformers franchise, and redefines what it means to be a hero. Humans and Transformers are at war, Optimus Prime is gone. The key to saving our future lies buried in the secrets of the past, in the hidden history of Transformers on Earth. Saving our world falls upon the shoulders of an unlikely alliance: Cade Yeager (Mark Wahlberg); Bumblebee; an English Lord (Sir Anthony Hopkins); and an Oxford Professor (Laura Haddock).
There comes a moment in everyone's life when we are called upon to make a difference. In Transformers: The Last Knight, the hunted will become heroes. Heroes will become villains. Only one world will survive: theirs, or ours.
Transformers: The Last Knight arrives on June 23.