'Alien: Covenant' TV Spot Hints At The Fate Of Elizabeth Shaw From 'Prometheus'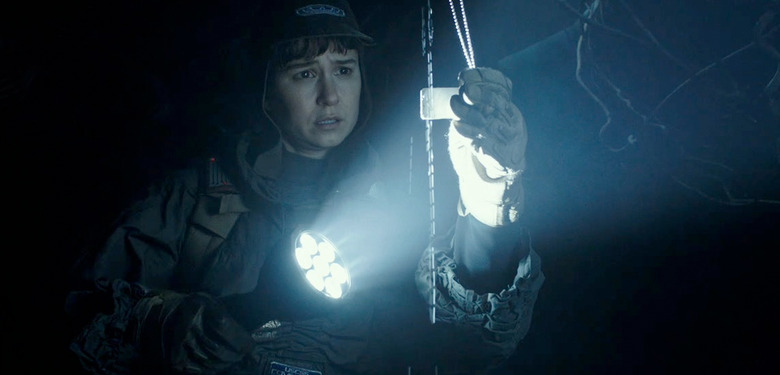 Yesterday brought the announcement of Alien Day 2017 along with a batch of new TV spots promoting the release of Alien: Covenant this month. One of those TV spots aired during the NCAA Men's Division I Basketball Tournamentj last night and it included the hashtag #emohemekat. If you follow that hashtag on Instagram, it takes you to a viral account with only one post, and that post just so happened to be an extended spot featuring new footage from the movie that hints at the fate of a certain character from Prometheus. Since the reveal is a bit of a spoiler, we'll wait to discuss it until after the jump.
Watch the Alien Covenant TV spot after the jump.
JoBlo posted the TV spot on YouTube, but it first originated on Instagram:
The trailer rather creepily uses John Denver's signature track "Take Me Home, Country Roads" to play over footage from the movie. We find the Covenant crew exploring inside the caverns of the new planet we've seen in the previous trailers and TV spots. Daniels (Katherine Waterston) stumbles upon a dogtag hanging from the ceiling somewhere, a shot we've seen before. But this time we get to see the name, and it says Dr. E. Shaw, the character Noomi Rapace played in Prometheus. And then things get even creepier.
A hologram is activated at a control center near the Covenant crew, showing Elizabeth Shaw sitting in the seat in front of it. Some seem to think that Shaw is being restrained, but considering where the hologram is at, it appears she's sitting there by choice, perhaps steering the ship the Covenant crew is inside. The creepy part is that it sounds like she's singing along with the John Denver song, perhaps as a way of dealing with her nerves during a scary time on her journey. Also, I can't be sure, but I'm pretty sure that you can see some non-human body part slink in towards the end of the last shot of the hologram.
This means that we'll find out what happened to Noomi Rapace after Prometheus saw her set off to find the Engineers who created Earth, only to decide that it needed to be destroyed. What kind of impact will it have on the story in Alien: Covenant? We'll find out soon enough.
Oh, and this new Alien: Covenant poster was recently revealed over in the United Kingdom (via AvP Galaxy):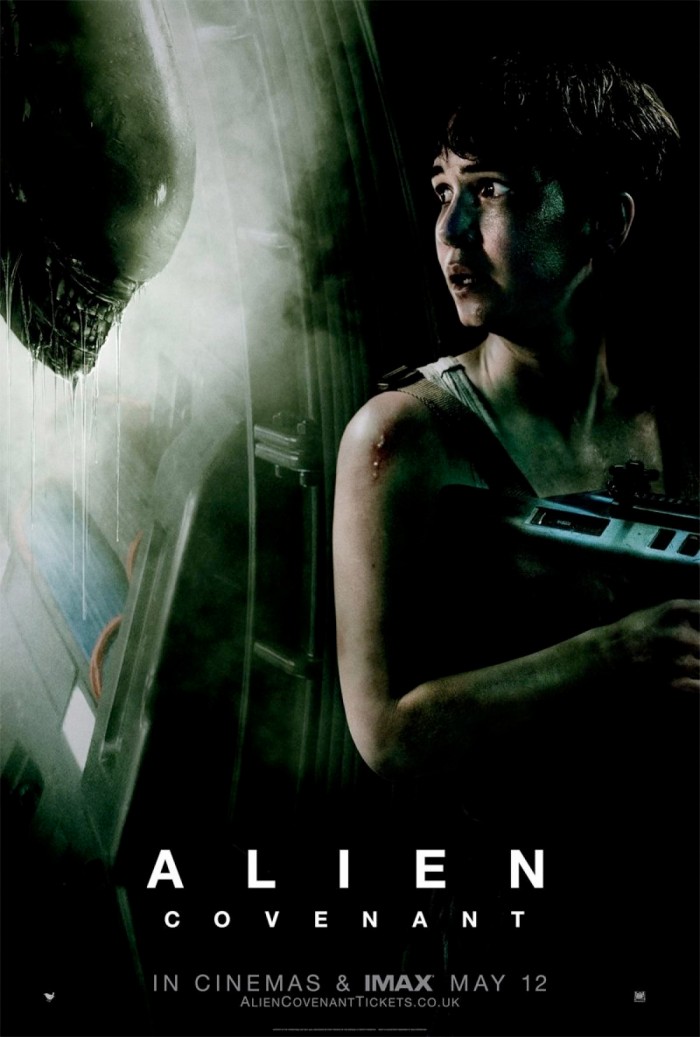 Alien: Covenant arrives on May 19.
Ridley Scott returns to the universe he created with Alien: Covenant, a new chapter in his groundbreaking Alien franchise. The crew of the colony ship Covenant, bound for a remote planet on the far side of the galaxy, discovers what they think is an uncharted paradise, but is actually a dark, dangerous world. When they uncover a threat beyond their imagination, they must attempt a harrowing escape.
Alien: Covenant stars Michael Fassbender, Katherine Waterston, Billy Crudup, Danny McBride, Demián Bichir, Carmen Ejogo, Amy Seimetz, Jussie Smollett, Callie Hernandez, Nathaniel Dean, Alexander England, Benjamin Rigby, and James Franco.