'Girlboss' Trailer: Britt Robertson Flips Clothes With Attitude In Netflix's New Series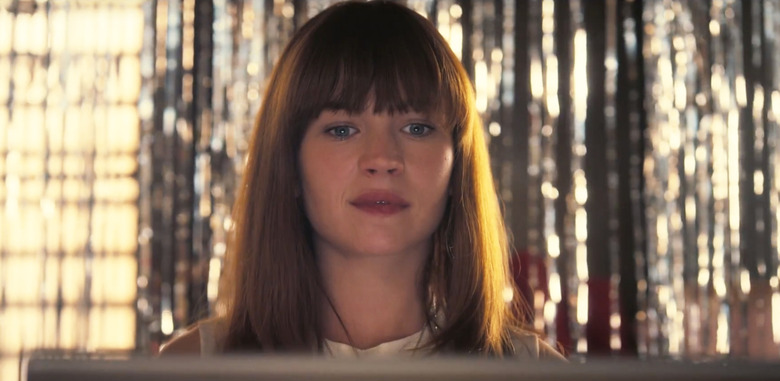 We may receive a commission on purchases made from links.
Britt Robertston fought for the future in Tomorrowland, found sappy romance in The Longest Ride, and came of age in The First Time. Now she's going to become a self-made entrepreneur by flipping clothes in the same way that people flip houses.Girlboss, a new Netflix series based on Sophia Amoruso's autobiography of the same name, tells the story of a young, feisty girl (Robertson) who had no direction in life, but used her passion for fashion to create a business selling clothes on eBay, the kind of clothes that you'd find in Goodwill that are secretly worth hundreds of dollars more than the thrifty price tag.
The trailer takes an interesting twist when Sophia is forced to create her own website after some bad business on eBay doesn't go in her favor. She doesn't take this slight lying down, and after a quick cry, she uses it to fuel her ambition. Anyone who knows Sophia's real life story knows what happens next, but for those who don't, here's how the book on which the series is based is described:
Sophia Amoruso spent her teens hitchhiking, committing petty theft, and scrounging in dumpsters for leftover bagels. By age twenty-two she had dropped out of school, and was broke, directionless, and checking IDs in the lobby of an art school–a job she'd taken for the health insurance. It was in that lobby that Sophia decided to start selling vintage clothes on eBay.
Flash forward ten years to today, and she's the founder and executive chairman of Nasty Gal, a $100-million-plus fashion retailer. Sophia was never a typical CEO, or a typical anything, and she's written #GIRLBOSS for other girls like her: outsiders (and insiders) seeking a unique path to success, even when that path is windy as all hell and lined with naysayers.
It's not clear if the series will focus on those teenage years where Sophia was taking on more nefarious activities while living on the streets, but either way, this looks rather entertaining. It reminded me how great Britt Robertson really is, and how much she deserves to be a bigger star. Perhaps Girlboss is the project that can help her get some more recognition. The rest of the cast includes Ellie Reed as Annie, Alphonso McAuley as Dax, Johnny Simmons as Shane and Breaking Bad co-star Dean Norris as Jay. Hopefully, there are some other cameos along the lines of Jim Rash working in the thrift store.
Girlboss is created and executive produced by Kay Cannon, the writer of Pitch Perfect who also delivered plenty of hilarity to the NBC series 30 Rock. Christian Ditter (How to Be Single) directs all 13 episodes of the series in addition to executive producing with Charlize Theron, Laverne McKinnon and Sophia Amoruso herself.Girlboss hits Netflix on April 21.