'King Arthur: Legend Of The Sword' Trailer: This Ain't Your Average Medieval Monarch Movie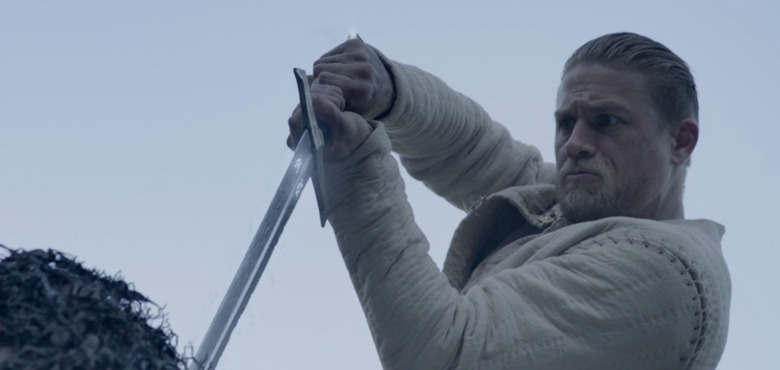 Taking on the difficult task of opening the weekend after Guardians of the Galaxy Vol. 2, Warner Bros. Pictures will attempt to wage war at the box office with their medieval action epic King Arthur: Legend of the Sword. Initially, I only had a passing interest in this project from director Guy Ritchie, but this most recent trailer for the movie starring Charlie Hunnam as the titular king has officially piqued my interest. It's like the fantasy action of Lord of the Rings mixed with the style of Sherlock Holmes with some Gladiator thrown in there for good measure, including Djimon Hounsou in the cast.
Watch the new King Arthur Legend of the Sword trailer after the jump.
The action looks quite stylish for a movie set during medieval times with just enough of Guy Ritchie's flair to make it feel fresh. This also seems to be embracing the fantasy side of the myth of King Arthur much more than previous adaptations, especially when you see hints of what Jude Law can do as the villainous Vortigern, who is responsible for killing Arthur's father, King Uther Pendragon (Eric Bana).
Astrid Bergès-Frisbey (Pirates of the Caribbean: On Stranger Tides) also stars in the film, however, there seems to be some confusion as to who she is playing lately. Initial casting reports had her landing the role of Guinevere, but all the official marketing materials have her listed as "The Mage" now. Maybe they're one in the same? Otherwise, the cast also includes Aiden Gillen as Goosefat Bill.King Arthur: Legend of the Sword is in theaters May 12.
Acclaimed filmmaker Guy Ritchie brings his dynamic style to the epic fantasy action adventure "King Arthur: Legend of the Sword." Starring Charlie Hunnam in the title role, the film is an iconoclastic take on the classic Excalibur myth, tracing Arthur's journey from the streets to the throne.
When the child Arthur's father is murdered, Vortigern (Jude Law), Arthur's uncle, seizes the crown. Robbed of his birthright and with no idea who he truly is, Arthur comes up the hard way in the back alleys of the city. But once he pulls the sword from the stone, his life is turned upside down and he is forced to acknowledge his true legacy...whether he likes it or not.