/Response: Your Favorite Comedies That Also Make You Cry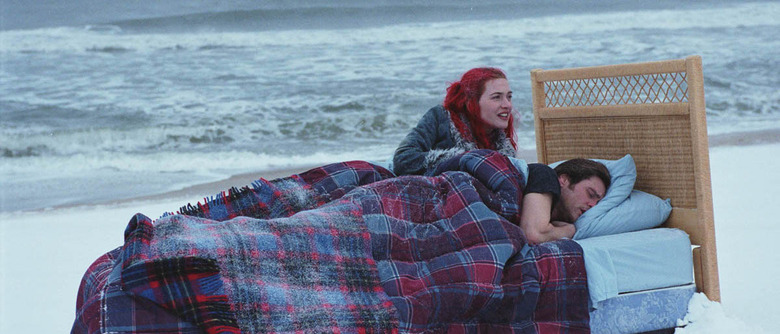 (Welcome to /Response, the companion piece to our /Answers series and a space where /Film readers can chime in and offer their two cents on a particular question.)
Earlier this week, the /Film team wrote about the comedies that also make us cry. We then opened the floor to our readers: which funny movies also get the waterworks going for you? And you let us know!
We have collected our favorite answers (edited for length and clarity) below. Next week's question: what is your favorite long, unbroken shot in movie history? Send your (at least one paragraph, please) answer to slashfilmpitches@gmail.com!
Big
Despite being a product of the wacky '80s in both concept and execution, one film that has aged incredibly well while retaining all of its emotional weight is Penny Marshall's Big. It takes one of the most basic of childhood daydreams and plays it out to great effect. Very quickly in the film, through the introduction of characters like Paul (John Heard) and Scotty (Jon Lovitz), Josh (Tom Hanks), a kid who has been magically transformed into a grown-up, begins to see how adults actually spend their days. It very quickly debunks the childhood misconception that adults are able to do what they want, whenever they want. The film turns that on its head and delivers some of its funniest moments when Josh is able to get the adults around him to let go of their inhibitions and act more like kids. It makes you feel good. It makes you wish that you could cut loose and be free yourself to dance on a giant keyboard, or to play laser tag in a corporate building.
Where the film really succeeds is in the moments of vulnerability when you're reminded that our hero is, after all, still a kid. He becomes alienated from his best friend and struggles with the pressure to succeed, and he eventually cracks from it all. It's the moment where he realizes all that he's left behind and, through tears, says that he misses his family and wants to go home that causes me to tear up with each viewing. Simply put, the movie is a classic for a reason, and it's one that will soon be handed down to my son, in the same way that my father introduced it to me. – Jacob Dixon
Eternal Sunshine of the Spotless Mind
I first watched Eternal Sunshine of the Spotless Mind at age 16. I had never heard of Michel Gondry or Charlie Kaufman, but I'd seen Jim Carrey in Ace Ventura, and it looked interesting enough. I was blown away. It almost feels wrong to classify this film as a romantic comedy simply because of how emotionally devastating it is. While it is hilarious (serious Jim Carrey still has his moments of levity), the intimacy of the camera and editing, combined with a nuanced script from the brilliant Kaufman, give the film a raw edge that other romantic comedies can never achieve. The scene in which Joel begs to keep a special memory of Clementine makes me break down. Every single time. The ending makes me break down. Every single time. No other movie has ever had that effect on me. It's intimate, it's beautiful, and it's one of the best films ever made. -Jimmy Stewart
Funny People
As a lifelong Adam Sandler fan, this one hit close to home. From a young age, I grew up with the mid-tier Happy Madison productions like Big Daddy, Little Nicky and Mr. Deeds; not great, but super entertaining to a seven year old. As I got older, I had access to Happy Gilmore and Billy Madison and the archive of SNL material (the Zagut's sketch, especially) that really cemented my pre-teen admiration. As I got more into films, I discovered Reign Over Me and Punch Drunk Love. Especially with Paul Thomas Anderson's classic, I was able to see my comedic hero turned dramatic powerhouse. Unfortunately, I discovered this on the cusp of the modern era of Sandler: Bedtime Stories, I Now Pronounce You Chuck and Larry, Don't Mess with the Zohan.
I began to snub him as a sellout while I discovered new comedy geniuses. Particularly, I fell in love with Judd Apatow and his crew. So when I found out that Adam Sandler was going to star in his next picture with Seth Rogen, Jonah Hill, and Jason Schwartzman, I was first in line.
There's a particular point in the film where Sandler mocks this semi-fictional version of himself over a montage of him slowly dying. That's the moment that always gets me. An icon I've grown up with, believed-in, scorned, and returned-to. He immediately followed Funny People with Grown Ups and Jack and Jill, but I'll continue to check in. Maybe I'll get something totally weird like The Cobbler, or something unbearable like The Ridiculous Six, but I'll always be holding out hope that he makes me laugh and cry again. -Zack Peercy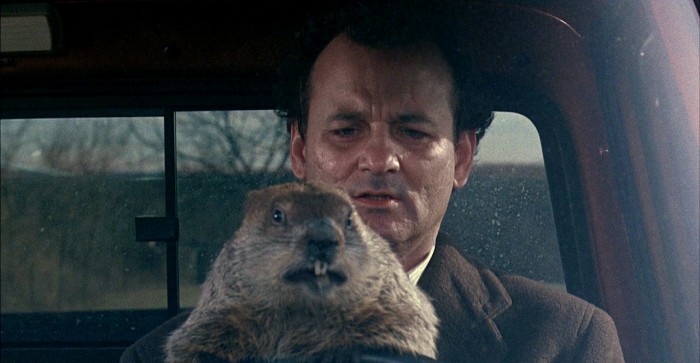 Groundhog Day
I tend to gravitate more toward comedies that offer a little more than Kevin James being clumsy on a Segway. "Comedies That Also Make You Cry" could really describe my favorite movie genre in general. The first movie I remember seeing that struck me as really darkly funny and deeply moving has remained the gold standard for me. Groundhog Day perfectly flows from "fish-out-of-water dumb romantic comedy" to "study of the pointlessness of existence" to "life-affirming testament to the power of love" as Bill Murray's jaded and self-absorbed jagoff Phil Connors gets stuck in a time loop in a small-town Hell. It takes multiple lifetimes of hedonism and self-indulgence, developing and abandoning relationships, and increasingly ridiculous suicide attempts before Phil reaches a kind of enlightenment.
An earlier draft of the script showed Phil being cursed by an ex-lover, explaining how he gets trapped in the time loop and more explicitly showing what a dick he really is. The way the movie stands, with his predicament a mystery that ends as unceremoniously as it began, it is much stronger. We feel Phil's helplessness and despair and start to feel sorry for him. While his transformation should feel like too little, too late, the movie shows Phil's genuine, raw emotion as he affects the lives of the people of Punxsatawney. When he's unable to prevent the death of a homeless man he randomly encounters, I always get teary. The way this movie balances its pathos and existentialism with humor and warmth is unparalleled. -Matthew Borda
Home Alone
My favorite comedy (that also makes me cry) just happens to also be my all-time favorite movie: 1990's Home Alone! The wonderful premise at the center of the movie ensures such a hilarious good time to be had (and just happens to make it impossible to remake, keeping the film timeless). There are plenty of great lines and gags not only delivered by Macaulay Culkin's Kevin McAllister, but also by the Wet Bandits (Joe Pesci and the underrated Daniel Stern), Buzz, Catherine O'Hara as the frustrated mom, and John Candy in his famous cameo. Even when the movie makes viewers laugh, it also does not forget to hook them emotionally. The focus on family at its center rings true without feeling forced, while the subplot tied into Old Man Marley's (Roberts Blossom) part of the story touches the audience's hearts. For me, no other comedy has done a better job with that balancing act of keeping the humor up while taking out time for empathetic character moments. The tone and plot beats are consistently entertaining. -Josh McLaughlin
In Bruges
Not fully aware of the amazing talent in the director's chair, Martin McDonagh's 2008 film In Bruges came out of nowhere to hit me with an array of extreme emotions.  To this day, not only is it an all-time favourite of mine, but it also serves as the perfect example of a "Comedy that makes me cry."  And even though I would imagine many movie fans have already seen or heard of this movie, I'm going to remain spoiler-free in hopes that the one person who hasn't seen it decides to watch it for the first time because of this post.
The movie finds us with two hit-men (Colin Farrell and Brendan Gleeson) waiting for their boss's (Ralph Fiennes) instruction while hiding out...you guessed it! In Bruges. A botched job forces our main characters to Belgium and we quickly realize Farrell doesn't want to there. Brendan Gleeson, his more experienced partner, insists the city has something to offer and they be patient waiting for Fiennes to ring. As the story progresses, we come to understand why our hit-men were sent to Bruges and what the boss wants to happen next.
You only connect by allowing yourself to embrace the subject matter. Themes like death, coping with tragedy, sacrifice, and living a life of morals, are shockingly deep for a movie that sees Colin Farrell karate chop a little person. But that's just it! This movie is so much more than your average dark comedy. It is a strange thing to be brought to tears with laughter in one scene, only to have a moment of introspection produce the same result. -Brett Picaro