'The Dark Tower' Has Been Delayed Again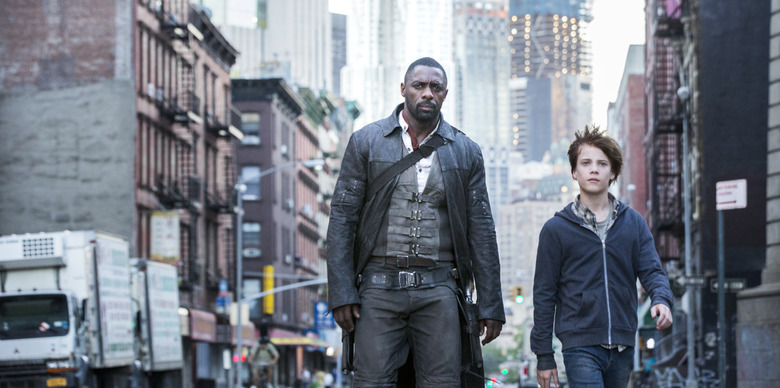 If everything had gone according to plan, we would have seen Nikolaj Arcel's adaptation of Stephen King's The Dark Tower by now. The film was originally scheduled for a January 13, 2017 release date before being pushed back to February 17. From there, it was pushed back to July 28. And now, it looks like the quest for reach Dark Tower has just gotten a little longer, as Sony has delayed the film once more.
The Dark Tower has been pushed back a week and will now arrive on August, 4 2017. The news that the film is being delayed shouldn't come as much of a surprise – folks outside of CinemaCon have yet to see any footage at all. In fact, our own Peter Sciretta was at CinemaCon, where he noted that the footage on display didn't even look close to finished.
:
...the footage had some visual effects that looked very early and unfinished for a July 28, 2017 release. With no trailer yet released for this film, I wonder if Sony will delay the movie yet again.
Well, they did move the release date, albeit not by much. An additional week isn't a very long time, so I have to wonder if the delay has more to do with getting The Emjoi Movie (which will now open on July 28) in that date rather than giving Arcel and his team more time to finish up those visual effects shots. Still, we have to put this all in perspective: 2017's other major Stephen King adaptation, It, doesn't open until September and it
. The Dark Tower is a tough sell to the uninitiated, so something's got to give. At this point, I wouldn't be surprised if Sony delayed to the movie again. After all, they intend for this to be the start of a huge film and television franchise – they can't botch this one.
The reactions to the footage have been all over the map. Non-readers were baffled by the glimpse of story and enthralled by the visuals. Readers were more torn, citing some pretty major departures from how King's post-apocalyptic fantasy story was described on the page. This film needs to somehow win over both groups. The Dark Tower is in a tricky position at the moment – it's a movie that needs the biggest possible spotlight, but it keeps on dodging it.
So place your bets: does The Dark Tower make its August release date? And when do we see a trailer?