LOL: 'Billy On The Street' Asks Muppets How To Get To 'Sesame Street' With Wonderful Results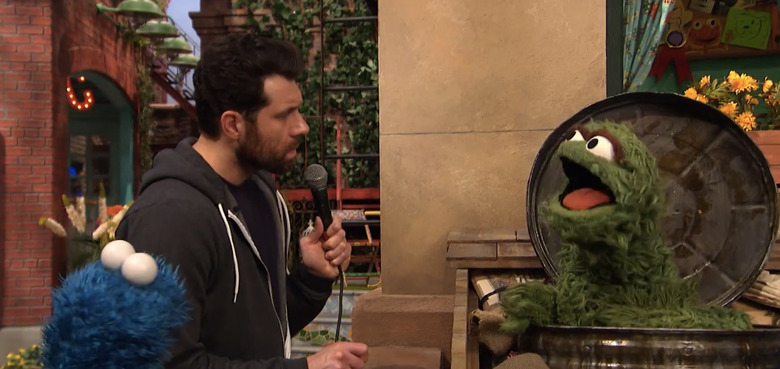 Billy Eichner is best known for screaming questions at people in public on his web series turned full fledged TV show Billy on the Street. It's loud and hilarious, but it's not necessarily appropriate for kids. But you can certainly let them watch this family friendly version of Billy on the Street that takes the comedian to the most famous street in the world: Sesame Street.
It goes without saying that Billy Eichner asks how to get to Sesame Street, but the real goal of this fun video is to find a little kindness and compassion. Oh, and everyone gets a cookie, which kind of drives Cookie Monster a little crazy. Watch Billy on the Sesame Street after the jump.
Normally, Billy Eichner isn't as kind to his show's contestants when he's running around the streets of New York City. But since he's on Sesame Street, he couldn't be more patient or sweet, even when Oscar the Grouch gets a little testy, refusing to be involved. This is just one more fantastic attempt by Sesame Street to do some interesting things that reference our current pop culture climate so that adults who might be watching the show with their kids find something to enjoy along with them..
At the very least, this is a much more fun, less cruel segment than when Billy convinced people on the street that Seth Rogen had died before the actor popped up to surprise them, apologizing profusely for tricking them into momentary grief.