'It' Trailer: The Greatest Horror Novel Of All Time Heads To The Big Screen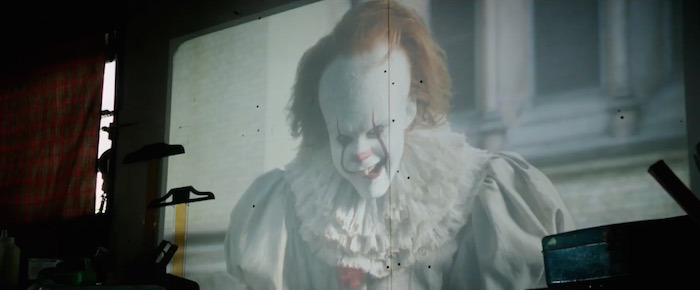 Stephen King's It is probably the best horror novel ever written and the original television miniseries traumatized a generation. So the new film adaptation from Mama director Andrés Muschietti has some pretty big (clown-sized?) shoes to fill. Now that the first trailer for this long-awaited adaptation has arrived, we can start to adjust our expectations accordingly.
Set in 1989 and adapting half of King's 1,000 page-plus tome, It follows a group of kids who call themselves "The Losers Club" as they find themselves combatting a seemingly invincible, shapeshifting monster that terrorizes the town of Derry, Maine (one of King's most evil locations) every 30 years. While the creature can take on the form of anything its victims fear, it often defaults to "Pennywise the dancing clown" (played here by Bill Skarsgård), a figure designed to lure young victims to their doom.
If It succeeds, a sequel is already a definite possibility. The second half of King's novel takes place decades years later and follows the same characters as adults as they return to Derry for another showdown with the monster they fought in their youth. As a huge fan of the book, I'm curious and nervous to see how Muschietti and his team tackles this dense, weird, and terrifying story, especially since the "adult half" of the book feels so vital to making the flashback scenes work on the page. We shall see.
It opens on September 8, 2017. Here's everything else you need to know:
New Line Cinema's horror thriller "IT," directed by Andrés Muschietti ("Mama"), is based on the hugely popular Stephen King novel of the same name, which has been terrifying readers for decades.
When children begin to disappear in the town of Derry, Maine, a group of young kids are faced with their biggest fears when they square off against an evil clown named Pennywise, whose history of murder and violence dates back for centuries.
"IT" stars Bill Skarsgård ("Allegiant," TV's "Hemlock Grove") as the story's central villain, Pennywise.  An ensemble of young actors also star in the film, including Jaeden Lieberher ("Midnight Special"), Jeremy Ray Taylor ("Alvin and the Chipmunks: The Road Chip"), Sophia Lillis ("37"), Finn Wolfhard (TV's "Stranger Things"), Wyatt Oleff ("Guardians of the Galaxy"), Chosen Jacobs (upcoming "Cops and Robbers"), Jack Dylan Grazer ("Tales of Halloween") and Nicholas Hamilton ("Captain Fantastic").
Muschietti directed "IT" from a screenplay by Chase Palmer & Cary Fukunaga and Gary Dauberman, based on the novel by King.  Roy Lee, Dan Lin, Seth Grahame-Smith, David Katzenberg and Barbara Muschietti are the producers, with Richard Brener, Dave Neustadter, Walter Hamada, Marty P. Ewing, Doug Davison and Jon Silk serving as executive producers.
The behind-the-scenes creative team included director of photography Chung-Hoon Chung ("Me and Earl and the Dying Girl"), production designer Claude Paré ("Rise of the Planet of the Apes"), editor Jason Ballantine ("The Great Gatsby"), and costume designer Janie Bryant (TV's "Mad Men").  The music was composed by Benjamin Wallfisch.