'Venom' Director Shortlist Includes Adi Shankar; Will Have No Connection To The MCU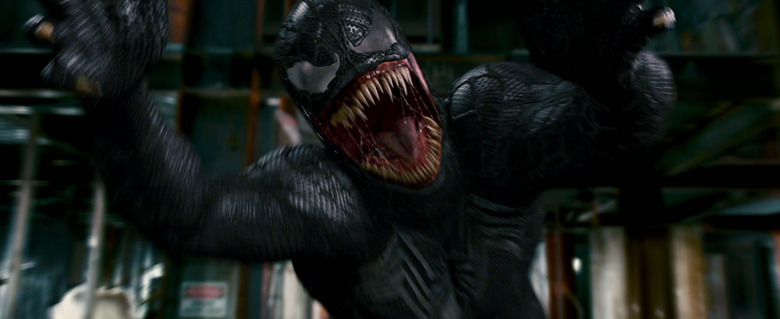 If you have no idea what to make of Sony's decision to make a solo Venom movie...welcome to the club. However, it's not our job to figure out what this movie is going to be. That duty may very well fall to Adi Shankar, the always-busy producer known for both his big screen outings and his online "bootleg" shorts that take on franchises and characters he does not own.
According to one report, Shankar is on the studio's short list of potential Venom directors, which is...well, weirdly appropriate in its own little way.
The news comes our way via Splash Report and Kellvin Chavez (formerly of Latino Review) and as is always the case with movie news like this, it should be taken with a grain of salt. In fact, the story here isn't that Sony wants Shankar for the job – the news here is that he's under consideration. Since Shankar hasn't been quiet about his enthusiasm for so many geek-friendly characters and properties, this feels like the goal he's been walking toward for quite some time.
In fact, one of Shankar's most popular "bootleg" movies is Truth in Journalism, a short film directed by Joe Lynch that places Eddie Brock (and by extension, Venom) into a black and white, found footage horror movie. Since we know the Venom movie is looking to follow in the path of Logan and Deadpool and embrace an R-rating, this short certainly suggests that Shankar may be on the same page with that vision.
The big question now is whether or not Shankar can actually direct. He may have producer credits on The Grey, Dredd, Lone Survivor, and the upcoming Castlevania Netflix series, but he's yet to prove himself as an actual movie director. The fact that they're talking to one person involved in Truth in Journalism makes me wonder if Joe Lynch is also on Sony's list...
In any case, Venom has an uphill battle ahead of it as it has been confirmed that this Spider-Man spin-off won't be a Spider-Man spin-off at all. Speaking with Fandango, Spider-Man: Homecoming director Jon Watts revealed that Venom has no connection to his movie or the Marvel Cinematic Universe:
It's not. It's not connected to the Marvel world, so that's really intriguing... what that will be. I don't know anything about it. It's not connected, so there's not that overlap. I'm only focused on my movie right now.
Since Venom is only remotely interesting because of his connection to Peter Parker and his place in the Marvel universe, this choice is baffling. Strip those away, and you're left with just another horror movie monster with a fairly cool design. Does anyone care about Venom without Spider-Man?
Shankar, or whoever Sony ends up hiring in the end, will find out. Venom is currently set to be released in 2018.