'Pirates Of The Caribbean: Dead Men Tell No Tales' Featurette Brings Epic High Seas Action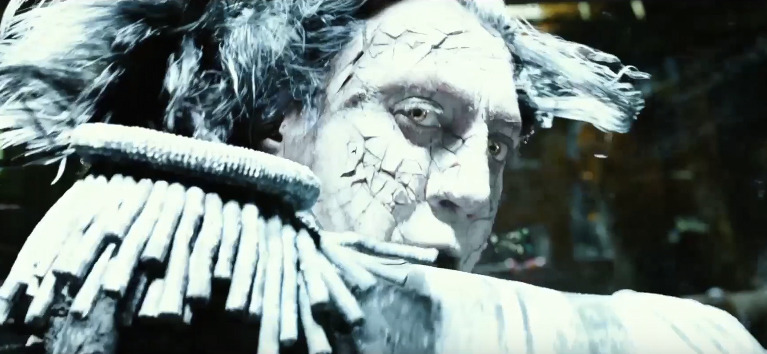 Even though the Pirates of the Caribbean franchise officially wore out its welcome for me with the abysmal sequel On Stranger Tides, there are still plenty of fans who are excited to see what the next installment of the franchise has to offer. A new Pirates of the Caribbean: Dead Men Tell No Tales featurette gives us a good idea of the action in store as it takes us behind the scenes of the next adventure from Kon-Tiki directing duo Espen Sandberg and Joachim Rønning.
Watch the Pirates of the Caribbean Dead Men Tell No Tales featurette below.
There's not much of Johnny Depp in this glimpse behind the scenes, which further indicates that we might be looking at a franchise that starts to distance itself from Captain Jack Sparrow. Or maybe Disney doesn't feel the need to show much of him since we already know what to expect form his performance. However, we do finally get confirmation that Brenton Thwaites is playing Henry Turner, the son of Orlando Bloom's William Turner and Keira Knightley's character Elizabeth Swann.
There is something to be said for the amount of practical action there appears to be in this movie, even if it is coupled with even more computer generated ghastliness, this time in the form of Javier Bardem as Captain Salazar, who is out for revenge against Captain Jack Sparrow. But the action will mean nothing if the story isn't interesting, something that the last two Pirates of the Caribbean sequels had difficulty delivering.
It's not clear how Henry Turner's story ties into everything or where his mother and father are in all of this, but there's bound to be some kind of friendly rivalry that develops between him and Jack Sparrow, not to mention a romance with Kaya Scodelario's character.
The rest of the cast includes Kevin R. McNally as Joshamee Gibbs, Golshifteh Farahani as the sea-witch Shansa, David Wenham as Scarfield, Stephen Graham as Scrum, and of course, Geoffrey Rush as Captain Hector Barbossa. If you'd like to see more from the movie, watch the trailer right here.
Johnny Depp returns to the big screen as the iconic, swashbuckling anti-hero Jack Sparrow in Pirates of the Caribbean: Dead Men Tell No Tales. The rip-roaring adventure finds down-on-his-luck Captain Jack feeling the winds of ill-fortune blowing strongly his way when deadly ghost sailors, led by the terrifying Captain Salazar (Javier Bardem), escape from the Devil's Triangle bent on killing every pirate at sea – notably Jack. Jack's only hope of survival lies in the legendary Trident of Poseidon, but to find it he must forge an uneasy alliance with Carina Smyth (Kaya Scodelario), a brilliant and beautiful astronomer, and Henry (Brenton Thwaites), a headstrong young sailor in the Royal Navy. At the helm of the Dying Gull, his pitifull small and shabby ship, Captain Jack seeks not only to reverse his recent spate of ill fortune, but to save his very life from the most formidable and malicious foe he has never faced.
Pirates of the Caribbean: Dead Men Tell No Tales arrives on May 26.