'Spider-Man: Homecoming' Trailer: Tom Holland Swings Back Into Action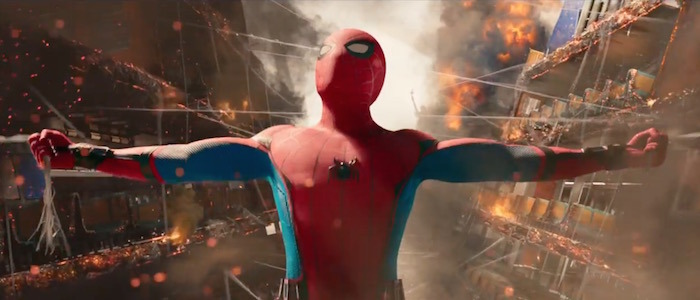 In the tangled web that is modern superhero movie rights, it's appropriate that the spider-themed comic book hero has found a way to navigate it all. Spider-Man: Homecoming represents a grand compromise between Marvel Studios and Sony: the latter still owns the character, but he's allowed to exist in the universe built by the former.
So when you watch the new trailer that premiered at CinemaCon last night and arrived online today, just remember the sheer amount of paperwork and headaches it took for Spider-Man and Iron Man to share the screen.
Tom Holland's new Spider-Man debuted in Captain America: Civil War last year and will return in the currently-filming Avengers: Infinity War, but Homecoming looks to be a very different kind of movie. Set mostly in New York City, it's a high school movie, albeit one where the student at the center of the action has to worry about fighting crime when he's not concerning himself with, you know, being a teenager. This is classic Spidey, an angle that the previous movies have touched on without fully embracing. That alone may raise the eyebrow of even the most jaded comic book movie viewer.
Anyway, here's the new trailer, which features a healthy of Michael Keaton looking menacing as Adrian Toomes, AKA, the Vulture, who has been described a dark inversion of Tony Stark. This character, often so goofy in the comics, looks like he's had quite the makeover.
There's a lot to love in this trailer. I appreciate the amount of menace that Keaton seems to be bringing to this part, but I'm just as won over by the moments of levity and the dynamic between Tony Stark and Peter Parker. In fact, there's a lot more Iron Man in this trailer than I was expecting, which feels like a deliberate move to remind audiences that this is not The Amazing Spider-Man.
The supporting cast also includes Zendaya, Laura Harrier, Tony Revolori, and Jacob Batalon as Peter Parker's fellow students, with Marissa Tomei and Robert Downey Jr. reprising their roles as Aunt May and Tony Stark.
Homecoming also arrives as Sony plots to expand its own little corner of the Marvel universe. Movie spin-offs based on characters like Venom, Black Cat, and Silver Sable are currently in the works, although it's unlikely they will feature any kind of connection to the larger Marvel Cinematic Universe. Then again, who knows what the years ahead will reveal. If these two corporate entities are willing to team up for a big crossover once, who knows? Maybe they're willing to do it again.
Spider-Man: Homecoming opens on July 7, 2017. What do you think of the new trailer?