VOTD: How 'Rogue One' Parallels The Visual Grammar Of The Original 'Star Wars' Trilogy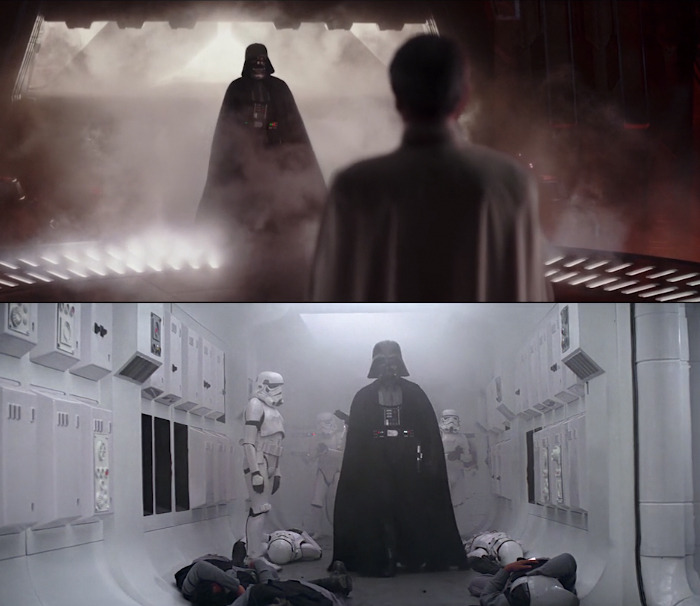 Rogue One: A Star Wars Story is now available for digital download, and next week it will be available on Blu-ray and DVD on April 4. That means fans are really starting to dig into the first Star Wars spin-off, and that includes making close comparisons between the visuals in Rogue One and the films of the original trilogy from 1977, 1980 and 1983. It's no wonder that Rogue One felt more like a classic Star Wars movie than even The Force Awakens when you see how many of the shots emulate visuals from A New Hope, The Empire Strikes Back and Return of the Jedi.
Watch the Rogue One and Star Wars shot comparison after the jump.
Some of the shots featured don't necessarily feel like they were directly inspired by those they're being compared to in the original trilogy, while others are clearly trying to emulate certain moments from the original trilogy. There are the more obvious parallels such as footage of certain Rebel pilots that was rediscovered and repurposed for Rogue One from when it was shot for A New Hope. Then there are some parallels that I didn't even think about, such as Luke Skywalker helping an injured Darth Vader compared to Jyn Erso helping an a hurt Cassian Andor.
It just goes to show you how much work went into making sure the visual style of Rogue One, both in cinematography and art direction, tried to recapture the same classic feel of the original trilogy.