Celebrate 'Better Call Saul' At A Real Los Pollos Hermanos Pop-Up In Los Angeles & New York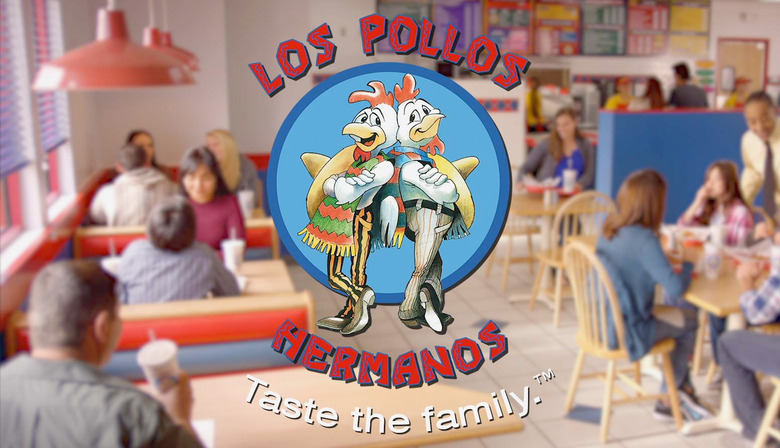 In just two weeks, the Breaking Bad spin-off Better Call Saul will return to AMC for its highly anticipated third season. To celebrate the show's return, AMC has teamed up with Citizens Parking for a little viral event that will bring a real Los Pollos Hermanos pop-up fast food restaurant to Los Angeles and New York City next month.
Find out where and when you can check out the Los Pollos Hermanos pop-up restaurant below.
A press release from AMC made the announcement about the viral stunt, and here's where you can check it out:
LOS ANGELES – 1345 E. 6th Street, Los Angeles, CA, 90021
Wednesday, March 29, 12pm – 10pm
Thursday, March 30, 12pm – 10pm
NEW YORK CITY – 243 Pearl Street, New York, NY, 10038
Sunday, April 9, 11am – 8pm
Monday, April 10, 10am – 8pm
However, if you're expecting to be able to order food of an entire menu of possible selections, don't get too excited. This pop-up was previously open at South by Southwest earlier this month (see photos over here), but all they had available were Gus Fring's famous french fries with three dipping sauces and some water to wash them down with. That's right, there wasn't even any chicken available. It's probably because the cost for chicken is higher, or maybe even because of regulations for serving food in this manner, but that's still somewhat disappointing.
The bright side is that actors Bob Odenkirk (who plays Saul Goodman) and Giancarlo Esposito (who plays Gus Fring) were on hand at the SXSW location. There's no guarantee that they'll show up at these two locations, but since the engagement for the pop-up is so limited, it's not out of the realm of possibility. Just be prepared to wait in line for a long time, because these places are going to be packed with eager fans.
Season three of "Better Call Saul" follows the twists and turns of Jimmy McGill's devolution toward "Breaking Bad's" Saul Goodman – Albuquerque's most notorious criminal lawyer.  Six years before he meets Walter White, Jimmy is a more or less law-abiding, small-time attorney hustling to champion his underdog clients, build his practice, and somehow make a name for himself.   As the new season begins, the repercussions of Chuck's scheme test Jimmy and Kim's fledgling law practices and their romance as never before.  This imminent existential threat presses Jimmy's faltering moral compass to the limit.  Meanwhile, Mike searches for a mysterious adversary who seems to know almost everything about his business. As the season progresses, new characters are introduced and backstories are further illuminated with meaningful nods to the "Breaking Bad" universe.
Better Call Saul returns to AMC on April 10 at 10pm ET.