'Justice League' Trailer Breakdown: Come Together For A Frame-By-Frame Analysis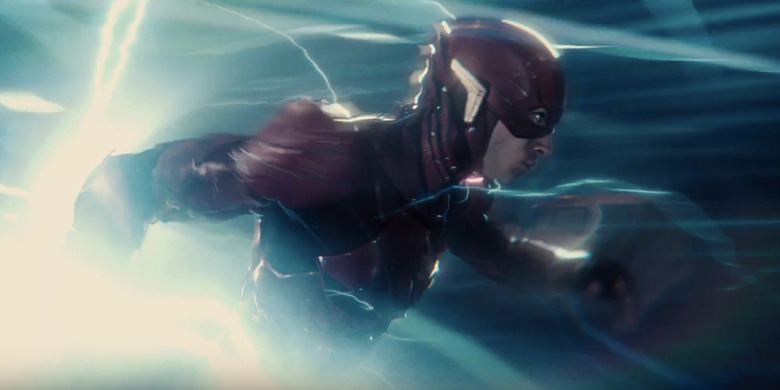 Over the weekend, the first official Justice League trailer debuted online, bringing us the first footage from the movie since a sizzle reel was released at Comic-Con last summer. Even fans who haven't been impressed by Man of Steel, Batman v Superman: Dawn of Justice and Suicide Squad were interested in seeing what Zack Snyder could do with a whole roster of DC Comics superheroes at his disposal.
After watching the Justice League trailer countless times, we have a more in-depth breakdown of the new trailer, taking a closer look at just what the hell is going on in this first union of Batman (Ben Affleck), Wonder Woman (Gal Gadot), Aquaman (Jason Momoa), The Flash (Ezra Miller) and Cyborg (Ray Fisher). But sadly, there's no Henry Cavill as Superman yet.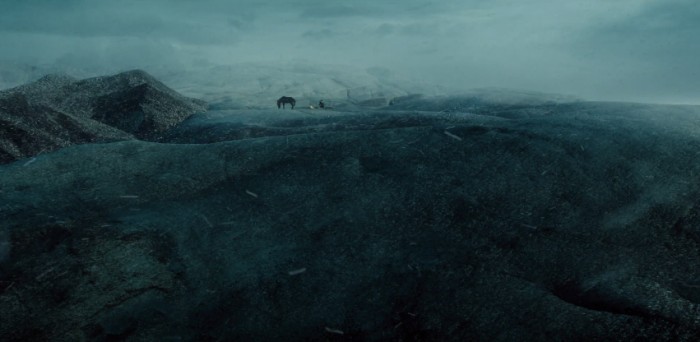 The first shot of the trailer takes us high in the mountains as snow blows around a single man and his horse. Jagged mountains fill the landscape being explored by this man as voiceover by Ben Affleck as Bruce Wayne ominously says, "We have to be ready. You, me, the others."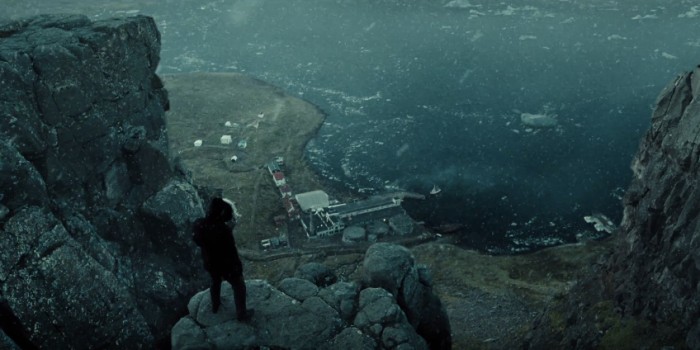 A small bay town is seen as Bruce Wayne peels away his winter layers to reveal his face as he prepares to head down to meet Aquaman, as seen in the sizzle reel from Comic-Con. Bruce Wayne's voiceover continues, "There's an attack coming from far away." Suddenly we heard the voice of Gal Gadot as Diana Prince who cautions, "Not coming, Bruce. It's already here." Sounds like it's a good time to round up the Justice League.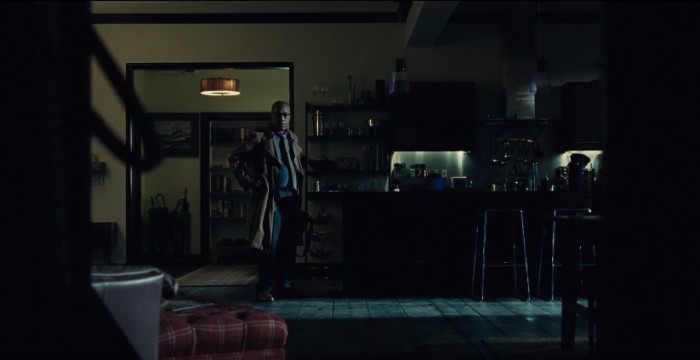 If you saw Batman v Superman: Dawn of Justice, then this character should look familiar. That's Dr. Silas Stone (Joe Morton), who was last seen in a video recovered from the secret files of Lex Luthor. Stone works at S.T.A.R. Labs where he was last seen using a mysterious box in a last ditch effort to save his son Victor Stone, a star college athlete (as we'll see later) who has lost most of his limbs following a tragic car accident. His efforts were futile until the box activates on its own and turns Victor into some kind of cybernetic being with all of his limbs intact.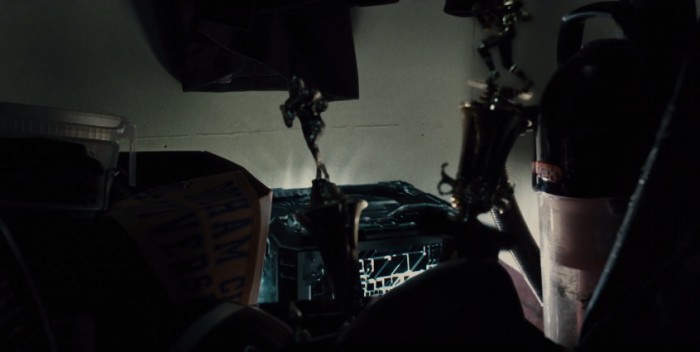 Speaking of which, there's that box now. That's what's known as a Mother Box, and it's one of three boxes that the villain Darkseid and his general Steppenwolf are in pursuit of. One was given to mankind, another to the Amazons (the civilization that Wonder Woman hails from) and the final one to the Atlanteans (the people of Aquaman). So what do these boxes do? They're an otherworldly form of artificial intelligence that has almost limitless potential in the hand of a god, including creating interstellar transports known as boom tubes. Could Darkseid need these boxes in order to effectively take over Earth?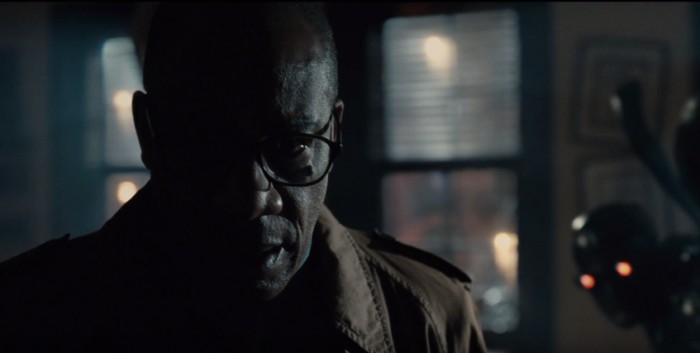 No matter what Darkseid needs them for, it's clear that his minions, known as Parademons (the same soldiers who attacked Batman in his Knightmare sequence in Batman v Superman: Dawn of Justice) have found where one of these Mother Boxes is, and that doesn't bode well for Dr. Silas Stone. It remains to be seen if the Parademons will dispatch with Dr. Stone right then and there or if they will kidnap him in order to find out where mankind's Mother Box is.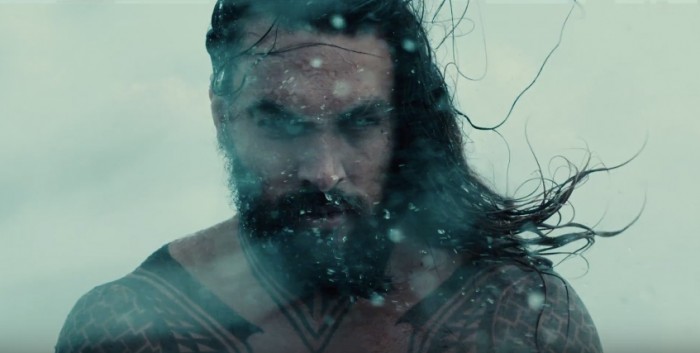 After Diana Prince asks Bruce Wayne where "the others" are, we get a role call of the entire Justice League, starting with Arthur Curry, aka Aquaman. The underwater hero turned down Bruce Wayne's invitation to join his team in the sizzle reel from Comic-Con (or at least we assume he's the one who told him no), but as evidenced by footage later in the trailer, he eventually changes his mind if that's the case.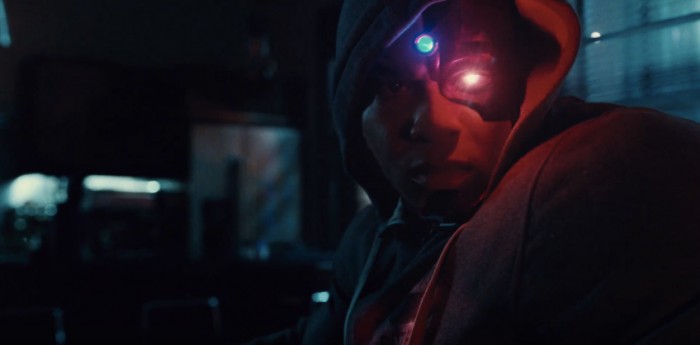 Next up, we meet Victor Stone (Ray Fisher), aka Cyborg. Diana Prince gives us a rundown of his robotic enhancements. He's clearly trying to conceal himself with a hoodie in this shot, but his glowing parts likely make that difficult. Even though he has a working body back, I can't imagine trying to live a normal life when you look like a Terminator crossed with RoboCop is an easy feat.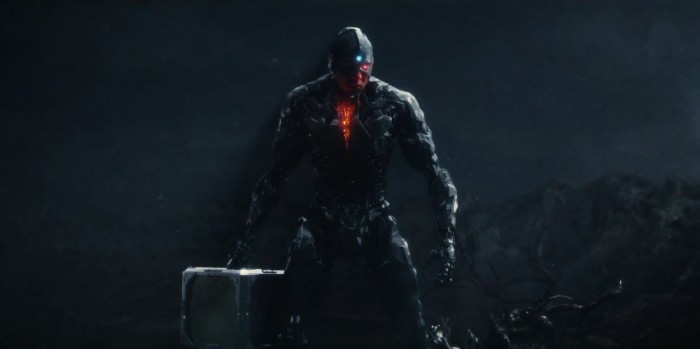 Another shot of Cyborg shows him holding a familiar box. In this quick shot, it looks like he's just arrived, and it could be at the location where Aquaman meets up with Batman and Commissioner Gordon. Perhaps its Cyborg who is the reluctant one to join the team and only reconsiders once his father gets caught up in all this craziness.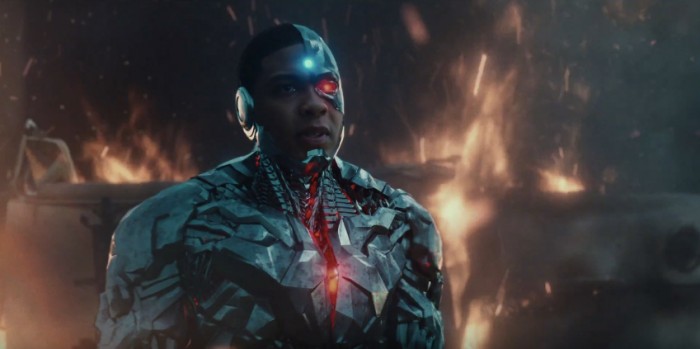 Cyborg gets a heroic moment when he stops some kind of military vehicle from seriously injuring a police officer. He seems a little unnecessarily snarky by telling him to move after the fact, but having any kind of joke in the DC Expanded Universe is refreshing, so we'll take it.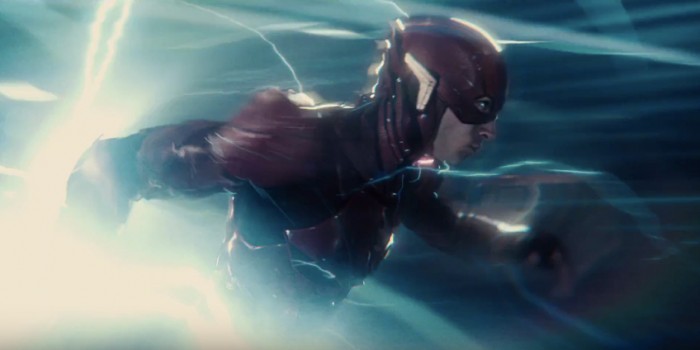 Then there's Barry Allen as The Flash. This quick sequence introducing the speedster is a condensed version of the footage that was shown at Comic-Con last year. Bruce Wayne comes to recruit him, recklessly reveals that he's Batman by throwing a Batarang, and the young kids is all too enthusiastic about joining whatever cause the playboy superhero has in mind.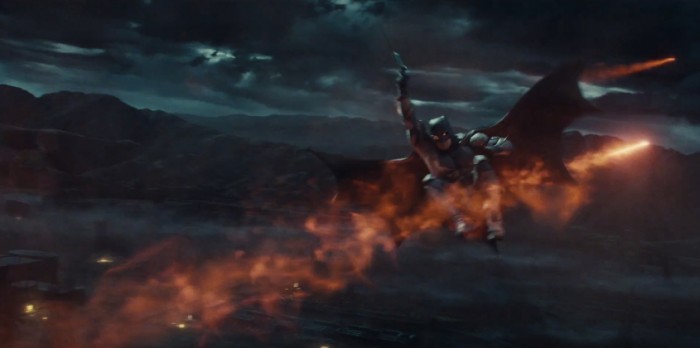 Speaking of Batman, he comes swinging in rather fiercely as Parademons attack. The Dark Knight has a nice new suit, complete with tactical goggles, and he's grappled on to something as he swings through the air. Upon reaching the ground, he tosses some kind of projectile weapon that explodes on contact. It's hard to tell where this action is taking place, but it might be happening at a location that we'll see again later in the trailer, albeit at a completely different time.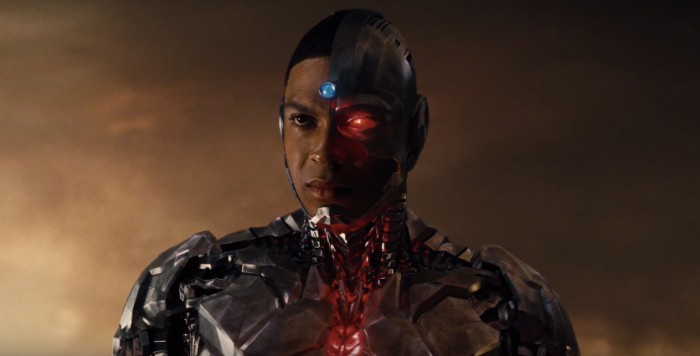 Here's another shot of Ray Fisher as Cyborg. We've highlighted him since he's the Justice League member that we've seen the least of so far, but every member of the team is shown off in quick flashes as they all prepare to face some unseen threat. The Flash doesn't seem to worried as he's all smiles, likely finally happy with having some super friends to hang around with.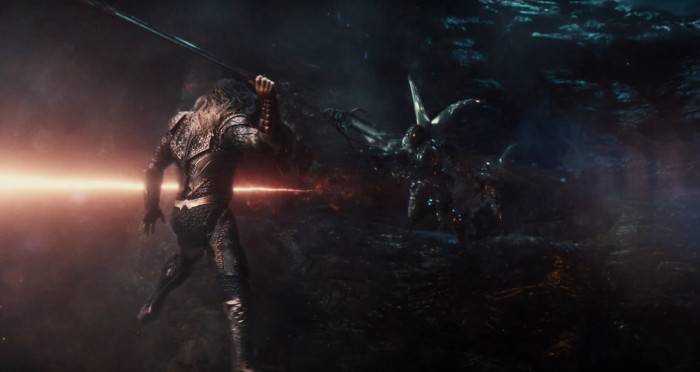 But then it's back to the action as we get a signature slow-motion shot of Aquaman throwing his trident at a couple of Parademons in mid-air. It's just one of a few times that Jason Momoa's character steals the show in this trailer and gives me great excitement to see what else he does in the rest of the movie.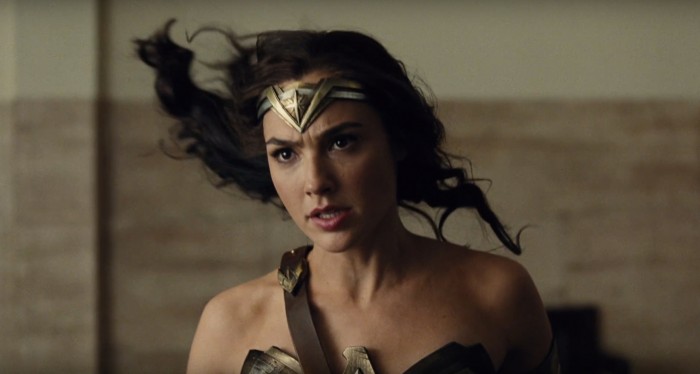 Wonder Woman finally gets some action as we see her execute a ground level sliding kick, a move that we've seen in trailers for her own movie coming this summer. The shot stands out because it appears to be one of the few that doesn't have extensive visual effects. Where is she located though? It looks like a bank, though I don't know what she would be doing there.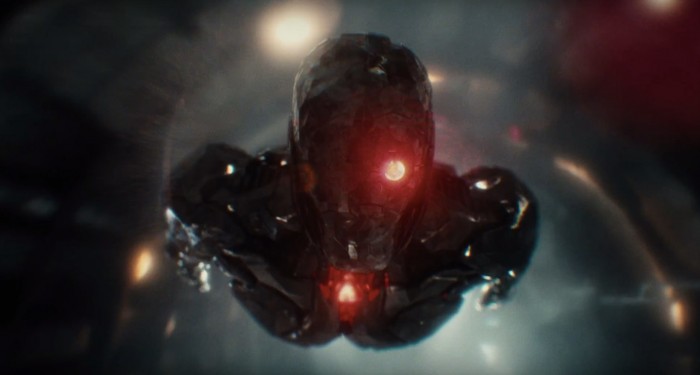 Another shot of Cyborg reveals his full battle mode where the human part of his face is covered by the metal all over his body. He takes off and flies into the night sky looking like Iron Man, though we've heard that he has a more extensive battle mode that should make him even more of a valuable asset in the battlefield.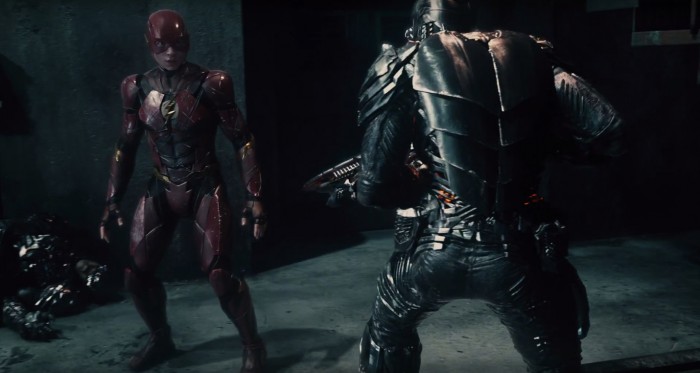 Ezra Miller as the Flash prepares to square off with a Parademon, quickly jumps around, and ends up slamming him into a wall. The Flash will likely be the most entertaining character to watch using his powers, and I hope Zack Snyder has even more interesting ways of visualizing them so he's not just a Quicksilver copy.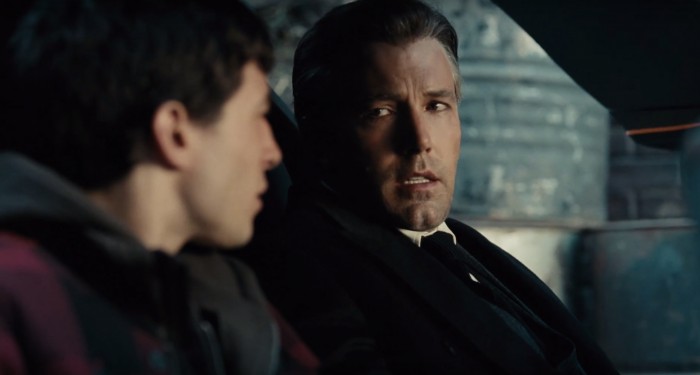 Some people like to give Batman a hard time because he doesn't really have any superpowers, which makes this scene all the more entertaining. When Barry Allen asks Mr. Wayne what his superpower is, he responds simply, "I'm rich." That's enough to show us that the DCEU will get a little lighter in Justice League without overdoing it.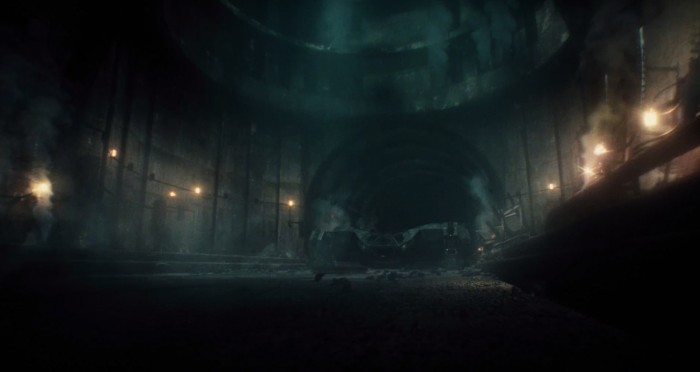 In that industrial tunnel you can see one of Batman's new vehicles. On the ground it can roll around like an armored tank, but in a different setting it can climb up walls, hence it being called the Nightcrawler (or Crawler for short). The signature melodies and lyrics of "Come Together" build here as Bruce Wayne demonstrates the power of his new toy.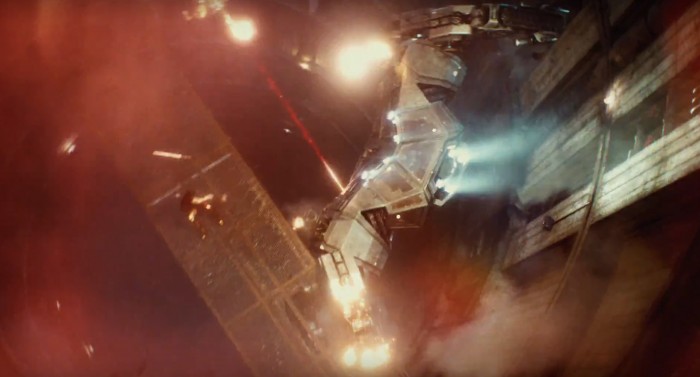 This time Batman gets to save Wonder Woman from a Parademon attack by blasting away at them with the weapons on the Crawler. This sequence takes place in a tunnel between Metropolis and Gotham City where Parademons are swarming like crazy.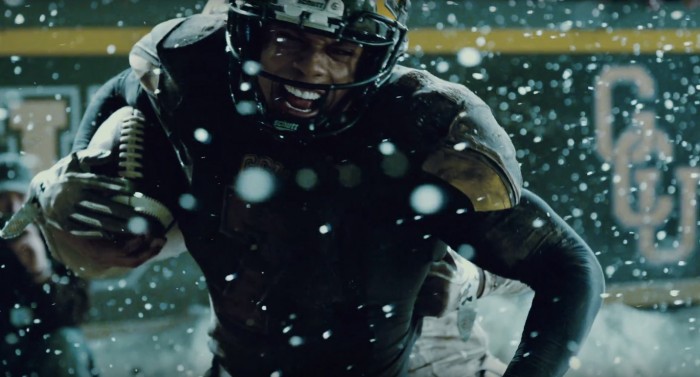 In the midst of all this action, the trailer editor thought it would be appropriate to include an image of Victor Stone playing for Gotham City University. The character who becomes cyborg was a star athlete before his tragic accident, and this shot indicates that we'll get a taste of his origin story long before he gets his own movie.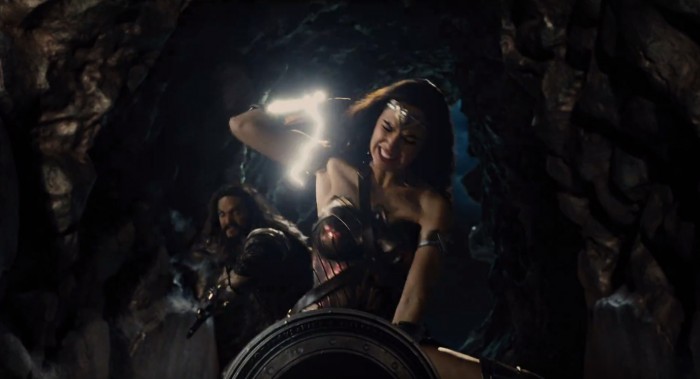 Back to the superhero action, Wonder Woman is taking a big swing at her own shield, but for what purpose we couldn't tell you. Aquaman is bracing himself in the background for whatever she's about to do. That's when this happens...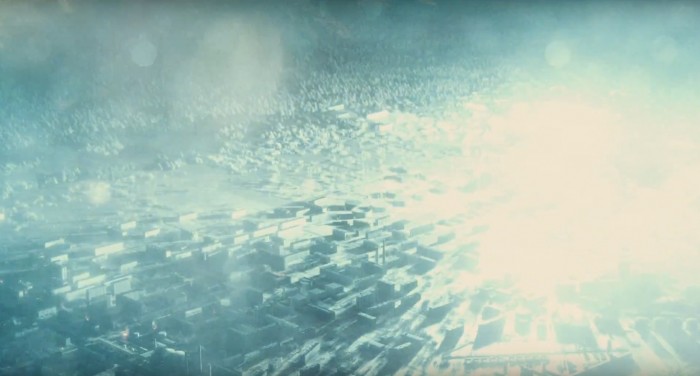 I'm not sure if what Wonder Woman is doing is linked to whatever this bright explosion is, but whatever is happening here looks like it won't be pretty for all the surrounding buildings.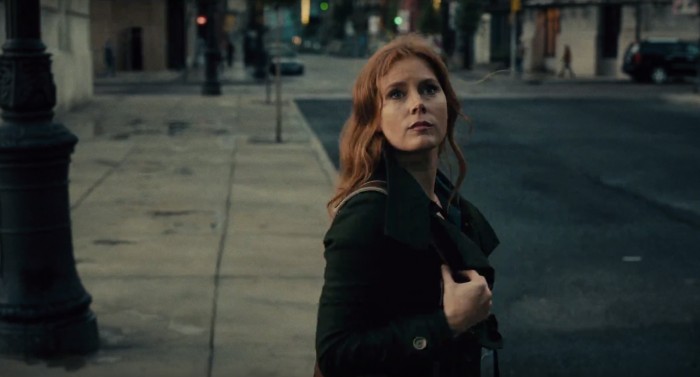 The only hint whatsoever about the return of Superman is Amy Adams as Lois Lane looking up towards the sky at something. It could easily be the return of the Man of Steel that gets her attention, but more than likely it's something else that catches her eye, perhaps something that doesn't spell good news for the people of Metropolis.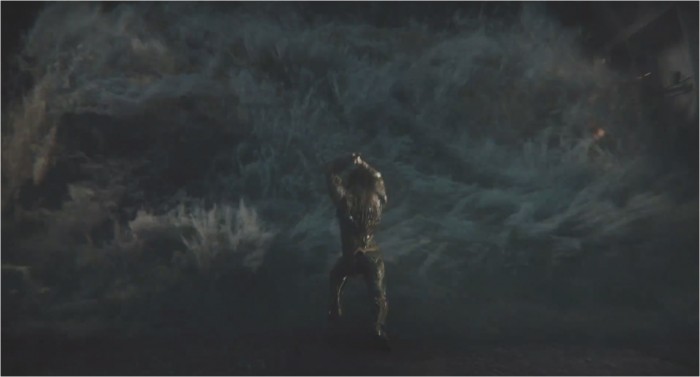 We finally get to see Aquaman stretching his water manipulating powers, and he seems to be doing it in a tunnel. Perhaps this is a last ditch effort to take care of the swarm of Pardemons that reside in the tunnels between Gotham and Metropolis.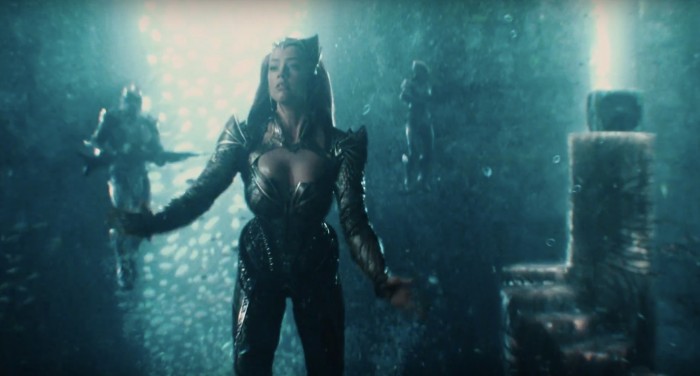 Aquaman isn't the only Atlanean who makes an appearance in the Justice League trailer. Here's Amber Heard as his wife, the queen known as Mera. It's a quick shot, so you might have missed the fact that there's a Mother Box sitting back there. Mera looks a little worried as if someone is already on their way to collect it.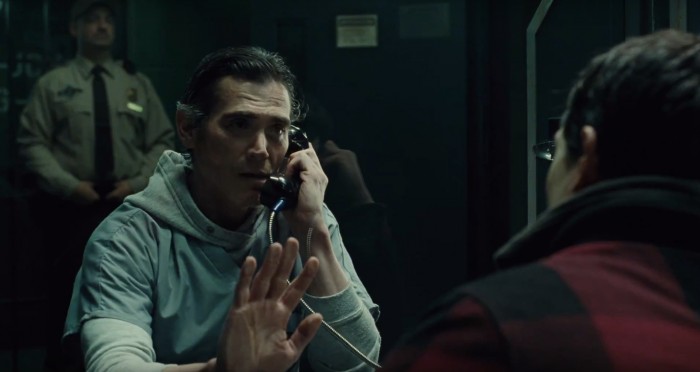 Here's Billy Crudup as Barry Allen's father Henry Allen. Why is Henry Allen in prison? Well, in one of the comics storylines, Henry Allen is sent to prison for murdering his wife, even though he didn't really do it. We're not sure if that storyline will be important beyond providing backstory for The Flash, but it could very well prove to be a pivotal piece of the Flash's solo movie, whenever that may happen.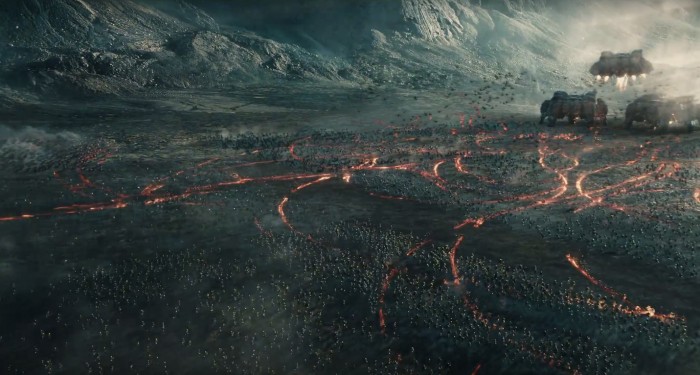 No, that's not a shot from Lord of the Rings, but instead an epic shot of the prologue of the war that the forces of Darkseid's planet Apokolips brought to Earth thousands of years ago. Parademons are swarming, arriving in spaceships, and a last stand is being made by the Amazons, the Atlanteans and mankind.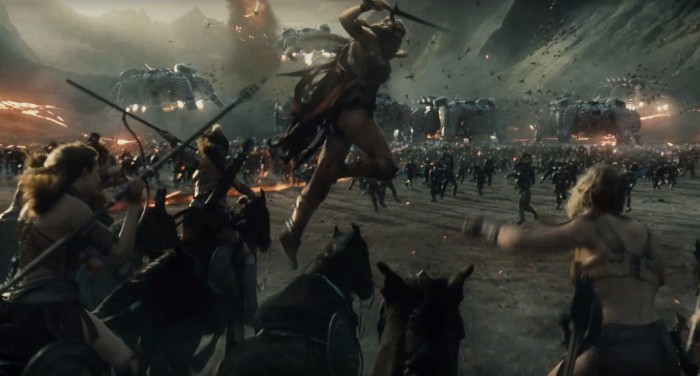 Here the Amazons are seen jumping fearlessly into battle, and Diana Prince's mother Queen Hippolyta is presumably one of them, though we don't know if her two sisters are also along for the battle. I wonder if they'll be part of the battle to keep the Mother Boxes from Steppenwolf and Darkseid when the time comes or if they'll be defeated by this invading force once and for all.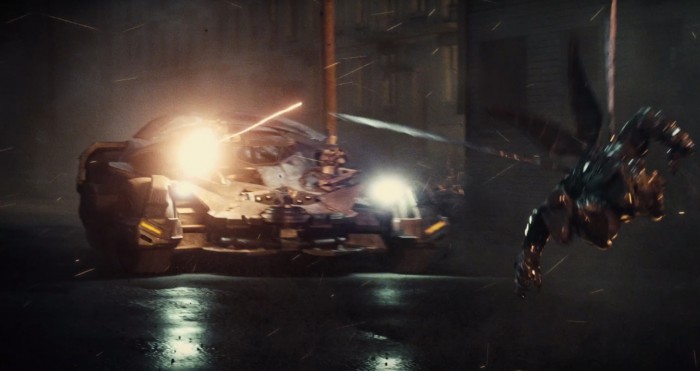 The Batmobile makes a quick turn as a Parademon is in pursuit, bullets flying at him. Clearly a lot of these flying soldiers are going to be destroyed by our superheroes before all is said and done.
Here's two more who are hitching a ride on the Batmobile until Wonder Woman (seen leaping towards them in the background), knocks them straight off the vehicle. This is our best look at these minions, who resemble an X-Men sentinel mixed with some kind of insect.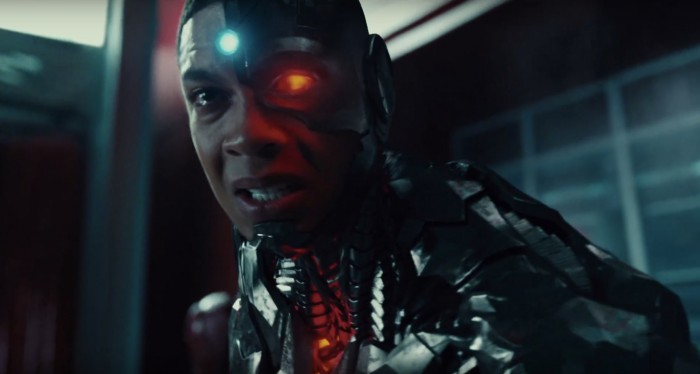 Yet another shot of Cyborg pops up, this time with that human eye looking a little more distressed. Is there a chance that Dr. Silas Stone has meant his end, or is Victor just now learning that his father has been kidnapped? Either way, he doesn't look like he's handling the situation in the most calm way.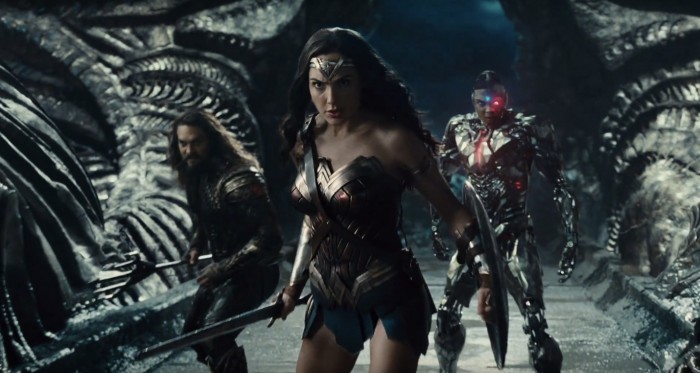 Here's a great money shot of Wonder Woman leading the pack of heroes with Aquaman and Cyborg in tow behind her. I love the simplicity of a line like "Shall we?" as she prepares to do battle. As for what they're facing, it could be Steppnewolf, but we'll have to wait and see. Also, where are the Flash and Batman?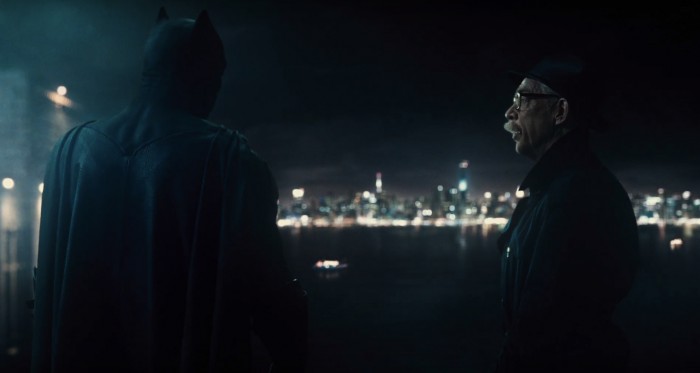 We get our first look at J.K. Simmons as Commissioner Gordon towards the end of this trailer. He tells the Dark Knight just how happy he is that the superhero has learned to play nice with others again.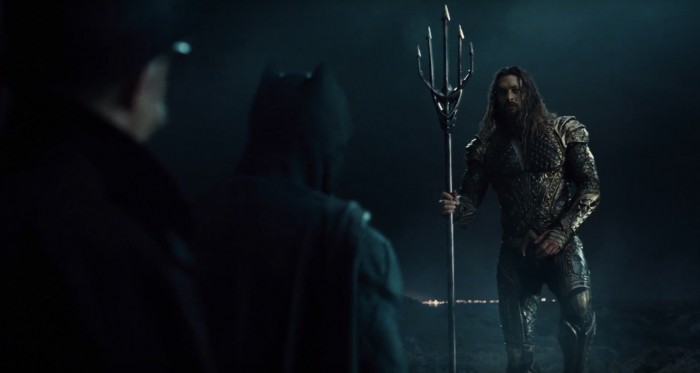 That's when Aquaman shows up really casually and tells Batman that he digs his outfit. This scene alone is enough to make Aquaman my favorite Justice League character for the time being. I love that Jason Momoa is playing him as this chill, alternative version of Thor. Though Batman jokes that this new cooperative side of him might be temporary, it's clear Aquaman and Batman are going to be great friends.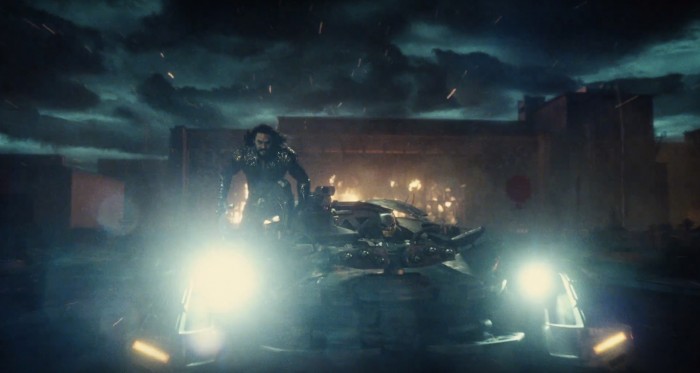 To cap off the trailer, Aquaman hitches a ride with Batman in the side of his Batmobile. He's clearly enjoying the speed, and he uses it to launch himself at a trio of Parademons. It's superheroes meets Fast and Furious, and it's both a little silly and just plain awesome.
***
While it doesn't seem like we learned much from this Justice League trailer breakdown, we must remember that the movie is still about eight months away. There's plenty of time to learn more details about the story and get glimpses of the villains wreaking havoc on Earth this time. Some fans might even feel like Justice League feels a little incomplete without Superman around, but we know that he'll be alongside his super friends again at some point.
For now, this is a promising tease for Justice League, and I hope that these superheroes coming together can reinvigorate the DC Expanded Universe for those who haven't been impressed by its offerings so far. Wonder Woman might beat it to the punch this summer, but that would actually be welcome.
If you'd like to know more about Justice League, check out our set visit report. Otherwise, Justice League arrives in theaters this fall on November 17.