'Sing Street' Bully Ian Kenny Joins The Han Solo Spin-Off Cast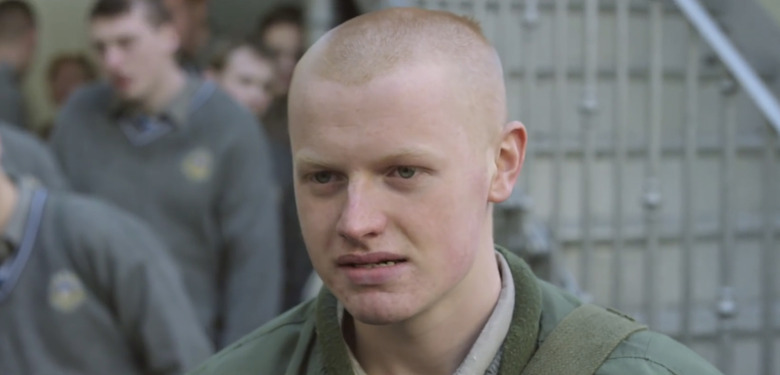 Last week brought the tiniest of updates regarding the Star Wars spin-off film that will focus on Alden Ehrenreich as a young Han Solo. Not only did we learn the name of the character that Woody Harrelson will be playing (which didn't really tell us anything), but Disney CEO Bob Iger revealed some vague details about what we'll see unfold in the movie. But today, the Han Solo spin-off also gained a new cast member.
Ian Kenny is probably best known for playing the bully in last year's musical gem Sing Street, but pretty soon he'll be even better known by millions around the world having just been made part of the Han Solo spin-off cast.
Production is already underway on the Han Solo spin-off in London at Pinewood Studios, the same place Star Wars: The Force Awakens, Rogue One: A Star Wars Story and Star Wars: The Last Jedi have done filming when they're not on location. However, details are still thin on the movie's plot. All we know right now is what Bob Iger told us this past week. Iger said:
"[The movie] picks up with Han Solo when he was 18 years old and takes him through when he was 24. There are a few significant things that happen in Han Solo's life, like acquiring a certain vehicle and meeting a certain Wookiee, that will happen in this film. But you will also discover how he got his name."
So we're going to find out how Han Solo got the Millennium Falcon (in the old canon, he won it off Lando Calrissian, who is being played by Donald Glover in this movie), how he met his trusty co-pilot Chewbacca, and how Han Solo got his name. We're not sure if that latter part means how he made a name for himself as a well known smuggler or literally how he came to be known as Han Solo, but I'm hoping it's the former and not the latter.
So what role does Ian Kenny play in all this? The Hollywood Reporter doesn't have any details on his character, but those who have seen him in Sing Street know that he could make for quite the rugged, tough rival smuggler. What was great about his bully character in the 1980s coming of age flick was that he was given some depth, not only because of the background details included in the movie, but because Ian Kenny played him in such a way that you could tell he was one of those troubled kids who was hiding frustration with his own life. Here's a clip from Sing Street to show you what I mean:
Before Sing Street, Ian Kenny's career included 12 episodes of a soap opera called Fair City and some short film called Poxy. Now he's starring in a Star Wars movie. Not a bad way to keep his acting career going.
Ian Kenny joins a cast that also includes Emilia Clarke, Thandie Newton and Joonas Suotamo, who is stepping in for Peter Mayhew as Chewbacca, all under the direction of The LEGO Movie and 21 Jump Street writers and directors Phil Lord and Chris Miller. There may be more names added to the cast as production continues and details surface, so stay tuned to see what else we learn.
The yet-to-be-titled Han Solo spin-off is slated to arrive May 25, 2018.