Here Are All Of Those 'Justice League' Teasers And Posters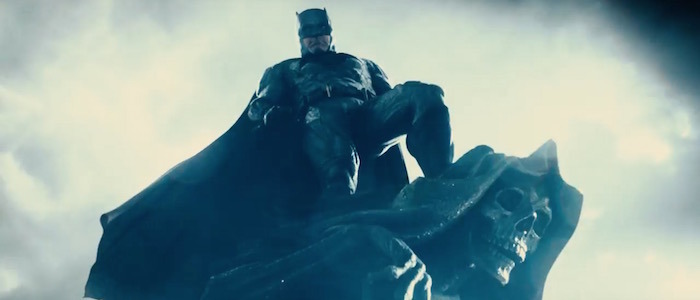 The first Justice League trailer arrives tomorrow and Warner Bros. has spent the past two days making sure the entire internet knew about this. A wave of character posters arrived one-by-one and with them, a wave of brief teasers showing each member of this superhero team in action. We have now gathered all of them in one place so you can peruse them at your leisure. Enjoy.
First up, here's the Batman tease, which begins fairly classical (he strikes a cool pose while a storm rages behind him) before reminding us the Zack Snyder is directing this movie (the Batmobile is still covered in machine guns, guys).
Next up is the Flash, the Justice League character I'm most curious to see at this point. It's too early to judge those super-speed effects, but I like how Ezra Miller moves, both when he's running and when he's preparing to run.
The one thing we know for sure about Jason Momoa's Aquaman at this point is that he always looks really grumpy. Well, we also know that he can command the ocean and its many lifeforms, but he sure looks grumpy while he does it.
Between Batman v Superman and all of the Wonder Woman trailers, we've seen an awful lot of Gal Gadot's Amazon warrior at this point. But honestly, that doesn't seem like a bad thing right now. We'll see how she handles a solo film, but she's one of the best things to come out of these movies so far.
And finally, here's Ray Fisher as Cyborg. Batman v Superman revealed a brief glimpse of his origin, but there's one shot here of him in his fully human form. Does this mean we'll be getting a flashback of some kind?
And next up is the full gallery of posters, each of which finds a hero striking a pose in front of a rising sun. Is that...the dawn of justice? Oh, my.
Justice League opens on November 17, 2017. Here's the official synopsis:
Fueled by his restored faith in humanity and inspired by Superman's selfless act, Bruce Wayne enlists the help of his newfound ally, Diana Prince, to face an even greater enemy. Together, Batman and Wonder Woman work quickly to find and recruit a team of metahumans to stand against this newly awakened threat. But despite the formation of this unprecedented league of heroes — Batman, Wonder Woman, Aquaman, Cyborg and The Flash — it may already be too late to save the planet from an assault of catastrophic proportions.