'Guardians Of The Galaxy Vol. 2' TV Spot Reminds You That Tickets Are On Sale Today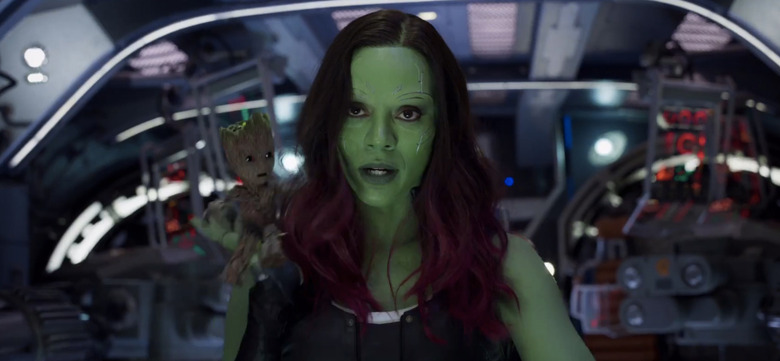 The release of Guardians of the Galaxy Vol. 2 is still over a month away, but Marvel Studios knows you can't wait to see this team of misfits back on the big screen, so tickets are now on sale today. In order to convince you to get those tickets immediately, they've released an extended TV spot with new footage from the sequel, which sees Drax the Destroyer (Dave Bautista) taking flight in a jetpack, Rocket Raccoon (Bradley Cooper) living up to his namesake by flying alongside Star-Lord (Chris Pratt), and Baby Groot (Vin Diesel) sitting on the shoulder of Gamora (Zoe Saldana). If that's not enough hype for fans, there's also a set of character posters that kinda look like trading cards.
Watch the Guardians of the Galaxy 2 TV spot and check out the posters below.
First up, here's the new Guardians of the Galaxy 2 TV spot straight from Marvel Studios:
This is now the second spot to feature David Bowie's track "Suffragette City", so I hope director James Gunn figured out a way to incorporate it into the movie, even though we've heard not all the songs we'll hear in the marketing leading up to the movie will be on the final soundtrack. Still, if the second movie has a soundtrack that's at least just as good as the first one, we're in for another great compilation of classic rock.
For those who can't wait to buy their tickets, Fandango has them on sale right now. If you have other methods of buying your tickets, you may want to check with your preferred movie ticket vendor to see if they have them on sale yet. In the meantime, check out this new batch of trading card style posters featuring all the Guardians of the Galaxy, as well as new characters like Mantis (Pom Klementieff), Ayesha (Elizabeth Debicki) and Star-Lord's father, Ego (Kurt Russell). Here they are:
Guardians of the Galaxy Vol. 2 lands in theaters May 5, 2017.
Set to the backdrop of 'Awesome Mixtape #2,' Marvel's Guardians of the Galaxy Vol. 2 continues the team's adventures as they traverse the outer reaches of the cosmos. The Guardians must fight to keep their newfound family together as they unravel the mysteries of Peter Quill's true parentage. Old foes become new allies and fan-favorite characters from the classic comics will come to our heroes' aid as the Marvel cinematic universe continues to expand.