'Archer & Armstrong' Tracks Down 'Zombieland' And 'Pirates Of The Caribbean' Veterans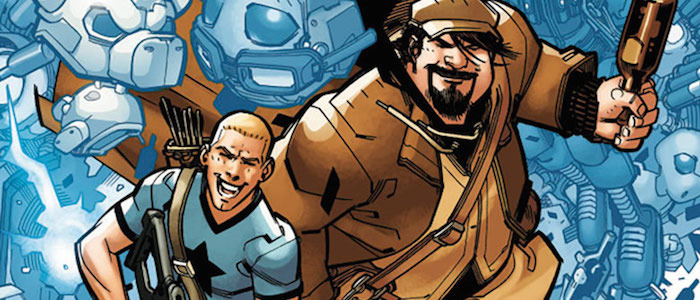 While Sony struggles to build an entire movie universe out of the Spider-Man franchise, another comic book world is waiting in the wings. The studio partnered up with Valiant Comics a few years back to bring series like Bloodshot and Harbinger into theaters, but it's been a slow road and a revolving door of writers and directors. Hopefully, this latest announcement will stick, because there's a ton of promise in the Valiant characters.
The movie adaptation of Archer & Armstrong, which has seemingly laid dormant for a little while, has found a new director in Ruben Fleischer and a new screenwriter in Terry Rossio.
This news comes to us from The Hollywood Reporter, who say the movie is "quickly moving forward." Fleischer is best known for helming 2009's Zombieland (which is still pretty good!) and 2013's Gangster Squad (which is pretty bad!). Rossio is one of mainstream Hollywood's most prolific screenwriters, having penned Shrek and most of the Pirates of the Caribbean movies. He's also the lead of Universal's "Monsterverse" writers room and recently joined the King Kong vs. Godzilla writer room. He's a busy man.
Originally created in 1992 by Jim Shooter, Bob Layton and Barry Windsor-Smith, Archer and Armstrong are an unlikely superhero duo. The latter is an immortal warrior and adventurer who spends his endless days wandering the world and looking for a great time. The former is the deadly, no-nonsense assassin who has been trained his entire life to kill Armstrong and retrieve the source of his immortality. And wouldn't you know it? These two end up on the same side.
The talent paired on this movie is certainly interesting. Both Fleischer and Rossio have had their names on good movies and bad movies alike, but their best work certainly suggests that they'd be a good fit for Archer & Armstrong. While I'm unfamiliar with the original '90s run of the comic, the 2012 revival was a ton of fun, finding a fine balance of action, adventure, and comedy. Fleischer's knack for comedy and Rossio's experience in crafting crowd-pleasing action stories may be the right fit for this material.
It remains to be seen which Valiant movie will hit theaters first and whether or not audiences will embrace a universe of superheroes who are mostly unknown to those who never visit their local comic shop. The Bloodshot movie recently hired a new director and the Harbinger movie was supposed to be the first out of the gate, but things have been awfully quiet. All I'll add is that I really enjoy the modern Valiant comics and would love to see them get this right. Take all the time you need.